What Can I Spray on a Dust Mop | Everything in Details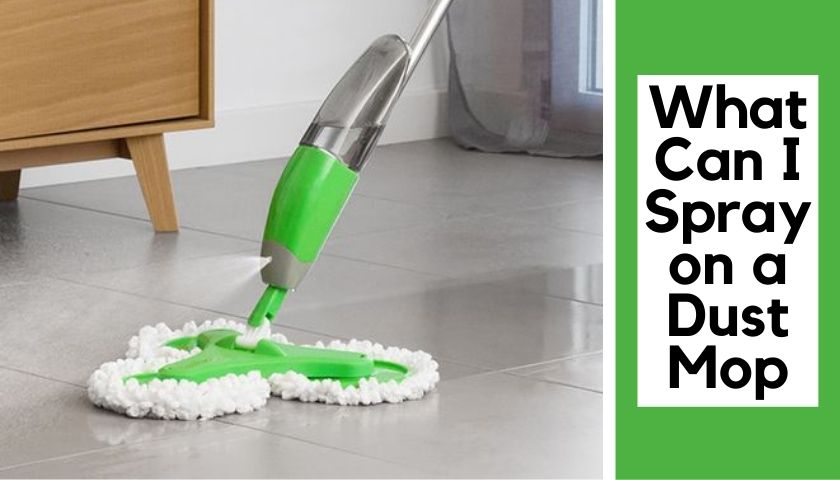 No one likes a dirty and gritty floor. Even unwanted footprints, soils, or debris on the floor are also not accepted. There are various cleaning tools in the market to keep the floor clean, and the dust mop is one of them. You may also have a dust mop, but do you know what should you spray on this mop to make it more effective?
A dust mop is a very popular cleaning tool, and you can use this tool for almost all types of floors. You may need some extra chemical solutions or cleaning agents for this mop if you help you to remove all dust and soil from the floor to give it a proper tidy look.
Here we will discuss some additional cleaning agents that you can use in a dust mop to increase its effectiveness for your easy understanding. Let us learn about these sprays in detail.
What is a dust mop?
A dust mop is a very popular and effective tool for dusting the floor, the ceilings, high places, the walls, or even the windows. All the dusting mop models come with a long and adjustable handle for better maneuverability and comfortable reach. Basically, a dust mop is for using as a dry mop though there is a various model of dust mop which comes with the feature of using as both dry and wet mop.
The mop head has a microfiber cleaning pad that can easily attract dust and quickly absorb all the dirt from the floor. This pad is removable, and you can easily remove it from the head. Even you can also wash this pad and use it again.
What can I spray on a dust mop?
Fortunately, there are various homemade and chemical cleaners that you can spray on a dust mop to increase their effectiveness. For your better learning, we have listed some of the sprays which you can use. These are-
1. Aerosol sprays
Aerosol sprays are a standard and widely used cleaning product that is available at any local market or grocery shop. When you use aerosol spray with a dust mop, it enhances the mop pad's dust attraction. It quickly picks all dust from the floor surface and leaves a radiant look at the floor.
One important thing that you should consider that the aerosol spray can begin to damage your floor if you use it for a long time.
2. Green cleaning spray
Green cleaning supplies are a mixture of natural and organic ingredients, which includes some low-risk chemicals. For making this green cleaning spray, you should use water, citric acid, and sodium carbonate. Mix all these ingredients well, pour the solution into an empty spray bottle, and then apply it to the wood floors.
3. Homemade sprays
Surprisingly, you can use lots of ingredients in your kitchen to make the dust mop spray. Let us see some recipes for these effective homemade dust mop sprays.
Ammonia solution
The ammonia solution is considered an effective homemade dust mop spray, and it is also relatively easy to make. To make this chemical solution, you need to take one part of ammonia and three water parts. Mix them well and make a solution. Pour this cleaning mixture into an empty spray bottle.
During purchasing the ammonia, you need to find out pure ammonia that does not mix with the soapy solution.
If you decided to use the ammonia solution, then get ready to deal with a harsh fragrance.
Vinegar solution
Vinegar is a widely used kitchen ingredient that works as a powerful natural disinfectant. It is also a very effective dusting spray. Though this natural cleaner contains an acidic component, it does not leave any chemical residue on the floor.
To make the vinegar solution, pour one gallon of warm water into a bucket, and add 1/2 cup of white vinegar into it. Mix them well, and your powerful vinegar solution is ready. You can also add a little fresh lemon juice to this solution to increase its effectiveness.
Dish liquid soap
Usually, dish soaps are so mild. So, it is harmless for almost all types of flooring. They never leave any sticky residue on the floor. Take about three cups of warm water and one-fourth cup of mild dish soap to make this soapy solution. This soapy cleaning solution is also suitable for mopping a large floor.
Rubbing alcohol
If you have a laminated floor, then mop with water is enough. But, suppose you need some extra cleaning power, you can use rubbing alcohol. Take one gallon of warm water into the bucket and add about one cup of rubbing alcohol. Mix the solution well and apply them on the dirty floor.
Window cleaner
Window cleaner is another common cleaning agent that is in almost all of our homes. You can also use this window cleaner as a spot remover on your floor. Take one part of warm water and an equal amount of window cleaner. Shake them well and make an effective floor cleaner.
This recipe is quite suitable for vinyl and tile floors. But if you need a cleaner for the laminate floor, take a half-gallon of warm water and one-fourth cup of window cleaner to make the proper cleaner.
4. Use only the dust mop
As we already said, the dust mop has plenty of models and designs. If you find out the best quality dust mop, then no need to use any extra cleaning solution. Often the extra cleaning solution leaves a pesky residue on the hard floor. You need to find out the best quality of dust mop, which is enough to keep shining your floor.
How can I use spray on a dust mop?
We hope you can understand that, how can you make various types of cleaning spray for using on the dust mop. Now, you may need to know that how you can use these sprays on your dust mop. Well, in this part of this article, we will discuss the best way of using spray on the dust mop.
At first, you have to choose the spray that best suits your needs. Before making the spray:'
Do not forget to consider your floor types.
Wash the mop and spray the dust mop treatment on all the sides of the mop.
Wrap it with a plastic bag and keep it aside to sit the spray for 24 hours. You should not use the dust mop immediately whenever you use any of these cleaner sprays.
Because the immediate use can leave the oil on the floor, make it more slippery.
These floor cleaning sprays contain a pleasant fragrance. After using them on the dust mop, the mop head attracts dust, dirt, and debris from the floor like a magnet.
What types of floor can you clean with the dust mop and spray?
A dust mop is the best cleaning tool for hard floors. There are various types of hard floors that need quality cleaning. So, let us know which floors that you clean using the dust mop and the spray.
1. Tile floor
Tile floors are widely used since the 90s and early the 2000s. But still, it is preferable for bathroom and kitchen flooring. A dust mop is completely safe for all tile floors but may be less effective in grout cleaning. You may need to use something other to clean the grout properly after using a dust mop.
2. Vinyl floors
Vinyl floors are usually used on concrete foundations. So, any traditional cleaning product and leave a terrible effect on these floors. That is why consider using a dust mop will be the best for a vinyl floor.
3. Unsealed hardwood floors
Unsealed hardwood floors look delicate but dealing with them can be a little bit difficult as a drop of water can become harmful. They can soak water quickly and damage the floor permanently. They need some extra care. As the traditional mop required water for cleaning, a dust mop is the best choice for unsealed floors.
4. Laminate floor
The laminate floor is a little bit sensitive and needs to take proper care of the floor surface. This floor does not suit water or soap. So, dust mops are the best cleaning tool for laminate floors.
5. Stained concrete
Normally a stained concrete floor comes with a glossy finish. The dust mop is the ideal cleaning tool to keep the shine like new year after year.
Frequently Asked Questions (FAQ)
Does a spray make the floor oily?
Yes, if the spray contains too much soapy solution, then it can make the oily or slippery.
Do sprays harm damage to floor finish?
If you use sprays repeatedly for a long time on the floor, then it can damage the floor finish.
Can I wet my dust mop?
There is some dust mop which comes with the feature of using as both dry and wet mop. So, you can wet the mop for better and useful cleaning purposes.
What kind of oil can I use for a dust mop?
You can use lemon oil, cooking oil, or olive oil for treating your dust mop.
Wrapping up
We hope that you have now got a clear idea of what cleaner you can spray on a dust mop. Just remember that select your spray considering your floor sensitivity. Another important matter of using a spray is, you should not use a spray repeatedly for a long time as it can harm your floor finish. Try to use any homemade sprays instead of chemical spray, as they often come with some side effects. In addition, homemade sprays are completely safe for both humans and animals.