How to Clean Microfiber Mop Heads | Effective Guidelines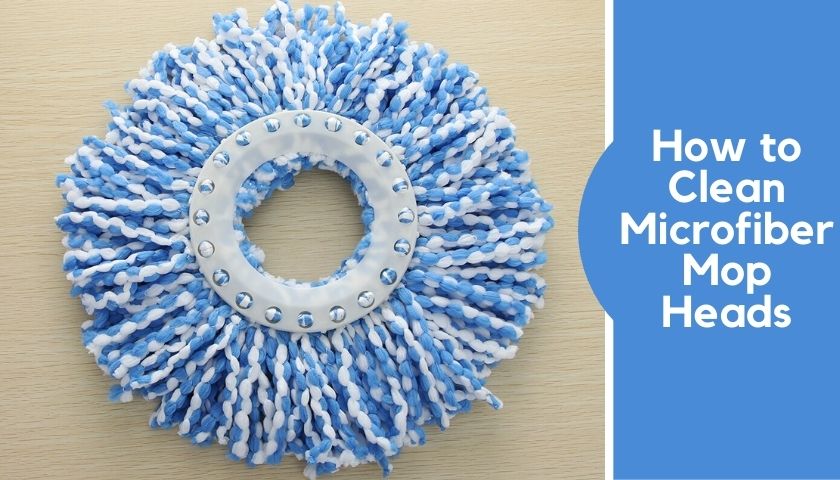 Microfiber mop is one of the most used and essential cleaning tools that almost every household should have. Microfiber pads not only provide outstanding cleaning but also it is safe for nearly all flooring. Moreover, they have several additional benefits. 
Among the plenty of benefits, the remarkable one is the microfiber pads are reusable, and you can repeatedly use them as long as you will properly clean them.
Really surprising! You can use microfiber pads again and again and for quite a long time. Don't you think that cleaning microfiber pads are a tough job? Not at all. Even you can consider it as another benefit that the cleaning process is super easy.
Have you ever try to clean microfiber mop heads at home? If no, then learn the cleaning process from us and try it at home. Here we will discuss everything that you need to know about cleaning microfiber pads so that you can use them for the longest time possible.
What is a microfiber mop head?
Before we turn on the cleaning method, let us first discuss the microfiber mop head and how it works. Since other traditional mop uses cotton pads, a microfiber mop head uses synthetic materials. The prime reason for widely using a microfiber pad by the cleaning product manufacturer is that it started being massively available. Moreover, this pad comes with numerous benefits over traditional cotton pads.
In comparison to the cotton pads, this pad is quite lighter and able to hold up to seven times its weight in water. Even the pick-up ability of dust, dirt particles, and debris is also better than other cleaning pads. Using this pad, you can easily remove dust from the floor without spreading it around.
The microfiber pads' electrostatic properties ensure that the dust will be attracted immediately to the cloth like a magnet attracts metals. It is another reason why most professionals preferred microfiber mops. However, such delicate cleaning materials also need proper care to make them long-lasting. Let us learn who to clean microfiber mop heads.
Cleaning microfiber mop heads in the washing machine
The easiest way to clean the microfiber mop head is to clean it in a machine. A machine wash is simple, safe, and helps to keep your microfiber stay clean for a long time. The whole process is as simple: if you are going to clean the pad for the first time, you will not face any problem.
Cleaning process at the machine
1. At first, you have to pay attention to the use of the proper amount of detergent. Many manufacturers provide clear instructions regarding the cleaning methods of the mop head. But, in general, you should use a mild or gentle detergent. No matter it is power or liquid because both work well. During selecting the detergent, you should consider some factors-
The detergent should not be soap-based or not self-softening.
It should not be oily.
The better you find something unscented and natural.
You should never use any fabric softeners when cleaning the microfiber mop heads. Otherwise, the mop pad's pores will be clogged and make it much harder to pick up dirt and dust properly.
2. Check out the clog of the mop head before you proceed. You need to check out how clogged the mop head actually. If there is debris or any large particles left, then use a brush to remove them as much as possible. This step will help your machine to remove leftover residue easily. 
3. Once you complete it, put your pads in the washing machine.
4. Pour adequate hot water into the washer. It will enable the fiber to release all dirt and dust and other nasty stuff that is stored between the fibers.
5. Now add your preferred detergent in the correct amount.
6. Set the machine at a medium speed. Maybe your machine indicates it by the "regular" or "normal" button. This medium cleaning speed will help your machine to clean the pads properly.
7. Now your machine will do its job and sanitize all your microfiber pads.
Drying microfiber mop heads
Once the machine completes its cleaning job, the next is to dry the mop heads—the best way of drying the mop pad this air drying. If you can dry your pads in the air, you should always go for it.
As the microfiber dries quickly, you may need a very short time to execute the whole drying process. Just choose an open space where there has enough air circulation, then hang it to dry out quickly.
Well, you can also dry this pad using the drying machine, but we preferred the natural process. If you do not use the machine properly to dry the pad, then it could damage the cloth.
IF air dry is not possible and there is no other suitable way than using the machine to dry the microfiber mop heads, you should be careful about choosing the settings. Never use a very high temperature. In fact, you should choose the lowest heating option. It is an important matter as the high temperature can damage the pad or tear the fabric. You should double-check before start the machine.
Wrapping up
We hope now you have got your answer on how to clean microfiber mop heads. Well, few pads are not machine washable. But just don't worry at all. You can wash them by hand easily.
Just prepare a mild and effective cleaning solution and put pads into it. Remove all dirt and clean properly. Dry it under the air and store it. Keep clean the microfiber mop head is not a tough job at all. Your attention and a little bit of effort are enough to keep the mop head clean and make it long-lasting.
Frequently Asked Questions (FAQ)
How often should I wash my mop head?
According to the experts, you should replace it after 500 items of washing for the latest microfiber mop heads.
Can microfiber mop heads be washed in the washing machine?
Yes, microfiber mop head s are machine washable. You just need to use hot water and mild detergent, that's all.
Is a microfiber mop suitable for a laminate floor?
Yes. A microfiber map is a good choice for cleaning a laminate floor.
How does a microfiber mop work?
The tiny nylon and polyester fibers in the microfiber mop pads are positively charged, which can effectively attract dust.