How to Use Norwex Wet Mop | From Instructions to Using Guidelines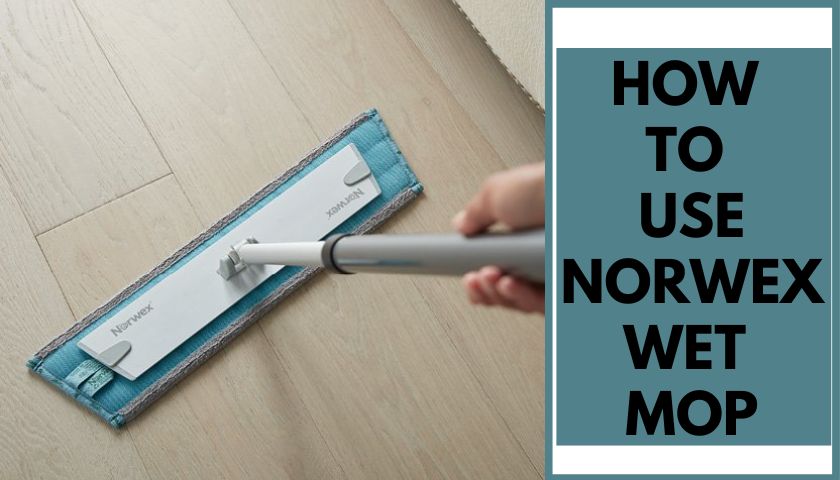 Your regular tedious cleaning can be delightful if you learn how to use Norwex wet mop. If you're here, then it is clear that you've already known about the Norwex cleaning tool.
One of the common ways of using the Norwex mop system is to attach the handle to the base. The long shape of the handle is good to go in both low-high traffic areas of the house. Unlike other mop products, it doesn't need to use any complicated instructions for the right attachments.
But it would help if you had a clear conception of this tool. Here is the all which will cover them all.
Items You Get from One Pack
It is a unique mop system with numerous items. It has a mop handle, head, and 2–3 pads per the user's demand. Here are the names of Norwex wet mop parts; check them for an overall idea.
| | | |
| --- | --- | --- |
| Norwex Parts Name | What Does It Use to Do? | Design Definition |
| Telescopic Mop Handle | Hold the mop base tightly, enabling the user to clean the floor with an upright posture | Adjustable, ergonomic aluminum handle along with rubber edges at both end part |
| Mop Base | Mop the floor in the right direction | A square-shaped aluminum made base with a handle hook |
| Wet Mop Pad | Worthy to clean all smooth, washable surfaces such as hardwood, laminate, marble, etc. | A simple wet mop pad made with 70% recycled material |
| Tile Mop Pad | Especially use in tile and slate floor | It seems like a zigzag shape towel that adds the benefits of scrubbing rough surface areas |
| Dry Mop Pad | Well-suited to cleaning out dry floors and sweeping away heavy dirt | This one looks very simple but consists of a soft pad to tracts dust and dirt properly |
| Envirowand Attachment | Use to deduct dust from ceiling fans, appliances, fridges, and other critical areas | Typically seems to attach to the handle to reach all tough areas with an ease |
How to Use Norwex Wet Mop?
Norwex is genuinely a fantastic mop system that can clean any floor without trouble. Unlike other single-mop systems, this one does not require difficult instructions or guidelines. This is so gentle over the floor and comes with different parts.
Each of the parts from Norwex is valuable for their excellent working capabilities separately. Herein are the instructions to work with this wet mop fruitfully.
Step 1: Pick & Remove the Handle
Remove the pad from the base of your mop before beginning this work. The mop handle is always coming with a different option. But if it is attached to the ground, try to deduct them equally.
Step 2: Remove the Water Bottle from The Attachment
Now, go to the end part of the mop. There you get a water bottle which is used to fill with cleanser or water. Remove the bottle and click on the attachment. The mop attachment is usually coming with the base handle.
To use the pad, click on the base at the bottom. Now, fill the bottle with water, then insert it into the mop attachment.
After finishing this, ensure to double-check the attachments. It is crucial as it enables you to know everything is attached correctly.
Step 3: Directing the Mop
This is a vital section of this process. Here you need to cover three basic steps in one. First, set the mop handle and bottle properly. When those parts are attached correctly, you'll hear a clicking sound.
Now, use your finger and tap on the hook of the mop. Once the clip is attached to the handle, hold it straight. Remember that you shouldn't keep the mop body too straight or bent. Keep it at least 90⁰ degree angle while dispensing water.
Step 4: Wet the Mop Pad
As I already told you, this one comes with 2–3 pieces of mop pad, so you should wet them before using them. But the pat dry is different from them. So, begin your mopping job by damping the dry or tile pad. Attach them to the base and start.
Note: Those pads are excellent for omitting floor dirt and stains. But since they used to dry out quickly, a user must frequently wet them during work.
Therefore, cleaning small rather than large areas with them is ok. If you need to use them for large commercial spaces, spray some cleanser over the floor and then start mopping again.
Step 5: Push the Mop Handle to Spraying Action
Push the mop handle straight down. It will then trigger the machine spray to take action and spread water all over the floor. Now, start mopping, but always keep the machine 45-90⁰ angle for quick results.
Mop the floor following the standard norms of keeping the mop backward and forward. Your mop shouldn't be pressurized through your hand at this time.
Otherwise, you may damage it or break away most of the parts. After the finish of the work, clean the mop pad using running water. Then, store the machine in a safe place.
Some More Tips to Use Norwex Wet Mop
Although it is a top-notch product, there are some crucial things you need to consider. Otherwise, you may misguide this tool while using time cleaning.
Add Water to Wet Mop Pad for Long Term Cleaning
Wet the mop pad before attaching it to the base. The dry mop pad isn't good and tracks fine dirt from the floor. In the meantime, they could dry out quickly when cleaning large areas.
Clean Off Bathroom Walls Using a Wet Pad
You can use this wet mop pad to clean off the bathroom walls. The wall tile becomes dirty and yellowish from the accumulated grout. In that case, those pads are beneficial to make them tidy.
Get Rid of Ceilings, Rooftop Gutter Dirt
Norwex mop bases have two sizes offering thousands of convenient options for houses, ceilings, and walls. Besides, this mop base has a hinge that can move back and forth. By this term, you can easily pick it up at the top of the house to clean ceiling dirt and the gutter of the rooftops.
Frequently Asked Questions (FAQs)
Is Using Norwex Wet Mop Worth?
A wet mop from this brand is a good option over traditional cleaning tools. They require only water to clean, are easy to attach, and can clean hard-to-reach places. Even though all the mop pads coming with this are reusable and recycled. They help kill 99.98% of bacteria and viruses.
Can I Use This Mop with Vinegar and Water?
Water is usually all you need to clean surfaces with this pad. But you can use water and vinegar to the e-cloth, called Norwex cloth.
What Type of Detergent Is Safe to Use in Norwex?
Norwex has cleaning products that are safe to use with the pads. Norwex Ultra power plus laundry detergent is good and gives the best results.
Can I Boil the Mop Comes with Norwex?
Yes, the mop pads must boil in warm water for 10 minutes for deep stubborn odors. But users must be allowed to dip them into bleach, fabric softener, or dryer sheets, reducing their effectiveness.
Norwex Mop Cost-Effectiveness or Ineffectiveness?
If compared Swifter, Scotch Brite, Bona floor mop, and Norwex mop sets ($106-$130) are worthy of the price. Their product remains a little high, but its effectiveness is priceless. You will get different results than others, which is the plus point of buying this mop.
Norwex mop systems are designed for all, whether you're uncomfortable about cleaning or an expert. This tool management guideline is easy to understand. Please clarify more while you finish my above how to use Norwex wet mop.
Therefore, learn from my instructions and bring this tool to your house. I have been using this mop for 2 years, and it is now my big house helper till now. In the end, let me know if this one helps you. Share some of your experiences in the comment if I'm not boring you.