How to Wash Microfiber Mop Pads | A Step by Step Guidelines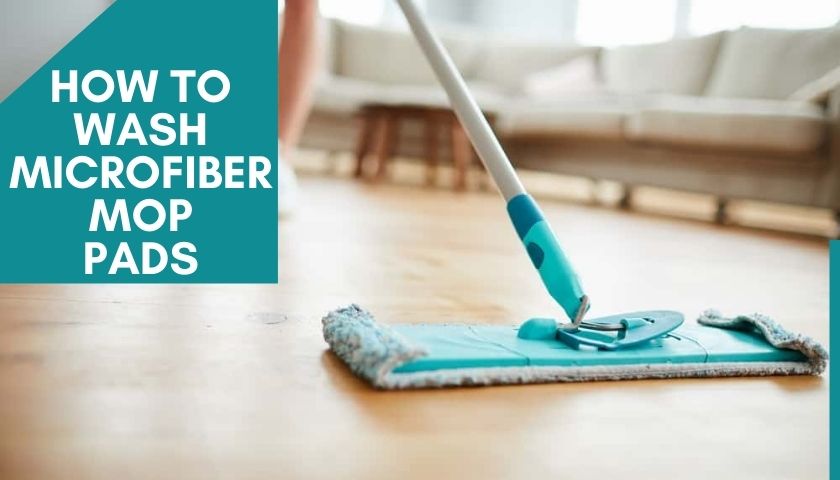 The popularity of microfiber mops is on an increasing trend due to their quick and cost-effective feature. It is used in houses, malls, stores, hospitals, medical centers, etc. where thousands of people are entering daily.
You can clean numerous types of surfaces using microfiber mops. Also, reusing them is stress-free. You will love to hear that, they can be cleaned easily.
Unfortunately, many people are unaware of how to wash microfiber mop pads. You can wash microfiber mop pads either in a washer or give it a hand wash using a mild detergent.
How to Wash House Microfiber Mop Pads in a Washer?
Preparation
The gripping quality of microfiber mop pads is brilliant that human hairs or pet dander get attracted like a magnet. Microfiber also loops clean splinters and wood chips when cleaning a surface.
Before washing, vigorously shake the mop pad to remove any large particles and heavy debris.
Taking assistance from an old or unused brush or comb will also be beneficial at this point.
Once you are done, start following the below steps.
Step 01: Check the Residue Before Cleaning
Before cleaning microfiber mop pads, check how much clog has happened. If the residue is large, use a brush to break it up. This will let you clean the mop pads easily.
Step 02: Use Hot or Warm Water
Put the mop pads into the washing machine. Using hot or warm water will give the best cleaning result. Ant sticking agents like wax, nasty germs, or chemicals will effortlessly dislodge due to the hot water.
Step 03: Set the Washer at Medium Speed
In order to get an effective cleaning task, set the washer to 20-30 minutes at medium speed. Avoid setting the washer at high speed and long cycle. The mop pads can tear if you do so.
Step 04: Give the Microfiber Mop Pads an Air Dry
After the completion of the wash cycle, take the mop pads out from the washer. It would be
best to give air drying. The good news is that; microfiber mop pads dry quickly.
Hang them in an open space where adequate air is available. Once it dries completely, reuse it again and get a clean surface.
Warning
If you decide to dry the washed mop pads in a dryer, make sure not to use the high temperature. It may damage the pad's quality.
How to Clean Commercial Microfiber Mop Pads?
Commercial mop pads are widely used in public places like hospitals, football stadiums, malls, stores, supermarkets, etc. The cleaning process of commercial microfiber mop pads is different from cleaning house mop pads.
Follow the below steps to get an effective result.
Step 01: Wash the Commercial Mop Pads at a Specific Washer Setting
At 140° F, flush the mop pads for 2 minutes. Then set the wash cycle for 25 minutes. Ensure setting the temperature at 160° F during the wash cycle. Once the wash cycle is finished, could you give it a rinse for 2 minutes at 80° F? Then, the extraction time should be 5-6 minutes.
Step 02: Dry the Commercial Mop Pads
You can follow 3 different drying processes of the washed commercial mop pads.
Tumble dry is the first option where you will need to set the temperature level at 140°.
Secondly, you can inject the disinfectant at the final rinse process mentioned in step # 01, and drying is unnecessary. The disinfectant will prevent the residual growth of bacteria.
Thirdly, after washing, don't dry the mop and instead of that put them into a bucket and chemical-based products need to be added. The mop will be ready to use after 30 minutes of saturation.
What Detergent Should I Use for Cleaning Microfiber Mop Pads?
Picking the suitable detergent is crucial, and attention is necessary when picking the detergent to clean mop pads. However, most manufacturers provide mop pads cleaning instruction manuals, but basic rules need to be followed.
The detergent type should be as per below when cleaning house microfiber mop pads.
Choose a mild detergent.
Don't choose soap-based detergent, fabric softener, or bleach.
Never put the mop pads into a washer with socks, towels, and terry cloths, etc.
The detergent type should be as per below when cleaning commercial microfiber mop pads.
Choose Alkaline-based high solvent.
When do I Need to Replace My Microfiber Mop Pad?
Microfiber mop pads are revolutionary cleaning items that allow its user to clean a surface effortlessly. These mop pads have both efficiency and speed to make a cleaning task trouble-free.
But they also have a lifespan, and after a certain period, you will need to replace them. Find the below points, which discusses when you need to replace the microfiber mop pad.
Microfiber mop pads capture as much dust and dirt from the surface because of their adhesive characteristic. That is why it doesn't require any assistance from chemical-based cleaning products, and with just water, microfiber mop pads do all the trick. If you find that your mop pad is not capturing dust particles as expected, then it is time to replace it.
The replacement of microfiber mop pads depending on the surface type and usage. The mop pads used in medical centers or hospitals are exposed to chemicals, blood, etc., and they need frequent washing. A supermarket or mall's mop pad needs less frequent washing than a hospital one since it is not exposed to heavy dust. 500-1000 washes are the range of a good quality microfiber mop pad head. The tool starts losing its effectiveness when you surpass the wash range.
Frequently Asked Questions (FAQ)
What floor type can you clean with microfiber mop pads?
Microfiber mop pads are versatile that will assist you to clean a wide range of surfaces. Hardwood, laminated floor, tile, etc., all floor types can be cleaned with microfiber floor type. Even, you will not face any problem when cleaning metal or concrete floors. Rugs and carpets can also be cleaned without any problem.
Are microfiber mop pads suitable for both wet and dry cleaning?
The microfiber mop pad's unique feature is that you can use it for both wet and dry cleaning. They offer the best result at absorbing dust and dirt in both wet and dry conditions.
Last Words
Cleaning microfiber mop pads is not a challenging task. Your mop pads' long lifespan will be ensured when you follow the proper process of how to wash microfiber mop pads.
Also, make sure that you stored the mop pads in a dry and clean area. Proper storage of the pads is significantly necessary, which is unavoidable.