11 Different Types of Mops with Their Effectiveness & Usage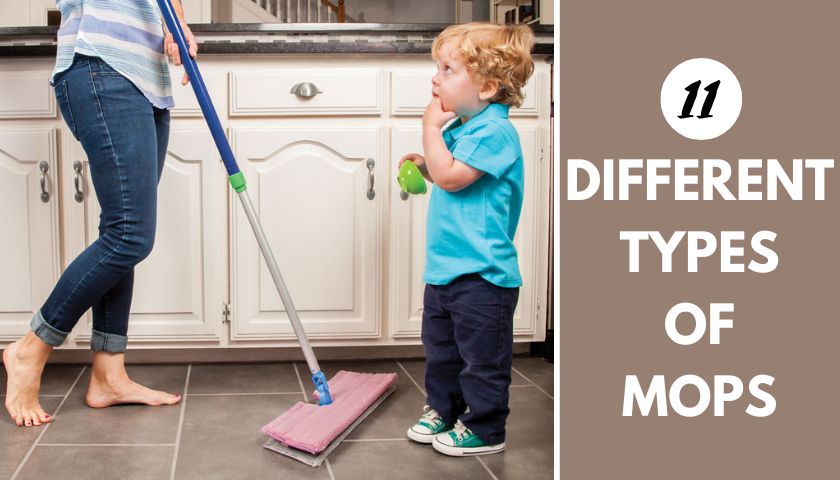 You should admit that mopping is the most challenging part of cleaning that nobody wants to deal with. It often makes you feel bad and suffer physically like gross, backache, etc. 
But it could make the chore easier when you find different types of mops to make this complicated job easier and less time-consuming.
Since you can buy more than one or two mops to clean the house, it also depends on the type of floor. Dust mops, brush mops, cut-end, looped d-end mops, etc., are the basic types of mops that can be used for industrial and commercial purposes.
What Are the Different Types of Mops?
Mops are the basic home tool that we can't ignore in a single day. They omitted all the dirt from our house to keep it neat and clean. But you can only use mops for some types of floors.
All the mops are only good for some floors. As there are differences between floors, mops also come in different categories. Below I attach them one after one. Before reading the details, check out this list of tables for a glimpse.
| | | | |
| --- | --- | --- | --- |
| Mop Type | Using Category | Pros | Cons |
| Cut-end Mop | Home-friendly | affordable Cleans up small messesAvailable at any cleaning store | It is less durable than others |
| Looped d-end Mop | Worthy for Commercial Purposes | Perfect for big jobs that absorb more water. Easy to wash | Difficult to use at home for the large size |
| Strip Mop | Both for Home & Commercial usage | Highly effective Durable strips on headKeep clean the large areas effectively | It often does act like the ineffective mops |
| Sponge Mop | Good for a home specially made for the kitchen | Absorb liquid Omitted grime from coreClean messes properly | Not as much as effective for large jobs |
| Microfiber Mop | Kitchen, any small areas | Easy to adjust. Very effective to clean dirtSuper absorption power | Users find difficulty while clean with them in commercial areas |
| Flat Mop | Good for home usage | Perfect for hardwood floors. Use less water for mopErgonomic constructional design | It doesn't use as much water according to the necessity of the floor |
| Spin mop | Great for individuals | Can wring out easily Lot of arm muscles for wringing out mopsCan work just like other mops | No need for a heavy-duty mop |
| Brush Mop | Both home & commercial purpose usages | Can vigorously scrub against the floor. Can lift all mud. Both brush and traditional mops can clear the Dirt effectively | Sometimes it produces scratches on the laminate floors |
| Steam Mop | Good for home and other commercial usages | Remove stains effectively Erase all built-up grimesVery expensive products | Not worth for all due to the expensive prices |
| Robot Mop | Worthy of all types of usability | Ready for guests Effective as the traditional mopping methods Keep your home always clean | Expensive |
| Dust Mop | Traditional mop for all purposes | Remove loose dirt Good choice for hardwood floors. Best for smooth surfaces | Not worth picking up all the debris |
Details of Different Mop Styles & Features
Let's learn the following features of the different mops. It often helps you understand and find the most reliable, helpful mop for your home and other usages. 
1. Cut-end Style Mop
This is a traditional and unique style wet mop pad that can replace and outperform all the cleaning work. All kinds of traditional mops of this form are made with cotton, rayon, and blended yarns.
The construction of the mops is solid and consists of 100% filament microfiber yarns. This supreme quality can hold 10× more water weight than others. Moreover, this wet mop is not lint but has supreme quality and can resist bacteria. It didn't break away from use for an extended period.  
2. Looped-d-end Mop
Looped-d-end style mops are durable, less likely to demonstrate, but effective in cleaning dirt. Loop-d-end mop heads are durable, laundered, and reused multiple times.
This mop is worthy of heavy mopping, especially in high-traffic areas. They create more surface area at the top of the head so that you can easily sweep away the entire area and rooms.
This sort of mop is better for cool absorption power. One of the primary reasons people love this mop is to wash off the spills. Another significant fact about this mop is that it is machine washable. For this, you'll be able to take the mop head off and wash it entirely.
3. Strip Mop
Strip mops are often known as rag mops. It helps to make up the mop head, and the style of this mop is quite similar to the cut-end or loop-end mops. Due to its cheap design, people can buy it at an affordable price. Strip mops are also better for cleaning out kitchen chimneys, basins, and others.
4. Sponge Mop
When your house is entirely overflooded with a lot of dirt and stains, a sponge mop is an excellent option to remove them. This mop is good at cleaning all the spots and spills from the floor. Sponges are very water-absorbent. 
So, when you combine their functionality, you'll be surprised how things become handy. People love them more significantly easy-to-use to spot.
Your weekly cleaning of the house, like the basement, kitchen, bathroom, etc., becomes easier using this tool. Sponge mops are exclusive, have incredible absorption, and have excellent cleaning-up traits. It is featured with a well-extended handle for convenience.
5. Microfiber Mop
Microfiber mop is excellent for some crucial advantages. As mentioned earlier, the material used here can make cleaning easier than mops. Those mop heads can easily separate from the base, which is an excellent sanitary option. 
The microfiber mop has two different sections, and a user can separate them separately. Again, you can reuse the microfiber pad that requires 100 washes. That is to mean you can use the mop over time without degrading.
The shape of the mop doesn't bend or damage even after washing it a hundred times. Meanwhile, this mop pad can work as a deep scrubber to create a fresh look at your home interior.
6. Flat Mop
The flat mop is another type of mop that is similar to any microfiber mop. All the figure of this mop head is covered by fabric at the bottom.
You can toss this in the washing machine. The advantages of these mop types are that they allow you to clean the kitchen without using too much water. It makes this mop perfect for both hardwood and other similar floors.
In addition, some of the flat mops need to do their best to soak as much water as possible. It is the only downside of this mop.
7. Spin Mop
Seventh, I have found this little spin mop that is best for commercial use. The main difference between this mop and the other is it comes with a fantastic spin feature. 
Due to these characteristics, anyone can spin the mop greatly. If a person has a lot of arm muscle for wringing out mops but needs a weight mop, this could be a dreadful option.
Spin with a mop bucket is also suitable for reaching tricky corners. It doesn't soak excess water, which might damage the floor like hardwood, linoleum, porcelain, etc. This mop head is also machine washable and easy to store anywhere for tiny sizes.
8. Brush Mop
If you need an affordable mop, this one's for you. A brush mop is typically coming with a soft bristle brush. This is designed in a unique ergonomic style that makes the cleaning process superfast.
Meanwhile, this is a highly unique mop that can vigorously scrub against the floor. Brushing mop can lift all sorts of mud and sticky type spills. Yet, when using a brush mop, ensure that the floor isn't dirty with loose Grimes.
9. Steam Mop
Another effective mop is a steam mop, one of the most expensive mops on this list. A steam mop is a mop that cleans the bottom and top layers of the floor from its core. It absorbs the nasty dirt from the carpet and sofa and is even useful in killing bacteria, germs, etc. 
In addition, it is a wonderful way of deep-cleansing the surfaces since those aren't recommended to be conducted by harsh chemicals.
To clean any sensitive floors like marble, hardwood, and plywood type floor with this one is strongly joyful. Because most steam mops require only water as a cleaning agent. If I highlighted all the benefits of a steam mop, then I can add in a word that a steam mop is
Super effective
Less harmful for luxurious, sensitive floors
Eco-friendly
Safe and secure
Easy to use everywhere
Use hot water vapor
Ideal for disinfecting mold
Effective in cleaning human hair and pet hair also
10. Robot Mop
This is a human-like figure and works like a robot. Most people would love to use this due to the fastest cleaning. It will help you to devote both large amounts of time and energy. It keeps the floor clean and eradicates the filth from floors.
Robot mops can do everything for you, cutting down the labor used in the factories. Robot mop will fill up all the demands that target only to soak up the liquid and mop up dust and can be used for other cleaning purposes.
11. Dust Mop
A dust mop is a type of mop that sweeps away the debris and dust from all the major traffic areas of both houses and commercial areas.
Unlike any standard mop, it is vital in removing surface dirt. It is much better than a dust mop. Dusting the floor with this equipment is fun and eases the areas that can be highly sought-after care surfaces. It is best as,
A convenience dust mop
Household cleanser
Great to use on laminate floor
Provide a different variety of cleaning products
Rejuvenate the entire house layouts
Can transform from dust mop to spray mop
Works awesomely to clean the debris, making it worthy to act as a floor-shining product
Frequently Asked Questions (FAQs)
How Many Types of Mops Are There?
There are 11 types of mops available. Each mop has different characteristics; their pros, cons, and specs aren't similar. Rather than being used for different purposes, most mops are incredibly significant for hardwood floors like wood, laminate, and others.
What Are Flat Mops for?
Flat mops are good to use for daily cleansing. They all are worth going hard to reach areas such as sofa corners, chairs, and tables. Flat mops are usually not lint and are durable.
Even though they extrude the necessity of a single or double mop bucket, those mops are increasing the level of cleanliness.
What Are Static Mops?
Static mops are the mops that are used for cleaning the floor. It can collect dirt, dust, and debris with the help of microfiber.
The microfiber mopping head at the top of a mop is a mop that gathers small particles and grime from the floor quickly. It doesn't need a dustpan before you wet the floor for cleaning.
What Mops Do Professionals Use?
String mops and buckets are professionals' first choices from an early age. They would like to mop the floor with that kind of scrubbing brush.
But as early as the new technology comes around, expert people go for the traditional mop with different categories. They choose string mops for their widely used capabilities and many additional traits.
What Is a Butterfly Mop?
Butterfly mops are featured with vast absorbent sponges. It helps to cover large, wide areas with one swipe. Besides this, the microfiber pad can grab and trap dirt everywhere.
Another mopping microfiber pad is attached to the mop, which can collect dirt easily. It can trap nasty fingerprints stubbornly thoroughly and let the user comfortably complete a full wrings mop with one simple pull.
Final Words
Lastly, the mops with different traits, extra benefits, and advanced effects are strongly capable of capturing dirt. Some are available cheaply, whereas some are super to disinfect the germs and make the floor fresh, lively, and unaffected by unseen bugs.
Since there are different types of mops, I don't suggest you grab anyone unknowingly.
Before buying anything, it is obvious to study their benefits and other essential things. But I would like a string mop because it can cover large areas without making the hustle and bustle. And the second is a steam mop that produces water vapor to soak dirt from particular areas.