Is Mopping Wood Floors Bad? [Know Before Making Any Mistakes]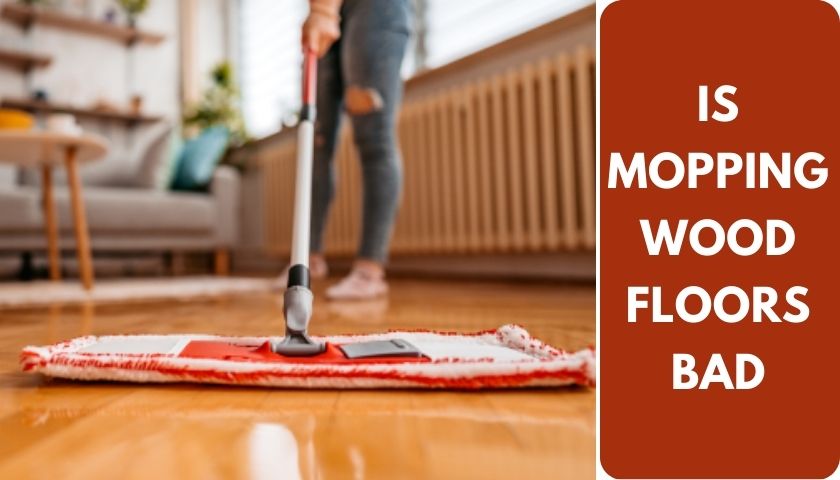 Wood floors are unique, stylish, and marvelous and can last more than a hundred years if maintained properly. But all cleaning procedures are not worth it regarding wood floors.
Because they follow some specific methods and some strict rules that should be abided by you gradually, in that case, you may ask if I would mop the floor. Or is mopping wood floors bad?
Mopping the wood floor isn't bad at all. But its natural finish may vanish earlier if the floor gets mopped frequently with excess water. Again, some more cleaning tools, like vacuum cleaners with a beater bar, steam mop, etc., can also ruin its floor finish.
Is Mopping Wood Floors Bad?
There are a lot of arguments about this opinion. The full explanation of this depends on how wet the floor is and how long it will take to dry off.
But mopping the wood floor regularly is not bad if you maintain a full routine. But some experts advise not to mop the floor daily since excess moisture will begin to settle in the grooves.
This is not the end that you may think. Mopping wood floors requires some more in-depth cleaning concerns. Doing any of them unconsciously may end up with the biggest fatal for the floor.
It eventually begins warping and damaging the wood floors. To keep it evergreen and polished, I recommend you damp mop the floor once a week. Yet, they will dry fast if anyone mops them using a bona mop or microfiber pad.
How to Mop Wood Floors | 6 Effective Steps
To mop wood floors isn't as similar as the traditional floor. The wooden floor is sensitive and faces daily traffic, inevitable spills, and many more.
I call it sensitive because, unlike any regular floor, this will not let you rub them stubbornly even though you won't use any harsh chemical cleanser there. Then, what to do to clean it safely. Let's do it.
Step 1: Required Tools That You Need
Microfiber mop head
A vacuum cleaner with a floor brush
Electrostatic clothes
Sponge
Exhaust fan or air condition
Dry-clean cloth
Mop
Dusting agents
Water (lukewarm), vinegar
Bleach, dish detergent, etc. (for deep cleaning)
Step 2: Dust the Dry Debris
Begin the work with a light mop. Collect all the dry debris from the floor with the help of any floor mop attached to the microfiber head. After sweeping away all the dirt, rinse the floor with soft, warm water.
Step 3: Use a Vacuum Cleaner as a Weekly Routine
Be a real and active user of vacuuming your hardwood floor once a week. Vacuuming the wood floor will make the cleaning job quicker than others. It often helps to prevent unexpected scratches on the floor.
Step 4: Deep Cleanse Floor with Solutions
Deep cleanse the floor once a month. Remaining the floor's natural look for a longer period is necessary and obvious. For deep cleansing, follow the steps included. Also, make a mild solution of vinegar and warm water (2:1)/ (4:2).
Damp the floor first and wipe up excess liquid
Operate an exhaust fan or keep the window open to dry the floors
Now, pour the solutions and rub the spots gently
Rub gently; no need to be hurried. Once you notice all the spots are omitted from the floor, rinse it using water.
Step 5: Remove Dark Spots & Pet Stains Using Steel Wool
For dark spots and pet stains, conduct No.000 steel wool, available in many stores. Rub the dark spots slowly. If it still seems dark, apply bleach or vinegar to the floor for an hour.
As well as steel wool, you can use it for removing heel marks. Lastly, rinse the floor with water and dry it with a damp cloth.
Step 6: Dish Detergent for Oil-Based Stains
The floor can be dirty or nasty for oil-based stains. Rub the whole area damaged by oil with a soft cloth and dish detergent. It will break down the grease. Rinse the floor with clear water and repeat this if necessary. By the way, keep your kids and pets far away from the room while doing these steps.
Let the spots dry, and then smooth the floor finish using grain with sandpaper. Sometimes the floor becomes damaged by watermarks or white stains. Rub the spots with steel wool or with the help of any floor wax. Both of these pieces of equipment go deeper and lightly sand the floor.
Things You Can Do While Mop Wood Floors
Mop the floor using a damp cloth or soft towel, or rag
Sweep the floor with any soft bristle broom
Trimmed the pet nails to decrease the tendency of the wooden floor to scratch
Also, conduct or clean the floor using the beater bar, vacuum, and soft floor nozzles.
Things You Should Avoid While Mop Wood Floors
Skip vacuuming the wood floors using a beater bar.
Do not use excessive water for mopping the wooden floor since it damages the floor.
Do not sweep or broom the wooden floor, which comes with stiffness. It may scratch the finish of the floor.
Avoid using all kinds of soaps, waxes, polishes, and even steam mop cleaners.
6 Best Practices When Mopping Wood Floor
Achieving a stain-free, clean, and the pure wooden floor isn't a dream. It is possible by following some rules. Herein are the best practices when you decide to mop the floor.
1. Sweep Or Vacuum Regularly
Sweeping the wooden floor daily is a good idea. The more you use to clean and wash them regularly, the more the grits and crumbs will be removed from there. Grits and crumbs on wooden floors often occur in scratches. These are the only reasons the floor's natural finish disappeared earlier.
2. Remove Food Stains Immediately If Fallen Accidentally
Remove food stains from the floor if you drop any food over there. Food like pastry, pasta, pizza, or any oily junk food that falls down the floor should be removed earlier. Use a plastic knife under the dry food debris to slide them out of the floor.
While doing this, brush the wooden floor with a knife. Otherwise, it may damage the floor finish as well. After removing the food junk, scrape the spot with a clean cloth. Use a few drops of water to rinse the floor and make a second pass with a dry cloth.
3. Deep Clean with High-quality Hardwood Floor Cleaner
Try to use high-quality hardwood floor cleaners that'll seem great, according to you. The floor finish depends on the cleanser you choose.
There are different types of high-quality hardwood floor cleaners available. Buy one from them but ensure that the floor does not look dingy or dull after using them.
But please wash the floor with a microfiber pad and a cleanser. Finish deep cleansing the floor with 3-foot sections at a time.
4. Keep the Floor Always Dry Before Starting to Cleaning
Always use the cleanser on a dry floor whenever you decide to sweep the floor. Avoid cleaning the floor with a wet bucket since it may start to soak floors. A wet mop pad and water full of a bucket cause the wood to swell.
5. Read Out Warning Signs
Knowing only the steps of a clean wood floor aren't the only thing to consider when you want to immaculate it. The environment surrounding your house floor is also a big component of their care.
Wooden floors ironically reacted against excessive temperature and moisture. Therefore, you must read out the awareness of the red flags included on the back of the elements by the manufacturer. It is important and lets you cleanse the floor without ruining the floor unconsciously.
6. Re-coat The Floor Before It's Too Late
Re-coat the wooden floor before it starts to wear down. But re-coating the wood floor doesn't mean you've to sand the floor. But this exercise could help you prolong the floor's lifespan.
Frequently Asked Questions (FAQs)
Is It OK to Mop Wood Floors with Water?
No, mop floors with water are one of the worst ideas. Water is the enormous enemy of wooden floors that easily ruin their natural textures. In this regard, many people suggest you use a damp mop rather than a soaking mop head.
If you want to avoid cleaning hardwood floors with water, then work in one small area at a time.
Should Wood Floors Be Mopped Daily?
Of course, you should mop the wood floors according to your necessity. It's totally up to you. But for the surface and area where you usually do not live, you can skip that area to clean daily.
Dining rooms, kitchens, and main bedrooms should be cleaned regularly or twice a week. And mop the fewer traffic areas once a month or once a season, which isn't used regularly.
How Often Should You Wet Mop Wood Floors?
It is far better to clean and sweep the wooden floor once a week. Yet, the entire terms depend on and vary from house to house. Some houses have very few members and hardly regularly use their guest rooms or other living rooms. In that case, you should clean the high-traffic areas used daily once a week.
For the areas which are less used by you, mop or clean them once a year. Make a schedule of cleaning and maintain it to wet mop wood floors.
Are Wooden Floors More Hygienic?
Wooden floors are more hygienic than others. Those floors are so even and polished on their own. That's why you don't need to cover them with heavy carpet. Carpets that cover the floor can retain and harbor dirt, germs, and dust mites deep in the material's fibers.
Those don't easily disappear without using a vacuum cleaner or any suitable machine. Thankfully, wooden floors are more hygienic and do not hide or retain dirt. Moreover, they're very well-fitted in a children's bedroom or restroom.
How Do You Clean Wooden Floors Indoors?
To clean wooden floors indoors, you have to maintain some thumb rules. But among them, one of the common thumb rules is to crystal clear them using 4 cups of warm water and half a cup of Castile soap or dish soap.
Use this solution all over the floor, do not rub. Let it soak for a while. Then rinse the floor using a light mopping brush, hot water, and a soft cloth.
The wood floor has a natural beauty finish that elaborates and brings elegance inside the house. But when mopping the floor intensively, you must learn the proper and exact ways.
Otherwise, you may roam around the whole day in search of mopping wood floors bad. Does it require any special tools?
If this still puts you in a conflict, then now it's the time to accomplish the confusion. Try out all the ways mentioned above, and don't skip the tips or forbidden notes. Because those facts incredibly play a crucial role in retaining the natural polish look of the floor forever.