Dupray Neat Steam Cleaner Review | Read to Purchase the Worthy One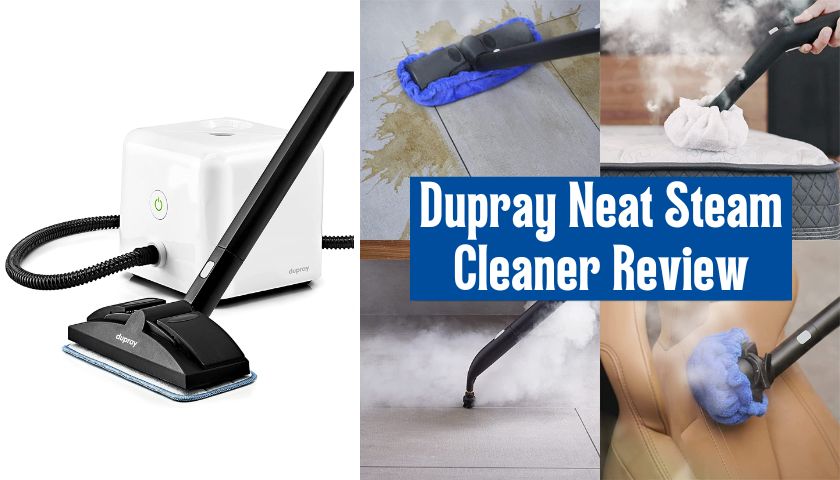 When your entire home is filled (from ceiling to walls) with stubbornness, you might be looking for something other than elbow grease to remove them. The Duprey Neat Steam Cleaner is such an item that will meet your requirements.
Dupray neat steam cleaner is specially designed for ergonomic functions that can clean every floor type. Again, it is easy to use and worth cleaning areas like bathrooms, kitchens, carpets, and tile grouts. A long power cord is another biggest benefit.
There must be more than just knowing to recognize a machine like Duprey. This steam mop cleaner has several features, making it a popular choice among homeowners and cleaning professionals.
What Comes in One Box?
Dupray neat steam comes with a variety of items for various purposes. You'll find the following things while unboxing the box include:
Dupray Neat steam cleaner unit
Extension Wand
2 extension tubes
Floor tool with a microfiber cleaning pad
Triangle tool with a microfiber pad
Window tool
Rectangular tool
2 small nylon brushes
Brass brush
Microfiber cloth
Funnel
Measuring Cup
Note that the box's contents may vary slightly depending on the retailer or seller. You should always ask the seller or manufacturer questions about the box's contents.
Deep Exploration of Dupray Neat Steam Cleaner Review
The Dupray steam mop cleaner disinfects and cleans surfaces using steam. It is suitable for almost every surface to hard-to-reach area at your home. Let's look at its key specifications.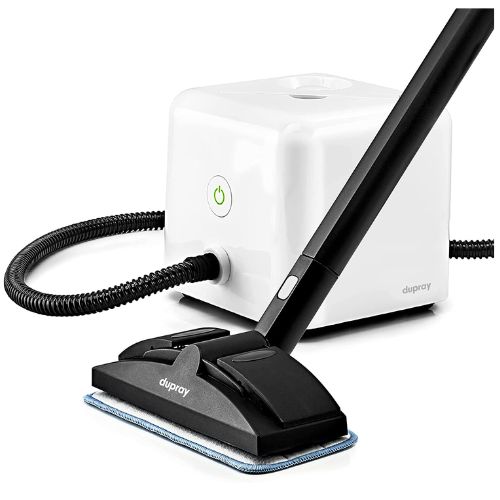 Boiler Volume: 54 oz.
Hose Length: 6'6″
Boiler Material: Aluminum
Body Material: Plastic
Electrical Cord Length: 16′
Weight: 9 lbs.
Dimensions: 10.5″ x 10.5″ x 9.5″
Wattage: 1500
Surface Recommendation: Home, Tiles, Grout cars, Windows, Furniture
1. Design And Dimensions
This unique style cleaning tool of Dupray is completely machine-controlled. There are lots of adjustments found in the body of the machine. This tool's sleek and elegant design is suitable for cleaning dirt from any surface.
It comes with a thin vacuum pipeline that smoothly produces good power steam. Dupray steam cleaners can kill 99.99% of bacteria and germs in the home. Besides, it has a powerful 275⁰ F superheated steam to eradicate pathogenic germs from the core.
Moreover, this one also included a tank that can hold about a half-gallon of water if you bleed it out completely. Although you couldn't find the indicator of how much water remains in the tank, you manage it through your anticipation.
Dimensionally, the tank is so significant to manage much water to clean any broad area. The tank must be filled with water before you use it. A manual installation is another feature I noticed about this pump steam cleaner.
Therefore, ensuring the water tank is full before using the pump steam cleaner for optimal performance is essential.
Unlike many steam cleaners, it doesn't bind with any hard and fast rules and instructions. Their instructions and tools are easy to scan with the information presented in the package.
Again, it has a long power cord of 2 m cable and 2 m hose. By this, reaching any complicated areas to clean through Dupray steam cleaner becomes much more accessible.
2. Steam Output
The Dupray steam mop cleaner has a powerful steam output that can heat up to 293⁰F (145⁰C) in 7 minutes. It can sanitize and clean floors, carpets, and other surfaces without harsh chemicals.
3. Adjustable Steam Control
The steam output is adjustable, meaning a user can customize the amount of steam emitted based on the cleaning task. This feature is handy when cleaning delicate surfaces or fabrics.
4. Large Water Tank
When buying this ultimate cleaning weapon, you may wonder because it has a large water tank. It has a massive 1600 ml water tank capacity and can hold up to 1.5-3 liters of water. That means you can clean for an extended period without stopping and refilling the tank.
5. Lightweight & Maneuverable
The steam mop cleaner is so lightweight and easy to maneuver. Cleaning with this tool could be fun because you can now easily do the job without experiencing fatigue or discomfort.
6. Multiple Attachments
This ultimate steam mop cleaner has various attachments, including floor tools, extension tubes, and brushes. Versatile cleaning is so crucial when you have to maintain a big family.
This cleaning tool can purify a wide range of surfaces, from hardwood floors to carpets and upholstery.
Another standout feature of this tool is its unit. It will do everything. Switch this on if you've owned a large home with almost 10,000 sq ft of travertine flooring, 6 baths, and 1 wide kitchen area.
It could be your lucky charm that can withstand everything and is suitable for large areas. Therefore, you don't need to drag the bigger unit to your home.
7. Chemical-Free Cleaning
Using fewer chemical products on your home floor plays a significant role because they care for most of the home environment. A home that has little kids, allergic patients, and pets could be safe due to this feature.
Dupray mop cleaner offers chemical-free cleaning as it uses the power of steam. The power of moisture makes the home floor germ-free and a reliable, eco-friendly option.
8. Quick Heat Up
It lets you heat the water tank quickly, so you can start cleaning almost immediately after turning it on. This is particularly useful when cleaning up a spill or mess soon.
9. Performance
This steam cleaner is a fundamental tool to reach every high traffic to low traffic areas. As I mentioned, it is an all-purpose cleaning tool; you can use it to clean anything at home.
Some of its users shared that they had to have used this one to clean their car windows, garage, and also bathroom shower tub.
Perfect for a clean home, car, garage, and other upholstery
It has a well-compact design with a long power cord
The length of the handle is comfortable and great for working with any height
Capable of killing 99.99% of bacteria and viruses
The extension tube and attachments are easy to assemble
Can use with regular towel or cloth
Heat very fast compared to other traditional steam cleaners
It's super lightweight and fits nicely anywhere to store at home
Its pipe-like neck could easily bend due to being made of cheap plastic
The plastic scrubbing brushes are not worthy of cleaning tough stains
The warm water sometimes pours out before the steam does
3 Benefits of Using Dupray Steam Mop Cleaner
The Dupray steam mop cleaner is a versatile and effective cleaning tool. It has a range of features to make cleaning more accessible and more efficient. Using this kind of tool is helpful and gives you benefits in many affairs, including
1. It can Use used on Various Floor Types
The adjustable steam control and range of attachments make it suitable for various cleaning tasks, from sanitizing floors to cleaning carpets and upholstery.
Moreover, it has a large water tank to omit the labor and long extended periodic cleaning time. Again, it has a very lightweight design to maneuver it around your home.
2. Eco-friendly Cleaning Advantages
Another significant benefit of using this machine is harsh chemical-free cleaning. This machine uses only the power of steam to sanitize and clean surfaces. This means cleaning the home floor doesn't require harsh chemicals or products.
For this reason, it is a safe and eco-friendly cleaning option suitable for homes with children and pets.
3. Can Hold Warmness for More Than 1 & Half Hours
The quick heat-up time is another advantage of this steam cleaner. It requires more than 50 minutes of cleaning time per fill-up. This is awesome and useful when quickly cleaning up a spill or mess.
Frequently Asked Questions (FAQs)
How Long Do Dupray Cleaners Last?
A Dupray cleaner can last up to 50 minutes if adequately heated before use. After that, you may need to refill the water tank and heat it again for further use.
How Does Dupray Steam Cleaner Work?
Heating the Dupray cleaner's water tank with regular tap water turns them into superheated steam. This machine releases this evaporation steam over the surface to remove dirt, filth, grease, and others.
Dupray is a product of Italy's renowned manufacturer named, Tecnovap. They're also fabricated with the most robust material, known as the highest quality items on the market.
Can I Use Vinegar in Dupray Steam Cleaner?
Yes, you can use vinegar in the Dupray steam cleaner. But ensure your machine is at room temperature and the water reservoir is empty. Only then can you use vinegar on that machine to clean the parts from dirt and mineral scales.
How Much Water Does a Dupray Steam Cleaner Require to Steam?
It requires only 1.5- 3 liters of water per hour. Since this machine requires very little water for steam, it is entirely safe to use on almost every surface.
After finishing this entire Dupray neat steam cleaner review, you may want to know if I should buy it. Of course, you should go for this option for some great reasons. In terms of removing dust and dirt, it is unbeatable and you rely on it without hesitation.
This is a quality unit based on the specs and holds a lot of power for the price and size. Overall, working with it is enjoyable and makes cleaning tasks straightforward.