Roborock S7 MAX V Ultra Robot Vacuum and Mop Review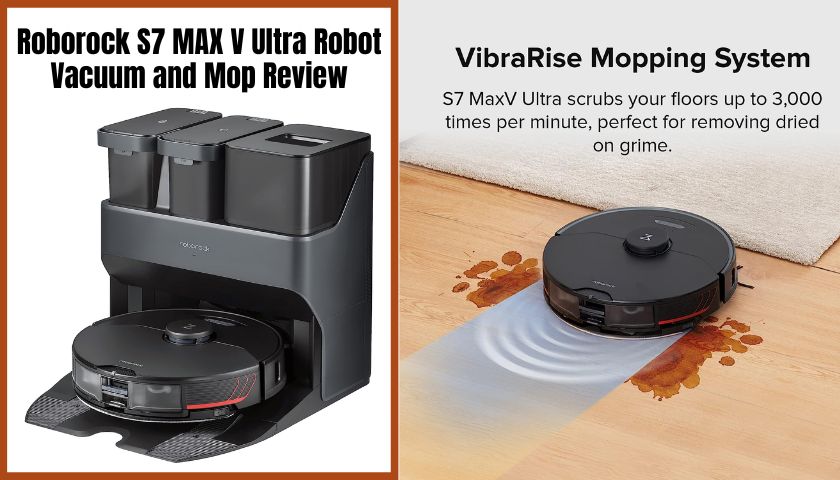 Hybrid vacuum and other mopping robots are the next frontiers in the robot vacuum cleaning sector. In this case, you can trust the Roborock S7 MAX V artificial robot cleaner.
The Roborock S7 MAX V Ultra Robot vacuum and mop is a high-end robot cleaner designed to keep your floors spotless. It uses only water to mop the entire floor of your house. Not only this, but here you also got a live view camera so everyone can observe anything at any distance.
It sounds good. If you want to know more, read this Roborock S7 Max V Ultra Robot Vacuum and Mop review. I gather all the information to represent everything to you more clearly.
Roborock S7 MAX V Ultra Robot Vacuum and Mop Review
With an elegant, bleeding-edge body structure and functions, everyone dreams of this advanced robot vacuum mop. This Roborock S7 vacuum utilizes LiDAR, an Android-like RGB camera, fantastic auto light sensors, and many others.
The best attraction of this vacuum is the empty wash fill dock for charging the robots automatically. Therefore, you don't even need to run after the charging cables or wire to make it manually.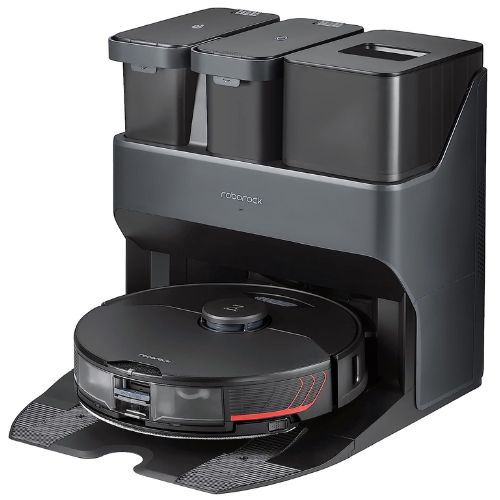 1. Specification
Surface Recommendations: Carpet, tile, wood, marble
Product Dimensions: 16″L × 16″ W× 19″ H
Controller Type: Remote control, App control, Button Control, Voice control
Filter Type: Washable Filter
Battery Life: 180 minutes
Battery Cell Composition: Lithium-ion
Voltage: 120 volts
Power Source: Battery Powered
Item Weight: 37.9 pounds
Reciprocating Vibration Frequency: 3000 times/min of 50Hz
Compatible Devices: Smartphones, Amazon Echo, Google Home
Suction Power Capability: 5100Pa
2. Quality Design
The Roborock S7 Max V vacuum and mop is sleek and modern. It is circular and has a black-and-white finish. The vacuum has a height of 10.28 cm, which enables it to clean under low-clearance furniture.
Another big matter in it is the base unit. This works for you like any magic if you have a household of kids and pets.
The base unit cleans the mop, empties the vacuum bin, and refills it with water. It works to store the dirty water in the tank, so it won't display to anyone who comes to your home. Moreover, you won't notice so much noise here, like another robot vacuum like Roomba.
Also, setting when to charge the vacuum was very helpful. It produces 5100Pa suction power to clean out the vacuum dirt bin. The bin design is also smart and easy to empty and keep clean.
This vacuum and mop have an advanced navigation system. It uses LIDAR (light detection and ranging) to map your home and identify obstacles. The robot cleaner can also detect carpets and adjust its suction power accordingly.
You could love to set the suction and mopping power while using it in each room. It comes with too many selections and can be overwhelming at first. I can track the device instantly through the live map, which shows where the vacuum is currently located in the house.
Also, the device camera will let you see how it cleaned each room. Therefore, you won't need to go to each room to confirm it works properly.
4. Spanking Cleaning Performance
The S7 MAX V Ultra robot vacuum and mop has powerful suction (5100Pa) that can pick up dust, dirt, and debris from all types of floors.
It also has a mopping function that can remove stubborn stains and spills from hard floors. The vacuum has an automatic carpet boost function that increases suction power when it detects a carpet.
Its overall performance is mind-blowing, and you can now say bye to your manual mop and vacuum process. If you used to vacuum the house once a week, it could now be replaced twice a month. This spotless robot doesn't spread dirt to the rest of the house like iRobot jet M6 or others.
5. Multi-plane Floating Brush
This robot vacuum can clean the dirt of the tank by itself. The brush assembly that cleans the mop head has a little lever. You can flip it up to remove the brush or do any fuzz or give it a rinse. The vacuum has an extra filter that can catch any debris lifted immediately for cleaning.
I have the most impressive function, voice control, which greatly amazed me. It may sometimes be impossible to set up the machine manually when you are outside.
The homemaker who used to maintain a tight schedule should opt for this. It is because of the excellent voice command features that let anyone control the device from anywhere.
You can command it to start a clean and change settings like any wireless remote control or mouse. Plus, it can do more things using Amazon Alexa, Google Home, Siri, and other supports.
Plus, this one has a unique multi-plane floating brush. You may already know how efficient any cleansing brush is, and of course, they are. A robot mop cleaning brush is compatible with removing unnecessary spots and unevenness from the floor.
6. Long Extended Battery Life
It has an exceptionally long battery life. Depending on the cleaning mode and floor type, you can run it for up to 180 minutes on a single charge. This robot vacuums cleaner charges, from empty to full, for at least 4 hours. Compared to high-end electronic devices, it is OK and quite faster.
Furthermore, the device can get up to 180 minutes of routine in one clean. One hundred eighty minutes is enough to tackle sweeping all sorts of specks of dirt from any big to mid-level apartments.
7. Artificial Control & Scheduling
The Roborock app, Alexa, or Google Assistant can control this unique robot. People can use the app to schedule cleaning sessions, adjust the cleaning mode and customize the cleaning areas. Besides, many users love this one for being capable of setting it in different routines and schedules.
Suppose you must go to the office in the morning and clean the entire room. In that situation, you can set quiet hours when it will do its job. This machine has three set washing modes: light, balanced, and deep.
Each function is beneficial and lets the user clean according to their preferences. On the other hand, this function is also worthy of preventing damage to the floor types and finishes.
Along with this, a user can enjoy 4 set emptying modes. For instance, you can modify the dirt emptying bucket from smart to the maximum.
8. Calm And Quiet Noise Level
Compared to other predecessors, this robot vacuum cleaner is unique and less stressful for noise reduction. It is relatively quiet and capable of producing a noise level of around 67 decibels. It is comparable to normal conversation.
Even though I don't notice any disgusting noise while talking over cell phones or joining a video conference call. That means this ultimate robot home cleaning tool is too much quieter than its other rivals.
9. Obstacle Avoidance
The top feature I got from here is obstacle avoidance. This one is manufactured with Roborock's next generation of obstacle avoidance technology.
It is set up there to navigate around the common domestic hazards. The robot can roam over the entire room. Furthermore, it can inform you about everything through an RGB camera and a neural processing unit.
As it is an automatic robot vacuum, you find an artificial flashlight too. The 3D structured sensor light will turn on itself when cleaning dark rooms.
Unlike humans, this artificial gadget can instantly trace spots and unknown objects. Not only this but determining the place's size and location can also be detected via this artificial robot.
10. Built-In Privacy & Security Settings
Safety and security are necessary when buying this kind of artificial intelligence device. Because there's no guarantee that it will capture private photos – videos, and you become the victim of the violation.
Luckily, Roborock S7 MAX doesn't save a single image captured during the cleaning period. No images saved mean you are 100% safe from humiliation and social violations.
Even though this machine robot is certified as a safe, smart home product by TUV Rheinland, it has an ETSI EN 303 645 cybersecurity standard, which is also a bonus in terms of safety.
Excellent cleaning speed
Provides customizing cleaning with comprehensive apps control
30% Fast charging benefits
Ultrasonic carpet dust detection
Support exclusive sonic vibration technology for mopping up to 3000 cycles per minute.
Can behold real-time video calling
Less noisy and always remain quite
Specially manufacturing with all sorts of functions of machine learning algorithms
Cons
The apps are less intuitive and often fail to meet the exact schedule
This one is super flopped to clean carpet rugs appropriately
What Comes in One Box & the Added Features Descriptions
One package of these items comes with a variety of goodness. There you get three buckets to fill the dirt and an automated chamber. The robot vacuum will fit in on the empty chamber and automatically wash out the filling dock. Roborock brings so many changes to this artificial vacuum that, included with:
Added all remote actionable functions such as self-cleaning, self-refilling, to self-maneuvering features
Minus the trouble of operating the cleaning job manually
Bring a next-level RGB camera to recognize the furniture in the home and another place
Added more intensive cleaning features to pick up debris
Added self-identifying modifying power like a human being
It can be operated from anywhere, like a remote control
Added safe image-capturing benefits
Added alarming or scheduling benefits so that it can do the clean job according to the will of the user
Frequently Asked Questions (FAQs)
Is This Possible to Use It with Multiple Docks for Different Floors?
Yes, the user can use it with multiple docks for different floors. But try to use them to collect different rugs and dirt.
Does this Run Along the Edge of The Wall?
Of course, this artificial robot vacuum can run along the edge of the wall. It keeps at least a 10 mm distance when cleaning along the wall to avoid leaving marks on the floor and baseboard. There you also get a side brush to collect debris. But ensure that the debris around the wall is collected properly.
Does Roborock S7 Work without Wi-Fi?
The Roborock S7 cleaner can work without Wi-Fi and carry out full home cleanups. This robot mop has an operated push button to trace the spots and clean all dirt.
Can I Use Roborock When Not at Home?
This robot vacuum can be used as a smart home device. On the other hand, you can call it your perfect home sitter because this robot is manufactured with all sorts of artifact intelligence.
You can also schedule the cleaning time on the machine when going outside, even though a user can view the machine's activities through the camera.
Can Roborock Vacuum Work on 2 Phones?
No, you cannot use this vacuum with 2 phones altogether. You should sign in on the Mi account / Roborock app to pair it on multiple phones if necessary.
After reading the Roborock S7 MAX V Ultra Robot Vacuum and Mop review, you may think should I buy this? Therefore, you should remove all kinds of confusion and bring this to your home. This Roborock S7 MAX V ultra-robot vacuum and mop is a top-of-the-line robot cleaner.
It offers excellent cleaning performance. All in all, you get from here excellent outputs, which also compromise as an excellent investment to keep the floor spotless.
Despite having a high price tag, its features, and options were amazing. It vacuumed all tight to edges and around corners effectively.