How to Clean Bathroom Floor Without a Mop | Easy Solutions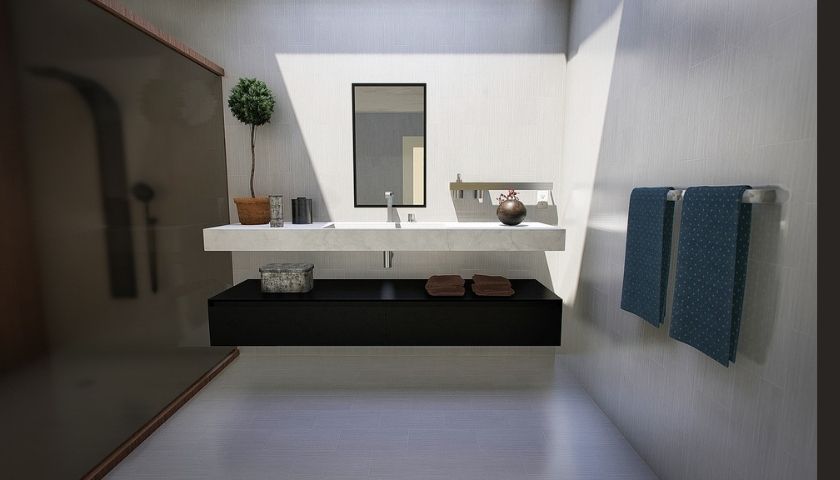 We know that the bathroom and the kitchen are the most used places in the house. And they become dirty comparatively fast than other areas of the house. As a result, you need to pay more attention to cleaning these places. 
Mops are the standard and most used cleaning tool, and most of us familiar with them. In general, we use the mop to clean the bathroom floor and other floorings of the house. But what happens if you do not have a mop? Have you ever cleaned your bathroom floor without a mop? Though it may sound complicated, it is not. Even many people complain about cleaning the bathroom floor using the mop as it is time taking. You also think so? Well, we know about some alternatives which can help you to do the work.
So, how to clean the bathroom floor without a mop? Spread some powerful homemade cleaning solution on the floor, wipe with a microfiber cloth or an old towel. Don't forget to check your bathroom floor type before using any cleaning solution. Let us see how to clean the bathroom floor without a mop.
How to clean bathroom floor without a mop
Though the bathroom floor has a small space than other room of the house, you need to pay more attention to maintain as it used the most. Here are the simple and easy way of cleaning the bathroom floor.
1. Clear the floor
Before you start your cleaning work, you should remove all loose objects from the floor. Remove trash can, stool, and toys if you have kids. Like this, you can easily clean the clear area of the bathroom.
If you have mats or a rug in your bathroom, do not forget to wash them. Many of them are even machine washable. Otherwise, use some appropriate detergent and scrub, then rinse with clean water and hang to dry.
Read next: How to Mop a Floor Correctly
2. Remove dust
You should remove loose dirt and dust before you start washing the floor. Take a broom and sweep away all loose dirt and small particles. You can also use a vacuum. But if you want to use a vacuum, make sure the floor is dry completely to prevent damage to the machine.
If you do not want to use a broom or vacuum to remove loose dirt, you can also use water. Thoroughly rinse the bathroom floor and corners with water using a small hose. This will wash away all loose dust. If there is more debris on the floor, to prevent clogging the drain, collect them and through into the trash.
3. Clean the floor without a mop
It is not so tough to clean the bathroom floor without a mop, but the cleaning method depends on the bathroom floor types. For example, ceramic tiles and porcelain flooring are easy to maintain. You can use almost all types of floor cleaner on them. On the other side, stone or marble floor comes with a breathtaking look but cleaning them may a little bit tricky. You should never use any hard substance to scrub the floor.
Similarly, you can clean the floor with only water and vinegar using a sponge or old towel if the floor is made of vinyl, rubber, cork, or linoleum. But you can use a steam cleaner on them as they cannot bear excess heat. Here different cleaning process
Use a sponge and squeegee
Vinegar is a widely used and popular household cleaner. It can help you to remove stains and germs from your bathroom. Mix about one cup of vinegar with one gallon of warm water. Apply the solution on the floor using a sponge. It will remove stains easily.
After few minutes, rinse the floor with cold water. You can use a squeegee to drain excess water from the floor. Remember that do not use vinegar if it is a hardwood floor.
If you do not want to use a mop, you can use an old towel or new rag to clean the bathroom floor. Take about one gallon of warm water into the bucket and add few drops of lemon juice into it. Now sprinkle the solution on the floor. Use an old towel and clean each corner of the bathroom using your hand.
Do not allow to sit water on the tile floor for a long time as it can leave ugly watermarks. Another way is, dip the towel into the solution and wring out excess water. Then wipe away the bathroom floor with this wet towel.
Use of toothbrush and toothpaste
Sometimes we become embarrassed for the dirt between the bathroom tiles in front of our guests. There is an easy and cost-effective solution to this disgusting problem. An old toothbrush and toothpaste can successfully remove this dirt. Apply some toothpaste on the brush and scrub between the tile.
Now rinse the floor with clean water. You can also use a water hose. Use a squeegee to remove excess water from the floor. Finally, wipe the floor with an old dry towel to absorb the remaining water and let the floor dry.
Use of dusting cloth and tea towel
There is another way to restore the previous shine of your dull and stained bathroom floor without a mop. At first, use a tea towel to wipe away the wet floor and let it dry completely.
Now take a dusting cloth and spray furniture polish on it. Put the dusting cloth on the floor and use the backside of a brush gently on the cloth to polish the tiles. Do not walk on the floor until the polished floor dries completely.
Use of showerhead and hose
Yes, sometimes water pressure can successfully remove dirt and dust from the floor. If there are more dust particles on the floor, you can use water pressure from the showerhead's water hose to clean them. You can also create water pressure by pouring buckets on the floor.
Once the dirt is eliminated and the floor looks clean, take a squeegee and remove excess water from the floor. You can use any suitable household cleaning product like vinegar, baking soda, or borax powder to get a more effective result in this cleaning way.
Read next: Mop vs. Hands and Knees
4. Rinse with clean water
Whatever cleaning process you have applied, it doesn't matter. But finally, you have to rinse the floor with clean water properly. Otherwise, the cleaner residue can leave dirty stains on the floor, and you have to give much effort to remove them.
5. Dry the floor
Finally, you have to ensure that the floor has dried properly. To dry the floor quickly, you can wipe it with a dry towel after rinsing the floor. By this, it will take less time to dry. It is essential because if it takes time to dry, then a small drop of water can leave an ugly water stain on the floor. Besides this, if the wet floor takes much time to dry, there will be a risk of growing mold.
Some tools you may need to clean bathroom floor without a mop
If you are determined to clean your bathroom floor without using a mop, you may have to take help from some tools. You can use these tools to clean the bathroom floor, but you can also use them to remove any spills on the floor. These important cleaning tools are-
1. Microfiber cloths 
Good quality microfiber cloth set is easily available even you can find it at any super shop or local market also. They come in different colors. Nothing can clean better than a wet microfiber cloth, and surprisingly it does not leave any lint. You can use a microfiber cloth for cleaning the bathroom, kitchen, and any other area of the house.
2. Empty bottle
To get an effective cleaning, you may need to make some homemade cleaning solutions. But how can you apply these cleaning solutions to the stained areas? Well, an empty spray bottle can help you in this regard. Just pour your homemade cleaning solution into the empty spray bottle and spray as much as you need.
3. Squeegee with a long handle
A squeegee usually comes with a flat rubber blade and a long handle. You can easily eliminate the excess water from the floor using this tool. This tool comes in a different size. You can collect one according to your bathroom floor size.
4. Paper towel and white cleaning cloths
If you do not want to use a microfiber cloth and looking for an alternative, then a white cleaning cloth may be the right choice. If you use any harsh chemical or sensitive cleaners like bleach, then you should use only a white cotton cloth to wipe the floor. It has a good absorbent capacity, so your floor will dry quickly.
Paper towels are also good to wipe any surface like the bathroom floor. They are expensive but absorb liquid quickly.
5. A lightweight vacuum
If you are going to clean a bathroom that is unused for a long time, you may need a vacuum cleaner before you start cleaning the bathroom floor because it may contain lots of dirt and dust. Experts recommend using a lightweight vacuum so that you can easily handle it.
Wrapping up
We hope you have read this article carefully and get a clear idea of how to clean a bathroom floor without a mop. It is quite an easy job, and you can pick any cleaning way that best suits you. Just remember, you need to rinse the floor with clean water and dry it properly. Otherwise, watermarks and mold will destroy all the effort that you have given in cleaning.
Frequently Asked Questions (FAQ)
What can I use for cleaning the bathroom floor if I don't have a mop?
You can use an old sponge. A washable microfiber cloth is also good for cleaning the bathroom floor.
Are environmentally safe cleansers effective?
Many people claim that an environmentally safe cleaner is not much effective in cleaning the floor. But it's not true. Several institutions use green cleaners to sanitize their floor. If you have kids, then it will be best to use any environmentally safe cleaner to disinfect the bathroom floor.
How do I clean the corners of my bathroom floor?
Take one quart of water into a spray bottle and add two tablespoons of vinegar or ammonia into it. Shake to mix them well. Now spray this solution on the corners to remove dirt quickly. This solution is safe for almost all floors.
How to make an effective bathroom floor cleaner at home?
If you have kids, we advise you to avoid all chemical cleaners releasing toxic fumes. If you want to make cleaners at home, then the easiest way is just to add one cup of vinegar to one gallon of warm water. Your effective homemade cleaner is ready.
Is vinegar safe for all types of floor?
If you have a sensitive floor like travertine or marble, you should avoid vinegar. Otherwise, vinegar is safe for almost all floor types.