How to Remove Hair from Mop Head in The Fastest Way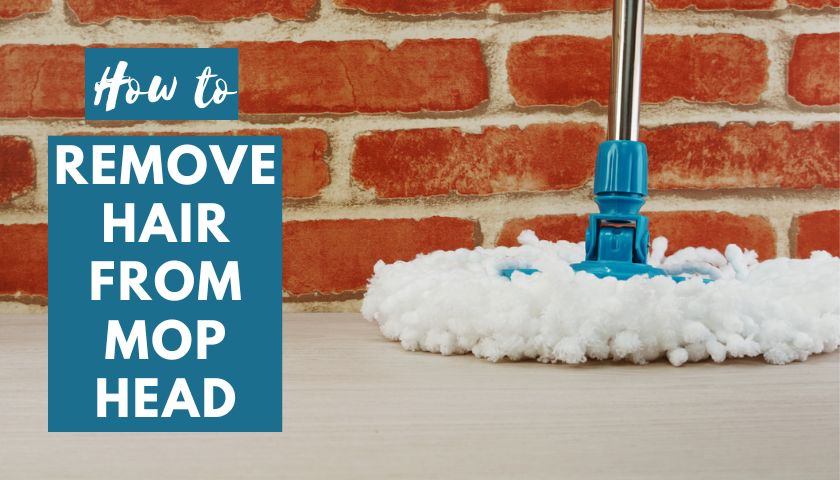 You might not love to spend the whole day cleaning that hairy dirt. Or, you may be tired of trying different methods to eliminate such frustration quickly. But do you know it frequently happens because you do not want to learn how to remove hair from mop heads appropriately?
Removing hair from the mop head is an easygoing process. Vacuum the floor before cleaning with a mop brush is the main remedy for getting away from this. Again, shake the dry mop head; mild cleansing sponges are also effective.
Besides, follow my instructions to eliminate pet and human hair from the mop. I also added some tips to make this job more impressive.
How to Remove Hair from Mop Head?
Cleaning is the best way to increase the longevity of any special equipment. In this sense, cleaning any mop head to keep it pure and fresh every time is important. But most of the time, those mop heads or pads are cumbersome to clean overall for the hair. Human hair or pet hair, whatever it is.
A very common thing that relies on them (both human & pet hair) is their stacking capabilities. Sometimes those hairs stick on the mop head like any chewing gum.
Therefore, you may feel unpleasant thinking the whole day about cleaning them. But don't worry if you currently struggle with it. Because herein is a common step that helps to vanish all these junks swiftly.
Step 1: Shake the Dust While It's Dry
Shake the dust (pet & human hair) from the mop head. It is the best way to remove hair from there. Do not wet the mop head after washing the floor. Leave it for 20–30 minutes to dry off.
Step 2: Use Warm Water & Eco-Friendly Cleanser
Use look-warm or normal warm water to clean the dust. You can experiment with new things like a big bowl or a kitchen sink. Warm the water in the sink. Use a drop or two of eco-friendly liquid. Make sure you stir it properly with a spoon or a stick.
Step 3: Soak Duster in Solution
Now, soak the duster in the solution. Leave it for a minimum of 20–30 seconds or more than 1 minute. Within this time, all the fur of dust will start to come out of the mop head. Then, use a normal laundry brush and start picking up the hair on the feather of the mopping head.
Step 4: Rinse Clean Water
Once you complete all the above steps, rinse the brush with clean water. Do not forget to rinse them with running water.
Step 5: Squeeze and Fluff It Up
Squeeze the feathers of the mop head gently. Make sure that all the excess water is removed from the brush. Fluff it up and allow the mop head to air dry. Now, unroll the mop head and shake it again to bring the last look.
Note: For the microfiber pad, and broom head, you don't need to squeeze or wring out. Just machine wash them after deducting all the fur or hair from its body. For the broom, clean all the dry dirt and dip them in soapy water. Then, rinse them with warm water.
5 Tips for Removing Hair from Mop
Below I share with you 5 efficient tips for removing hair from the mop. Try these tips to identify which will meet your needs most.
Tips 1: Use Detergent and Bleach
One common frustrating fact about removing hair from a mop is its entwined fur. The feathers of pet animals and human hair could be the biggest issues if anyone fails to clean the mop head.
Therefore, I always advise everyone to follow a simple tip. Use your regular bucket, and fill it with normal warm water. Add some detergent and bleach to it.
Let the mixture mix well. Submerge the tools in that mixture properly and leave it to air dry.
Tips 2: Scrub the Mop Brush
Also, don't forget to scrub the mop head and wring out the mop. While using a brush, choose very soft bristles or any toothbrush for a scrub. Besides, take care of the mop brush once it dries properly. Comb each of the fibers with your hand.
Tips 3: Do Not Wet the Mop Head
A wet mop head is another frustration that is hardly stuck on the head. It becomes too dirty and troublesome to clean properly. In most cases, the fur will return again and again even if you clean them intensively.
Tips 4: Vacuum the Floor Before Cleaning
If you're a vacuum cleaner, try cleaning all loose dirt like pet and human hair. It is better to go with some precautions to avoid any further consequences. The floor, made with very hard materials such as tiles, linoleum, and hardwood, can easily be suitable with this remedy.
Tips 5: Use A Duct Tape / Sponge to Collect Hair
As I always know of my near and dear people, avoid wetting the mop head before dealing with hair. You cannot stop your hair from falling as if you cannot stop the pet hair.
Both hairs are terrific to remove from the brush and floor. So, in case you wet the mop head mistakenly, use duct tape or a sponge to collect the hair looms.
Put the tape onto the brush and roll it like a ball. Mop heads immediately become fur-free after you roll tape on them. You can also use a sponge to omit hair from mopping the head.
Frequently Asked Questions (FAQs)
How Do You Get Debris Off a Mop Head?
If you are using a mop head with an automatic removal feature, then it is possible to machine wash them. Throw away the head on any dishwasher or washing machine to clean the debris. If it isn't auto-removal, add dish detergent into a bucket and make a foam base for dipping them.
Leave the mop head to soak the soap and rinse them with clear water. It will help remove stains and other debris that may not come off in cleaning with normal water.
How Do You Get Hair Out of An O Cedar Mop Head?
It is easy to remove hair from an O Cedar mop head. You need to separate the mopping head from its stand. I use this method that makes my cleaning job more relaxing. I used to wet the mop head directly with running water.
Then pick a toothpick to roll out the accumulated hair from the mop head like a ball. Once it was removed from there, I cleaned the mop brush again with pure water.
Of course, it is not impossible to clean or wash any spin mop head. But make sure that the mop head is easy to remove, and you can re-attach them after cleaning.
What Is the Best Way to Clean a Mop?
Bleach and hot water are effective ways to clean a mop. It is a great disinfectant cleanser that effectively washes off the mop head. Mix up both bleach and hot water altogether.
Next, leave the mop to soak in the soapy water for about ten minutes. Try to rinse them wholly until you notice that the water runs clear.
Yes, you should wash your mop head regularly. Doing such things will help you keep the threads from being deported by chemicals. On the other hand, try to use a mop-head laundry bag.
The laundry bag is so good that it makes the strands less tangled. In the meantime, avoid washing off the mop head with bleach and other toxic chemicals.
So, now you may clear up all your confusion on how to remove hair from mop heads. It's not difficult because all the tools and equipment I mentioned above are available at our home. You don't need to hire any professional cleaners for this job.
You can also try out equipment like toothpicks, a sponge, and an old comb to clean the hair from the mop head. A sticky tape is an awesome tool that removes all the hair and grime from the hair.