How to Remove Mop and Glo from Tile Floor | A Simple solution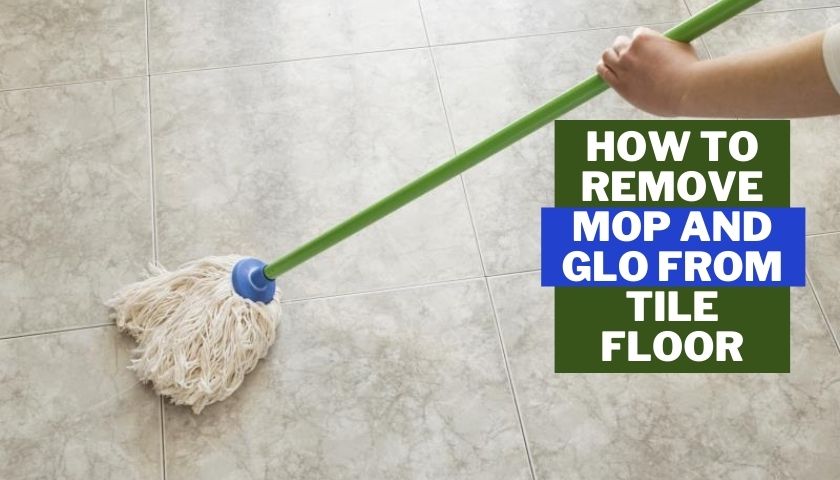 Those who of us have a tile floor; we all want our floors to rock and shine always. Regarding that, a floor cleaning product like mop and Glo comes first in our mind to shine the surface in a cool way.
Each time, while applying the liquid, the floor cleaning product will work as both a cleaner and a shining agent, as well as allotting a waxy layer on the surface. But the repetition of using can help to lose the floor's luster.
It can be used on multiple tile floors, including hardwood, laminate, and ceramic tile floors, and it's better to clean the build-up of this product from time to time.
Well, that's why we're here to inform you about how to remove mop and Glo from the tile floor and bring back the light to your floor.
How to Remove Mop and Glo from the Tile Floor
As we've alluded earlier about three-floor types, let's break down every method piece by piece. Let's start with a hardwood tile floor.
1. Hardwood Tile Floor
Hardwood tile floors are now famous compared to other tiles. You might have used mop and glo on your hardwood, and let's check the procedure to remove them.
What you need
Vacuum cleaner
1/2 cup of vinegar
Clean hot water
Microfiber cloth
What you have to do
First of all, you must vacuum the hardwood floor to eliminate all dirt and debris.
When you vacuum the floor, now move your furniture as much as you can, in case you have access to all of the area wherever you used the mop and glo.
Now, open the ventilators and windows of your home. Because mixing vinegar can lead you to smell a strong fragrance.
Take 1/2 cup of white vinegar, which is about 118 ml into one gallon, 3.8 liters, of hot steamed water. You don't take the risk of submerging your hands in hot water. Please wait until it is normal enough.
Anyway, the vinegar mixture works in acidic form, and it easily removes the build-up from the mop and glo cleaning product.
To remove the harsh smell of vinegar, add multiple drops of orange, lemon, or any other essential oils.
Now, come to the last phase.
Take another bucket of clean and hot water for thorough rinsing.
Then, you have to take a clean microfiber cloth and dip it into the bucket. Wring it out and keep enough amount of water and solution to scrub the floor.
Start to scrub from the corner of your house until you reach the doorway.
Well, now you got one more thing left to do. Let is sit for five to ten minutes so the solution can lay appropriately over the surface.
Lastly, rinse the floor with hot or warm water and a microfiber cloth. Make sure you rinse well.
Now, wait for the magic. The residue of mop and glo will come off in a moment as vinegar starts tearing it apart.
2. Laminate Tile Floor
If you have laminate tile floors and used mop and glo to enlighten your floor, this one is for you. Let's check out what you need to remove mop and glo from the laminate tile floor and the procedure.
What you need
Vacuum cleaner
Chemical stripping gloves
Acetone & Spray bottle
Scrubber sponge or microfiber cloth
What you have to do
As a similar process to a hardwood floor, you must vacuum the laminate tile floor so that you can get rid of all messes, small particles, dust, and debris.
Buy a pair of chemical stripping gloves to wear, in terms of full protection.
Purchase a bottle of strength acetone to eradicate the residue. You can find it in the local market or a particular cleaning product store.
Make sure you open all the windows before you start the removal process of the mop and glo. As you shouldn't conduct a large water volume, you need to use strong chemicals to remove the residue.
Now, pour the strong acetone into the spray bottle. Then, liberally clean with a scrap rag.
Here you go, start spraying on the laminate floor and take a sponge or microfiber cloth to scrub on the surface. Don't bother to apply a harsh brush.
Now, keep scrubbing hard until the residue is faded away and your floors are brought back to light. It will take a little time and hard work, but surely it will worth your money and time.
Once you are done cleaning the floor, now rinse the floor with a microfiber cloth and water to finally remove the mop and glo leftovers.
That was a pretty neat and solid process, wasn't it? Yeah, it's pretty simple. Why don't you apply it right away?
3. Ceramic Tile Floor
This is what we mostly use and have in our houses. So it's no exception. Let's see the procedure and necessities.
Lemon Juice Method
A natural process you would surely love and adore. Lemon juice is an acidic form of citric acid, which can remove the residue build-up of mop and glo.
Here's what you can do with it
Take a 1/2 cup of fresh lemon juice and add it to a gallon of clean water.
You must apply the mixture on the ceramic tile gently.
Now, use a rag or any traditional mop to scrub the floor.
After that, rinse the floor using clean water and let it air-dry or fan-dry, or you can take a soft cloth to suck up all the water leftovers.
Mild Detergent and Hot Water Method
If you couldn't work out with lemon juice, now you can go for a normal process, and that is mild dish-washer detergent and hot water mixture.
Here's the procedure
Take a bucket of hot or warm water and ensure the water is fully neat and clean.
Now, pour a few drops of mild detergent into the hot water, and stir it up to make a good mixture.
Then, with the help of a chamois-style cloth, mop or rag, start cleaning the floor. The cloth or mop depends on the area you're working because you have to check out first how much mop and glo have covered.
Don't use a sponge mop because it attracts dirty water to hide in tiny spaces.
Therefore, you have one more last thing to do. Now, Rinse thoroughly with clean hot water again and let the floor air dry. And you're set.
Distilled Vinegar Method
Another acid-based cleaning option for you is the distilled vinegar method, apparently the white vinegar method. So, how to do it?
Procedures
Pour one gallon of hot water into the bucket and add 1/2 cup of white vinegar to it.
Based on the size of your cleaning area, you can take the mixture into an empty spray bottle to spray it on the floor or apply the mixture with a traditional mop.
As vinegar won't have any leftovers, so rinsing won't be necessary with clean water.
When you have done mopping and cleaning, let the floor air-dry or use a soft towel or mop for buff-dry.
Frequently Asked Questions (FAQ)
Can you put wax on ceramic tile?
You could wax the ceramic tile surface, but then you will need to take care of that surface. Wax will offer some maintenance for the ceramic surface and give it more of a sheen.
How do you remove the film from the ceramic tile?
You could sometimes get the hazy film on the floor tiles, which could be removed with a cleaner that is used for all-purpose. It needs to be non-abrasive so that it doesn't scratch your floor. You could also make your solution with hot water mixed with lemon juice or vinegar. Use a clean cloth; buff dries the floor after you are done applying the solution on the floor.
Does vinegar shine tile floors?
Deodorizing, disinfecting, and cleaning all are the uses we get from vinegar, a natural, non-toxic product that is safe to use. For your soiled porcelain or tile floors, vinegar cleans them effectively without harsh fumes.
What kind of wax can you use on ceramic tile?
You may want to wax the tile floors. You can use a liquid wax or paste for the tile floors. The waxes typically contain urethane or acrylic, which leaves a hard and protective sheen on your floor. To do these, apply the wax with a T-shirt which is old and made of lamb's wool applicator. Until the wax is hard, allow it to dry.
Wrapping up
To sum up, we'd like to say the cleaning business isn't a tough one when you follow the right path and procedures. Unlike other scratches, mop and glo can be removed with a few essential cleaning stuff and methods. Just follow them sincerely and make sure you don't overwhelm anything; otherwise, you can mess up the messes to the worst.
However, good luck in cleaning.