How to Make Reusable Mop Pads | Save Your Valuable $$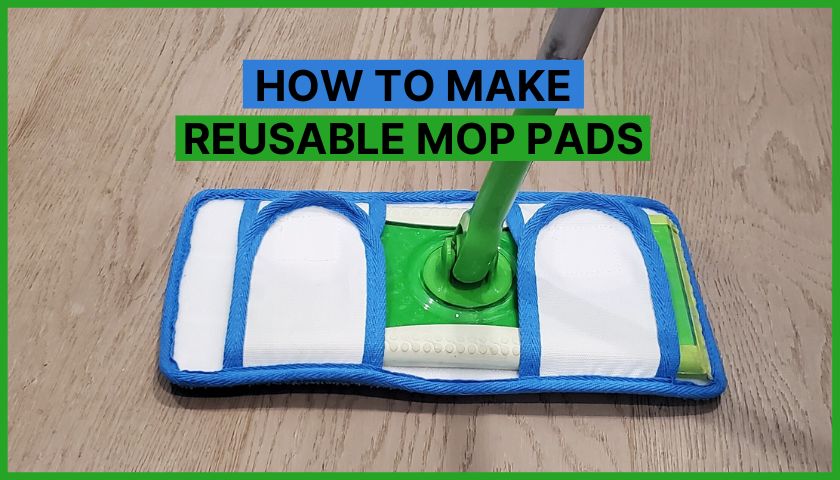 Do you clean your apartment or floor regularly? Then refilling the mop pads is a common chore for you. However, disposable cleaning pads are good options, but they are pricey at the same time. For this reason, reusable mop pads can be a good option for sure.
But how to make reusable mop pads? Happily, the process is straightforward. You can make them using household clothes that are used in different areas. Let's learn together.
What Materials to Use for Reusable Mop Pads?
1. Dish Cloths
Dishcloths are a good choice for making reusable mop pads. More importantly, cutting might be unnecessary if the dishcloth's size matches the mop heads.
Pros
Good choice for making both wet and dry mop pads
Excellent absorbency on different types of floors
Takes little time to clean a floor
Cons
Leave musty smells if not dried properly after using an as wet mop
Important Note: Make sure that the size of the mop head and the cloth are the same. Add an extra layer of a towel if you need additional absorbency. Stitch them together to avoid inconvenience.
2. Old T-shirts
Yes, you can use your old t-shirt as reusable mop pads without thinking twice. Follow the below steps carefully.
Pros
Remove dirt and dust from all floor types efficiently
T-shirts can be used as wet mopping also along with dry mopping
Easy to make a double-layered reusable mop
Cons
T-shirt damages quickly especially if you use it for wet mopping
Important Note: If you need a wet mop pad, soak the t-shirt in a cleaning mixture. I suggest vinegar and water. After cleaning, put the t-shirts in the washing machine, clean them and reuse them.
3. Car Towels
Car towels are suitable for wiping the exterior of the vehicle. But they can be a good choice for reusable mop heads. These towels are thick and soft. Also, they can absorb a lot of fluid, making them handy for cleaning different floors.
Pros
High water absorption ability
Easy to clean and speeds up the cleaning process
Microfiber car towels come with a good drying scheme
Cons
Unsuitable to be used with softener
4. Fleece Material
Many of us must know that fleece can be used as reusable mop pads. Whether you have an old scarf or fabric scrap, use it for making a cleaning pad without thinking twice.
Pros
Made of natural material and don't leave streak marks
Machine washable and easy to take care
Tremendously efficient in mopping material
Cons
Attracts pet hair, dust, and all sorts of flying things
Important Note: Fleece material is a good option for dry mopping. This material absorbs dirt and debris efficiently when it is dry. It performs poorly with cleaning solutions.
5. Wash Mitts
Car wash mitts are soft and large and come with high absorbency. They are good for car washes and DIY mop pads both. While choosing car mitts, ensure that the size is larger than the mop base.
Pros
It can be used with any cleaning solution for wet and dry mopping
Safer to use on any floors
Soft and pilled material allows users to catch anything that may be clinging to the floor
Cons
Requires a bit more maintenance
Important Note: The best thing about wash mitts is that they are usable for wet and dry mopping. Soak the mop head in a cleaning solution before using it for wet mopping. Don't forget to wring the mitts before cleaning the floor. Car wash mitts are also machine-washable. So, cleaning is completely hassle-free.
6. Old Socks
Like t-shirts, old socks are a good choice for reusable mop pads. You can choose both cotton or chenille socks for cleaning the floor. But the chenille socks are best for wet and dry mopping, while cotton socks are good for only dry mopping.
The process is straightforward: Fit the socks over the head of the mop.
However, finding socks larger than the mop head is the challenging part of this method.
How to Make Reusable Mop Pads?
The below-described method is effortless. You will not sweat while following the steps. You can choose any cloth types that I discussed above. Then, make your mop heads reusable by following the below steps carefully.
1. Dry Mops
Required Items:
Reusable cloth
Sewing machine
Sewing thread
Scissors
Pins
Step 01: Making the Pattern
Pattern-making will be relatively easy when you have a mop head, ruler, a piece of hard paper, a pencil, and a scissor.
First, the paper needs to be spread out. Then place the mop head in the middle of the paper. Use the pencil to draw the mop head pattern over the paper.
Next, measure ½" around the line that you draw. It is known as seam allowance. Again, mark the position of the pole of the moper with 2 dots. Since the pole is thick, the dots should be marked apart.
Step 02: Cutting the Cloth
Grab your cloth. Remember to choose bigger cloth. Fold it in half and place it on an even surface. Keep the pattern on the fabric and start cutting according to the mark.
Secure the layers by attaching pins or clips in the corners. The edges should be well-aligned.
Step 03: Securing the Sides & Start Cleaning
Securing the towel to the mop head is important. Otherwise, the cloth will displace. In this case, take help from a Velcro to secure it. Attach Velcro strips at every corner of the towel according to the mark. Make sure to fit the towel snugly. Then sew the Velcro for easy attaching.
The edges or sides of the cloth can be frayed. So, it would be best to sew them.
2. Wet Mop Pads
You can prepare a reusable wet mop pad following a few additional steps.
Step 01: Prepare a Solution
Before making the reusable mop pads, prepare a mixture of water and vinegar in a large container or bowl. If you wish, add a little bit of dishwashing detergent.
Step 02: Submerging & Soaking the Cloth
Then submerge the cloth into the mixture and let it soak completely.
Step 03: Start Mopping
After 10 -15 minutes, remove the cloth and wring it to remove all the solution. If you need to cut the cloth to match the size of the mop head, cut it.
Next, attach the cloth to the mop head and start cleaning.
What are the Benefits of Reusable Mop Pads?
The biggest benefit of reusable mop pads is they are eco-friendly. They also possess some other advantages, which are described below.
1. Saves Valuable Money
Since they are reusable and can be made of dishcloths, t-shirts, wash mitts, etc. These clothes are available in our home. Also, they are inexpensive compared to manufacturers' pads. So, you won't have to spend many bucks making reusable mop pads.
Another thing is, making an unplanned visit to the stores is incredibly unnecessary in the middle of a cleaning process. The reason is t-shirts, dishcloths, etc., are readily available at home. So, they save valuable time as well.
2. Suitable for Both Wet & Dry Mopping
Whether you want to do wet or dry mopping, these clothes are an excellent choice for both dry and wet mopping.
More importantly, the dust and dirt absorbency of these items is great. So you won't have to think about what type of mopping you need for your floor.
3. Machine-washable Feature
Before buying a dry or wet mop from a brand, one of the biggest considerations is whether the mop is dishwasher safe.
Happily, whether you choose wash mitts, old socks, dishcloths, or other material of reusable mop pads, all of them are machine-washable.
Frequently Asked Questions (FAQs)
Which cloth is best for reusable mop pads?
It depends on your mopping method. Use chenille or synthetic material if you want to use the mop pads for wet and dry mopping. On the other hand, cotton cloth will be a good choice for dry mopping.
Can dishcloths make reusable mop pads efficient for cleaning?
Yes, dish washcloths are ideal for both dry and wet cleaning. They clean all the dirt and debris from different floor types and clean perfectly, giving your floor a shiny look.
How to make your reusable mop pads usable for wet mopping?
Soak the cloth in the cleaning solution for 10 -15 minutes before cleaning. However, you can't use all clothes for wet mopping. Wash mitts, old clothes, t-shirts, and dishcloths are better for wet cleaning.
Should I Wash the reusable mop pads after every use?
Yes, it would always be best to wash them after every use. But all clothes don't come with a machine washable feature. Some needs hand washing too. Whether the clothes are machine washable depends on the cloth type.
Where can I find old shocks for making reusable mop pads?
As stated earlier, finding larger socks than the mop head can take time and effort. However, it is possible. Measure the mop head before buying the socks. Choose socks that are made of stretch fabric.
Final Words
Now you know how to make reusable mop pads.
Whatever cloth type you use, all the steps are so simple. Also, clothes are easily available in the house. With the methods mentioned above, you can get the best performance from your mops for several years. More importantly, these methods are efficient enough to give you a shiny floor.
In addition, they can make the cleaning task more tolerable than before. Simultaneously, they will help you save valuable bucks.