Dry Mop VS Wet Mop | Exactly Which Option Should You Choose?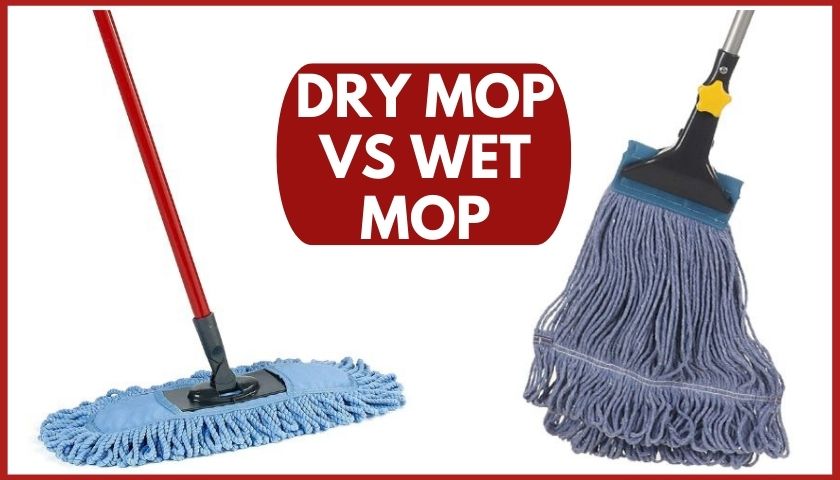 Dry mop vs wet mop, which one should be your pick? However, Dry mops and wet mops both serve different functions and offer additional advantages.
Because not all flooring is designed the same, not all cleaning methods will work equally well on it. A wet mop or dry mop might be all that's needed to clean yours, or perhaps you'll find that both work best at various times.
Wet and dry mop names suggest their respective functions. Whether you need to clean up pet hair, dust, stains, marks, or spills from your floors, you should use the appropriate equipment and cleaning supplies for the job.
Comparison Chart: Dry Mop vs Wet Mop
Dry mopping, which is similar to sweeping, collects debris like dust, filth, crumbs, and other bits and pieces off the floor.
When a dry mop just won't cut it, and there's spilled liquid, a stain, or some crud that won't budge, it's time to break out the water.
Here's a fundamental comparison chart of Dry mop vs Wet mop below to help you know about the differences and will help you to choose the best one.
| | | |
| --- | --- | --- |
| Parameter | Dry Mop | Wet Mop |
| Handle Material | Tubular steel or wood handles | Tubular steel coated with plastic or chrome-plated |
| Mop Head Material | Yarn | Loosely woven yarn or sponge |
| Suitable for | Picking up dirt, debris, and dust | To get rid of any gunk or old debris |
| Maintenance | Requires cleaning after each use | Should be cleaned after every use |
| Longevity | Two or Three months | Three months |
| Electric / Manual | Both | Both |
In-depth Discussion of the Differences: Dry Mop vs Wet Mop
Wet mopping and dry mopping are differentiated by how you handle the mop head. But there are other things to look at. Here is an in-depth comparison for your help.
1. Handle Material
The dust mop and the wet mop have a similar type of handle. Most commonly, dust mops have wooden or tubular steel handles. Glass fiber or aluminum handles are occasionally available, but they are both expensive and uncommon.
Wet mops traditionally had wooden handles, but nowadays, manufacturers more commonly employ plastic- or chrome-coated tubular steel.
2. Mop Head Material
The yarn used to make a dust mop's head can be created from anything from natural fibers like cotton or nylon to synthetic materials.
Yarn is fastened to a nearly stiff carrier substrate that maintains its form after use for mopping.
Wet mop heads can be constructed from either sponge or loosely woven yarn. The yarn comes from either natural or synthetic materials, just like dry mop yarn.
3. Suitable for
Dry mops pick up dry, loose dirt, such as biscuits and soil, etc. quite conveniently. This mop type has a microfiber, yarn, or fabric cloth head. These heads are effective at collecting and entrapping dust and debris.
To remove grease and other residues from the floor, a wet mop is used in conjunction with floor cleaner (or sometimes just water).
4. Maintenance
Since mop heads absorb dust or water. So, it should be washed in hot water with a mild detergent (not bleach) and then dried.
If you've just cleaned your mop, you must put it somewhere to dry before using it again. In order to preserve the microfibers, mop heads require drying at low heat and without dryer sheets or temperatures higher than 140 degrees.
The growth of mold and mildew in a mop is directly proportional to the amount of moisture available in the mop. The moisture can come from the washing cycle or from prior mopping processes.
5. Longevity
As a rule of thumb, you can wash the head of a microfiber mop between 500–1000 times before it wears out.
The mops' ability to absorb water will gradually decrease after this point. It's a blessing that replacing the mop head is a simple task that won't break the bank. Longevity for both wet mop and dry mop is the same. They last two or three months, and after that, mops feel dry and don't work well.
6. Electric / Manual Mop
The process of mopping the floor used to take a long time. Mopping usually involves filling a bucket of water, again and again dipping and wringing out the mop head as you wipe the floor, and finally discarding the dirty water.
Electric mops usually feature a minimalist design, usually featuring everything you need to clean packed into a unique, all-in-one device. There are different kinds of electric mops out there, and they are of other uses.
Electric mops save time and energy, but manual mops do the exact opposite.
In the manual mop process, you can change the cleanser whenever it gets dirty, controlling the type of motion. Most importantly, it costs very low and is easily affordable and also findable.
How to Use a Wet Mop?
They can be useful for cleaning dirt from hard floors if you know how to mop properly. It's crucial to implement an appropriate method to ensure that no areas are skipped, which would result in the persistence of germs and dirt.
We'll tell you how to use a wet mop properly.
You can use a wet mop after you've swept or vacuumed up any large pieces of dirt and debris from the floor. The wet mop will soak up the dirty water.
Prepare a wet mop by soaking it in hot water and a cleaning solution. When using a mop that has been wetted with water or a cleaning solution, it's ideal for tackling the task in manageable portions.
To get started, head to the furthest side from the entrance. To get the most out of your mop, try using a figure 8 motion.
If you want to mop without getting wet, you should mop in a direction that takes you closer to the door. Your solution won't get scattered about the building and cause streaks.
To prevent the cleaning water from being contaminated, it should be changed frequently.
When the mop becomes wet and hefty, rinse it and wring it out before using it again.
That's how you can easily mop your floor and keep it dust free.
How to Use a Dry Mop?
Dry mops make rapid work of sweeping up debris and dust from hard floor surfaces, including tile, wood, and linoleum.
Keep a dry mop handy for in-between cleaning spruce-ups. The dry mop reduces the frequency with which mopping is required. Some steps to follow when you're using a dry mop.
It's best to mop the floors without any coverings on them.
Move the dry mop clockwise around the room's perimeter. To avoid scratching your flooring, you should push the mop instead of picking it up. The dry mop handle may rotate to clean hard-to-reach areas.
Take the mop outside and shake it to remove any excess dust before continuing, or switch out the disposable mop head for a clean one.
After dry mopping, if there is still dirt or debris on the floor, you should sweep it up, or better yet, use a vacuum to collect the debris and remove them away.
Reusable dry mops, often made of woven fabric, have a removable head that may be washed and reused. You can just take off the mop head and toss it in the trash if it is disposable.
You can save time and effort when you wet-mop by first using a dry mop to get the floor as clean as possible.
Utilizing the unique qualities of each mop will streamline, expedite, and improve your floor cleaning procedure.
Can You Wet a Dust Mop?
Easy to use and effective, a dry mop can help you keep your home free of dust and allergens.
In spite of its superior cleaning abilities, even this tool needs and deserves to be cleaned occasionally.
The best practices for dust mop maintenance are the subject of this write-up. It will describe various methods for keeping dust mops in excellent condition. It'll show you how to clean a dust mop thoroughly and effectively.
First, take the mop head off of the dust mop frame and shake it to release any dust that may be trapped inside.
Second, enclose the mop's head in a laundry net or bag. Wash in a washing machine using warm water and a standard detergent, then give it a cold rinse.
Third, you should dry the mop head by laying it down flat. Drying on a low-heat machine is fine.
Fourth, maintain your mop on a semi-regular basis (not every day).
Floors will look much better with only a little bit of regular mopping care. It's important to disinfect your mop after each usage so that it doesn't transmit germs and filth around the house.
Dry Mop vs Wet Mop – Which one to Choose?
Dust mops, also known as dry mops, feature heads made of fabric or disposable pads that need to be replaced after each usage.
They have a special construction that allows them to capture and hold dirt, hair, and other particles while you sweep the floor. Dry mops work well on dry floors but are useless for cleaning up spills.
On the other hand, the heads of wet mops, often made of rags or sponges, are dipped into a pail of soapy water or floor cleaning. Dry stains are perfect for this procedure.
It's not as simple as choosing dry mop vs wet mop one way and sticking with it forever; both sides of the argument have valid points. You only need to pick the one that works best for your situation.
Lastly, when mopping, it's crucial to use environmentally safe chemicals for the sake of both your floor and the planet.
Frequently Asked Questions (FAQs)
Should you dust mop floors as often as needed throughout the day?
Depending on the nature and frequency of the messes that experience. Consider how often you'll be away from home when scheduling your cleaning sessions (once a week, twice a day, etc.).
Should you dry mop before wet mop?
Yes, you should. Always start with a dry mop. Cleaning what you're going to clean could seem superfluous. You'll just be spreading the dust and dirt everywhere if you mop after not first sweeping the floor.
Should you clean floors or dust first?
As with professional cleaners, you should always start with dusting, as this will yield the best results with the least amount of time spent on the task.
What will a dust mop do when they are working well?
By removing the small particulates that wear and tear on your floor covering, regular dust mopping is an easy way to preserve gloss and extend the lifespan of your flooring plan.
How often should you wet mop floors?
Once a week, wet mop all of the elevated areas in your home. Cleaning your home's floors once a week is quite enough for less-used rooms like the guest room. If you mop once every two weeks or once a month, that's probably sufficient.
Final Verdict
In terms of their primary function, wet and dry mops remain fundamentally different. Both are highly effective when used for their intended purposes.
If you take the time to learn how to use them properly, you can prevent damage to your floors and have a clean home for a longer period of time.
Clean the floor regularly with either a dry mop and would then every so often use a wet pad to kill off any remaining germs.
It is up to you at this point to determine what kind of cleaning mop would work best for you and your household. Dry mop or Wet mop? As such, make the right decision so that your home is cleaned to your satisfaction.