O-Cedar Spin Mop VS Hurricane Spin Mop | Which One Is Better?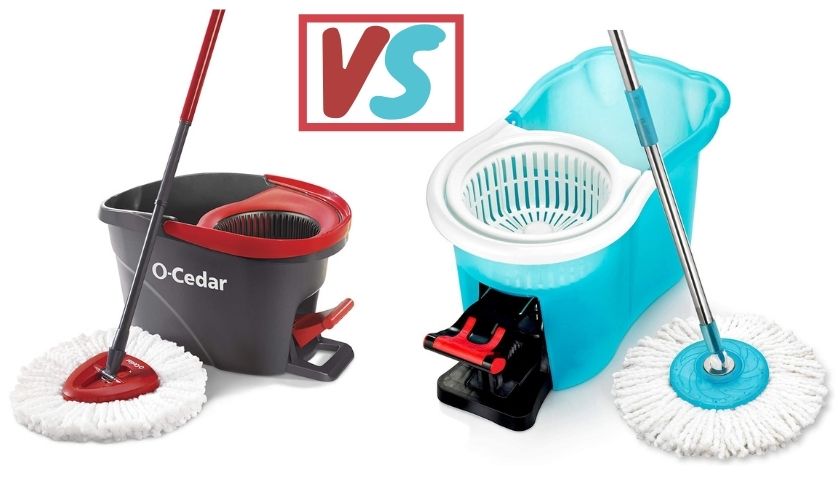 Don't get stuck with the old style of mopping while this is an era of technology. You need to adapt the modern one for a more convenient cleaning aspect. The spinning mop is one of the best tools that make your mopping process easier. It is the most helpful equipment for those who suffer from backbone problems.
While talking about spinning mops, O-Cedar and Hurricane spin mops are both the most reliable names in the market. People prefer these two names because they offer a smooth and neat cleaning result.
Since both products are so popular among house owners, you may find it challenging to choose one of them. To make you clear, we have made a comparison review about the O-cedar spin mop vs the Hurricane spin mop. Walking through the whole article, you will get the answer to which one will be your best companion.
O-Cedar Spin Mop VS Hurricane Spin Mop
O-cedar and Hurricane spin mop offer a hands-free mopping system. Both provide a convenient cleaning experience. But there are some unique features that make them head and shoulder competitors. It would be better to find them and get your best mopping tool.
1. O-Cedar Spin Mop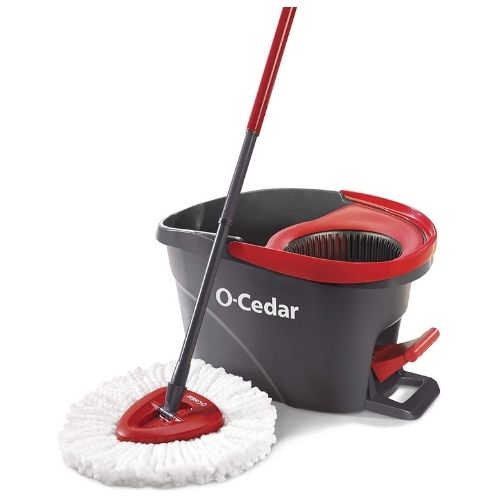 O-Cedar Spin mop makes your mopping chore faster than ever. Actually, it is a complete unit that helps you clean the floor without breaking into a sweat. This special mop allows you to mop the floors with a perfect level of moisture and don't leave the floor wet. Using this, the floor mopping has become a piece of cake.
EasyWring Design
O-Cedar spinning mop's special feature is the EasyWring Design. Somewhat it looks like a traditional bucket mop design but with a modern upgrade. EasyWring design offers you a hands-free wringing that means you don't need to touch nasty water.
The EasyWring system is all about the bucket design. It is a bit more unique. The two-third of the bucket is used for the water reservoir, and the rest is where you can see the EasyWring feature. This is the part where users wring the mop head.
There is a foot pedal on the outside that used to wring out the mop head. This is a very impressive mechanism. When you push down the pedal, the built-in wringer starts spinning and wringing out excess water in a hands-free manner.
This spinning mop offers a very neat and clean operation. The splash guard around the wringer prevents water splashing and spraying inside the bucket while wringing or moving the bucket from one room to another.
Microfiber Mop Head
There is a microfiber cleaning pad wrapped in the mop head. Microfiber pads are widely used for cleaning purposes. This advanced microfiber mop head effectively cleans dirt, debris, water, and sticky substances from the floor. Just plain water is enough to sparkle the floor, no need for harsh chemicals. Well, if you want to use it, you can.
The microfiber mop is suitable for almost all types of hard surfaces including, finished hardwood, laminated, tiles, wood, vinyl, and so on. Moreover, the great point is, the microfiber pad is machine washable and reusable. The brand recommends replacing the microfiber cleaning pad every 3 months for optimal performance.
Cleaning Performance
The cleaning performance of the O-Cedar spinning mop is incredible. It offers streak-free mopping every time. The microfiber mop head easily locks dirt, pet hair, grime, and dried on sticky messes that a vacuum never can catch. Moreover, you use the mop dry or wet for dusting or mopping.
The mop head features a patented triangle design so that it can reach every corner of the house and provide deep cleaning. Also, with the ability to rotate 360 degrees, you can easily clean under the furniture, alongside baseboards.
Durability
O-Cedar spinning mop offers a decent amount of durability. The whole unit is made of plastic. This is fairly strong for long usage. The handle of the mopping is made of telescopic material that is durable enough. Moreover, the handle is adjustable up to 48 inches, so you can adjust it according to your size.
Despite being a low-priced spinning mop, it is able to match the top-notch performance that is hard to beat. Its maintenance is also quite easy and effortless. So having this spinning mop is worth your money.
2. Hurricane Spin Mop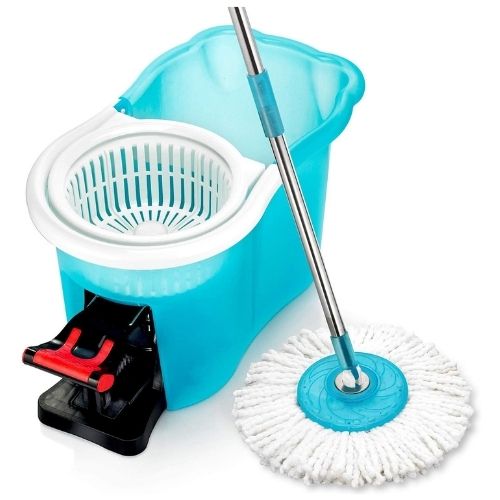 Hurricane spin mop is another reliable name. Earlier, mopping was considered to be a time-consuming task. This spinning mop eliminates the hassle and cleans the floor in a conventional method. The system of the Hurricane spinning mop is similar to the O-Cedar spinning mop. Well, let's see the features below:
360 Spinning Head
A Hurricane spin mop makes the cleaning task easier. It has an advanced mop head that can rotate 360 degrees. The rotating head provides a powerful centrifugal spin. It helps to clean the floor with ease.
The mop head is made of a microfiber pad. The mop head is super absorptive and can pick up any type of dirt, and debris. It is amazing that the head leaves no water while mopping on the floor. If you want to clean any water split, the mop head absorbs the water quickly and doesn't leave any streak.
The mop head grabs liquid messes. The high-quality microfiber can pick up 10x its weight. The gross is locked inside and doesn't drip. So you will have a clean floor with less time.
Hands-free Wring
Hurricane mop comes with a bucket that features patented centrifugal spinning technology. It also has a built-in wringer just like the O-Cedar spinning mop. There is a foot pedal that works by spinning the basket and wringing out dirty water leaving a clean mop head. The faster you push the foot pedal, the faster basket spins and wring out excessive water. But there is no splash guard like another one so there is a chance of splitting water around while wringing.
Using this spinning mop, you don't need to touch a dirty, nasty mop head. You don't need to break your backbone. Whether you spill soda, coffee grinds, ketchup, or sugar, the spin mop will clean the floor with one pass.
Performance
A Hurricane spin mop provides satisfying performance. The mop head lays flat, making it easy to bend over and move around the furniture. As the handle also can be flat, you can easily reach under a table, sofas, or anything without moving.
This spin mop can be used on hard surfaces like tile, wood, finished hardwood, laminated, and more. It provides a streak-free and germ-free floor. Since the mop's aim is to clean the floor without any struggle, you surely get these benefits. It can easily move and is very convenient to clean. The spin mop is lightweight weighing only 2 pounds, so you can clean your floor easily.
Durability
The hurricane spinning mop unit is made of plastic. Considering durability, there is a mixed conception. If you talk about the handle, it has a very durable construction as it is made of stainless steel and has an aluminum frame. So the handle is ideal for frequent uses and good for deep scrubbing without any damage.
On the other hand, the mop bucket's construction is flimsy. It seems that it is made with cheap plastic and it is thin. So it can fall apart with excessive use. However, the cleaning performance is superior and doesn't leave any dirt and streak on the floor.
O-Cedar Spin Mop VS Hurricane Spin Mop: Pros & Cons
O-Cedar Spin Mop
Hurricane Spin Mop
Pros
Ideal to pick up dirt, sticky mess, pet dander, and pet hair
Cleans liquid messes with the absorbent microfiber mop head.
Splash guard prevents water from splitting around while wringing.
Offers hands-free wringing
The build quality is durable and lightweight
Lightweight build and easy to move around
Affordable price
The mop head rotates 360 degrees and is easy to clean under the furniture
The mop head has a unique design to clean the corners.
Easy to clean hard-to-reach areas
Cons
Relatively small
Flimsy construction
The handle is not sturdy
Expensive price
Which one is better?
Comparing both spinning mops, you can see there is a huge difference in their value. Hurricane spin mop is more expensive than O-Cedar spinning mop. But if you consider the performance, both spinning mops provide satisfying performance and clean the floor well without leaving any residue.
In terms of durability, there are differences among many parts. O-cedar mop's handle is not as durable as a Hurricane spin mop. On the other hand, the bucket of Hurricane spin mop is flimsy and not too durable.
If we consider the price and value, the O-Cedar spin mop wins here. It has a good balance for the price and performance. So you can get this at less of price and enjoy a great value.
Frequently Asked Questions (FAQs)
How long does O-Cedar Spin Mop last?
O-Cedar spin mop is durable enough to last for a few years if you maintain it properly. But the brand said to replace the mop head and EasyWring device every three months for optimal performance.
Do you use a cleaner in the spin mop?
It depends on the floor condition. For regular cleaning, you don't need a cleaner with the spin mop. Plain water will remove all dirt and debris. But if you want to deep clean the floor, then you must use some cleaner and sanitizer with the spin mop.
Are microfiber mops good?
A microfiber mop is better than a cotton mop. It cleans more effectively and absorbs liquid messes quickly. So cleaning becomes much easier with the microfiber mop.
Final Words
For sure, spinning mops makes the mopping system convenient and easy. It is no more a time-consuming task. You can clean your whole house in a shorter time. However, finding the right spinning mop is the most important issue.
Since O-Cedar and Hurricane spin mops provide incredible performance, people often get confused about which one will be worthwhile. For clarity, this article will help you. Approximating these two spin mops, you can understand which one has suitable features and which one will serve you the best value.