Are Steam Mops Worth It | Find Out The Pros And Cons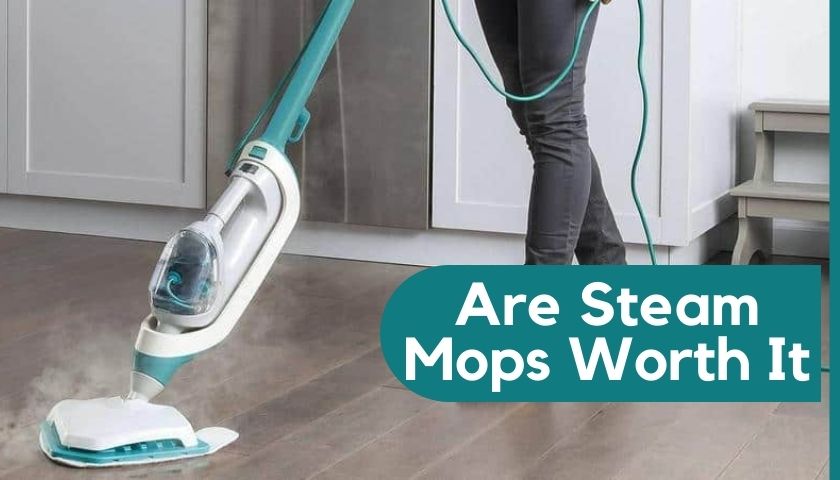 Being house owners, we all love steam mop. But for those people who are newly using this tool, sometimes the benefits of these mops are not really clear. In fact, sometimes a new user becomes confused on is really a steam mop good choice for house cleaning or not. Thus a common question arises- are steam mops worth it?
To find the answer, we need to know the steam mops' advantages and disadvantages. But first of all, you should learn what is the steam mop and how do they work?
What is a steam mop, and how do they work?
A steam mop is an amazing cleaning tool that comes with an upright machine and a built-in water tank. This water tank creates hot, dry steam, which releases from the mop head to deep clean the surface.
There are some specific steam mop models that you can also use for clean bathroom tiles, windows, and even sofa. It has a removable water tank which can be used as a handheld cleaner along with some specific attachments like upholstery tools, scrubbing brushes, and squeegees.
Here we have discussed some of the advantages and disadvantages of steam mop. First, we talk about the benefits or advantages of steam mop.
Advantages of a steam mop
A steam mop can efficiently remove dirt, bacteria, grime from the various floor surfaces. The hot steam effectively can clean and disinfects areas without using any chemicals. It is a good choice for pet owners, parents, and people with allergies.
1. Outstanding cleaning service
Steam mops provide outstanding cleaning service when it comes to removing dirt and grime from the floor. And the bonus is, the heat from the steam can easily disinfect and sanitize the floor. It can kill germs and bacteria up to 99%.
2. Easy to handle and time-saving
The assembling of the steam mop is very easy. It is also easy to use. Just plug it in and wait for a few seconds to release the steam. Once it starts releasing steam, you are good to go. It is super fast and has a huge improvement from a regular mop.
3. Relief from the wet floors and footprints
No need to use a bucket for the steam mop. Even no need to use any chemicals to clean surfaces. The mop holds the required amount of water in the tank. A steam mop can remove stains faster and take minimum time to dry the floor. Almost the floor will dry instantly so, no more wet floor and ugly footprints.
4. Natural and non-toxic
The magnetic feature of the steam mop is, it does not need any chemical to clean. Now you can make your surfaces bacteria-free using only steam instead of chemicals. Just say goodby to all your nasty chemicals and rely on the heat of this amazing cleaning tool.
5. Environment friendly
As steam mop does not require any chemical for cleaning work, it does not leave any harsh residue. So, it is entirely environmentally friendly. Even a wide use of steam mop can reduce the amount of chemical pollution.
6. Good choice for people with allergies
People with allergies need a dust-free and smell-free house for their relaxed breathing. A steam mop can easily do it for you. Hot and powerful steam can remove the last piece of dust from the floor. Moreover, it can eliminate dust mites and bed bugs really quickly with the repeated use.
7. It minimizes your cost
A steam mop is a cost-effective tool—no need to spend a single penny for buying cleaning products when you have a steam mop. Furthermore, it can mop floor faster than other regular mops. Thus you can save some money and save time by using a steam mop.
8. Steam mop-the best choice for a pet owner
If you have a pet and you are very conscious about the health of your family as well as your pet, you must be got for a steam mop. As it does not use any chemical for cleaning, it is undoubtedly a kid and pet-friendly solution. It can effectively remove pet messes and odor also.
Disadvantages of the steam mop
Undoubtedly a steam mop offers lots of benefits, but it also comes with some problems. For example-
1. Do not use too long in one spot
A steam mop releases too hot steam, so if you use it to clean one spot for too long, it can damage the surface. In fact, overheating is harmful to any kind of flooring, including the tile floor.
2. Not for a wooden floor
Generally, you should be very careful about the wooden surface. They need extra care if it is an unsealed floor. The unsealed floor can trap steam into it and damage the flooring.
3. Not a good choice for waxed floors
The hot steam can damage a recently waxed floor because heat can melt the wax and damage the surface's glossy finish. If you want to mop a floor that recently has waxed, then you should test it first.
Are steam mops worth it?
After discussing the advantages and disadvantages, we can say that the steam mops are worth it if you get the right one. You should identify your needs first, then find out a steam mop that best suited you.
Before you use a steam mop, never forget to check your floor types. It is so important because excess heat can be harmful in many cases. By focusing on overall discussion, a steam mop is really a useful cleaning tool if you can find out the right one can use it in the right way.
Read next: Steam Mop Vs Regular Mop
Wrapping up
A steam mop is easy to use, time-saving, effort-saving, and cleaning too. It needs only some water to make your entire house germs and bacteria-free. This amazing tool offers plenty of advantages along with a few ussues. But If you can find the right mop according to your needs, we hope you will be amazed by the performance of the tool. If you still do not use a steam mop, then you should try it! All the best.
Frequently Asked Questions (FAQs)
Is steam mop really effective?
Yes. Steam mops are not only an effective cleaner; they are eco-friendly also. They can kill germs and bacteria up to 99%.
Can I use any floor cleaner with the steam mop?
No, the power of heat is enough for cleaning various surfaces. In fact, anything more than water can damage your tool.
Can I use my steam mop on the vinyl floor?
No. A regular steam mop can damage the vinyl floor. There are some specific models of steam mop which are designed for use on the vinyl floor. You should use them.
Can I put some vinegar in the steam mop?
If you want to clean a hardwood floor, then you should never add vinegar to the steam mop. On the other hand, if you are going to use a steam mop to clean the tile floor, linoleum, or vinyl floor, you can add some vinegar.
Can I use tap water in the steam mop?
According to the experts, you should use distilled water as it does not contain minerals. Because minerals sometimes can cling to the mop and make it less effective.