How To Assemble Bona Microfiber Mop | A Step-by-step Guide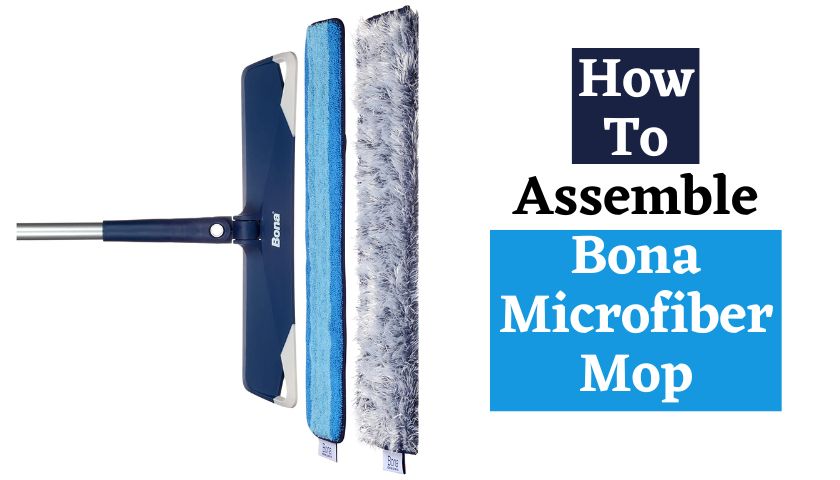 Bona Microfiber mop is easy to assemble but requires attention to detail. Incorrect assembly can cause the mop head to break and render the mop useless. Bona has made the assembly of its microfiber mops simple and straightforward.
However, you must take care with each step in assembly. For example, if you fail to align a screw thread during assembly, you risk having the bolt snap when tightening it into place.
To successfully assemble your Bona microfiber mop, follow the given instructions carefully.
How effective is a Bona microfiber mop for cleaning?
Bona microfiber mops feature a large, high-quality microfiber pad. You can use this pad to clean a variety of surfaces and materials. For example, you can clean hardwood floors and hard-surface floors, like tile and laminate. 
If you have a lot of pets, microfiber is your best option for cleaning up pet hair. You can also use microfiber to remove dust from hard-to-reach places.
It pads are built to last and are designed to fit perfectly in the mop head.
To clean a variety of surfaces, you need a versatile and effective microfiber pad. Bona microfiber pads are highly effective.
For example, they are very absorbent and capable of holding a large volume of liquid. The pads are also durable and easy to clean.
Its pads have a unique, looped construction that cleans and dusts your home with ease. You can use these pads to clean almost any surface around your home, including wood, tile, and windows.
How to assemble a Bona microfiber mop?
When you purchase the Bona Microfiber Mop, it comes with a few simple parts and instructions on how to put them together.
The finished mop is designed for easy assembly, so you can get to use it as quickly as possible.
However, most people probably don't spend much time putting things together from time to time. You may have trouble following the instructions or finding references for some of the smaller pieces.
Before You Start
Before you start assembling your mop, you need to be aware of a few things. Bona recommends that you use the cleaning solution that is recommended by the manufacturer of your mop. This will help you get the best results from your mop and keep your mop pad clean and long-lasting.
With a microfiber mop, you'll have an easy time keeping your floors clean.
This mop set comes with three different heads, which makes it possible to change the type of mop head depending on the task at hand.
Each Bona microfiber mop head is made from microfibers that trap and lock dirt, dust, and grime away from your flooring. Each of these components has its own assembly instructions to help you put them together correctly.
Here, you'll go over how you can put together your Mop quickly and efficiently so that you can get back to mopping again as soon as possible!
Step 1: Attach the mop grip to the mop handle
Attaching the mop grip to the mop handle is the first step in assembly.
To accomplish this task, set the handle with the mop grip at the end of the telescoping mop pole and push it. Give some pressure until you hear a click sound.
Step 2: Attach the mop head to the handle
Now, align the handle and mop head to attach them together. But make sure the logo of the Bona mop head will face forward, which is the correct order to connect.
Hold the mop from the bottom of the pole and make sure the silver o-ring will face forward. Now, attach the connector piece to the base and push until you hear another click sound.
Step 3: Adjust the height of the handle
As the mop has a telescoping handle, you can adjust the height according to your needs. You need to simply rotate the mop pole counterclockwise to loosen. Then pull and adjust the desired height.
Now, rotate the pole clockwise to tighten and lock in the position.
Step 4: Insert the Microfiber Mop Pad and Shake Out Any Loose Fibers
The next step is to insert the microfiber mop pad into the mop head. First, shake out any loose microfiber fibers. These loose fibers can cause damage to your floors and walls.
You can remove loose fibers by shaking out the mop pad and then pressing out any remaining fibers.
Now, lay down the mop pad on the ground. The Bona logo printing side will be facing up to you. Then, simply place the mop head squarely on top of it. When you are done, your Bona is ready for use.
How to disassemble your Bona microfiber mop?
When it comes time to clean or store your mop, you need to disassemble it. One step is all it takes. Simply peel off the microfiber pad from the mop base and wash it.
When you have removed the pad, you can clean the pole and mop the base using a damp cloth. The microfiber pad is washable.
How To Store a Bona microfiber mop?
As I have covered earlier, the Bona microfiber pad is an important part of your Bona mop. This pad is responsible for cleaning, and if it is not properly cared for, then the pad will become dirty and ineffective. 
Bona recommends that you clean the microfiber pad after every use. However, if you are cleaning a particularly messy area, you can do this after two uses. You can clean the pad in a number of ways. 
You can use a washing machine, a sink, or a clothesline and you can also spot clean the microfiber pad with a vacuum cleaner.
However, you should never fully submerge the pad in water. You can also use cleaning products to clean the microfiber pad.
Bona recommends that you use a microfiber cleaning product. This will help you to avoid damaging the pad. Still, you use other cleaning products made for microfiber pads. This will help you to avoid damaging the pad further.
You can then store the pad and mop base in a dry, cool place. When you are ready to use your Bona mop again, simply reassemble it and use it. 
Frequently Asked Questions (FAQs)
How do you attach Bona cleaning pads?
Lay down the mop pad on the ground and place the mop base over it. That's it; you can attach the Bona cleaning pad.
How do you use a Bona microfiber floor mop?
To use the Bona microfiber floor mop, you need to assemble the mop unit. First, attach the mop base to the mop handle, then attach the mop pad, and you can use it for cleaning.
How do you use Bona wet mop?
Simply, you require to push the Bona wet mop forth and back motion and clean the entire surface.
Is Bona suitable for wet or dry mopping?
You can use both wet and dry mop with Bona. A wet mop is used for deep cleaning, and a dry mop is used to absorb liquid spills.
Does Bona floor cleaner need to be rinsed?
Bona cleaners contain a no-rinsing formula. So when you use it on the floor, you don't need to rinse it. But must clean the mopping pad after use.
How often should you use Bona Hardwood Floor Cleaner?
You can use Bona hardwood floor cleaners regularly for deep cleaning. It can be used once or twice on laminated hardwood floors.
Why does bona leave streaks?
If you don't clean the mop after using it, then it will leave streaks in the next cleaning session. So clean the mopping pads thoroughly after use.
Conclusion
Your home can be cleaned using a variety of methods. You can use a broom, a vacuum, or a mop. Bona Microfiber mops are a great option for cleaning your home.
These mops are easy to use, effective at cleaning, require little maintenance, and inexpensive.
To use a Bona mop, you must first assemble it. It is easy to assemble, but you must take care of each step in assembly. Unless you follow these instructions, you risk breaking or malfunctioning your mop.