6 Simple Steps to Store A Mop? Learn The Correct Way!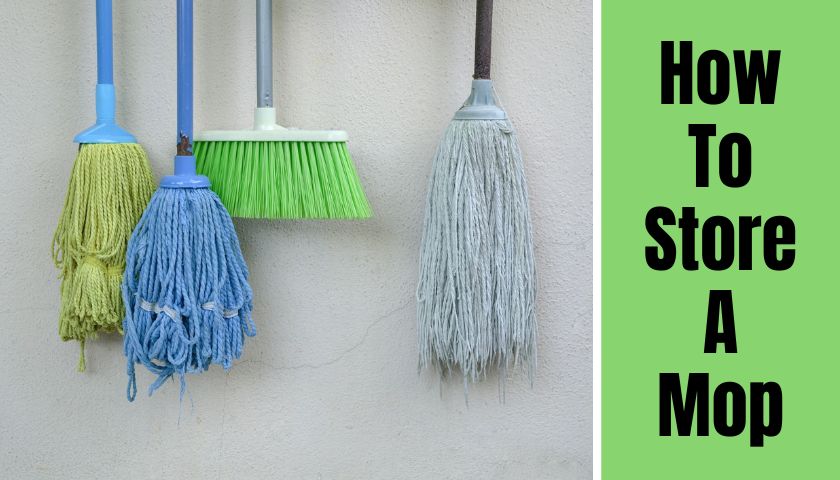 Mopping is important to keep clean and hygienic the hard floors. But mopping will be effective if you store the mopping equipment safely in your house until you want them to buy again and again.
Keeping your house in order is an essential chore. How you store things will impact how easy it is to keep your house tidy from now on.
Whether you love cleaning or hate it with a passion, these tips will help you get organized and stay organized. So check out these useful tips for how to store a mop and keep it there!
How To Store A Mop | 6 Simple Steps
Many people do not pay attention when it's come to storing a mop. But it is important to do it the right way. So here are the useful tips for cleaning and storing a mop.
Step 1: Rinse the mop thoroughly
Whenever you use the mop, rinse it properly after usage. If the cleaning solution or dirt residue sticks with the mop, it will spread a bad smell, and soap residue can damage the mop. Mold can also grow in a mop when it's exposed to moisture.
So wash the mop under a washer or sink and clean thoroughly. If the mop pad is washable in the machine, then clean it according to the cleaning direction on the mop.
Usually, mops are washed in a gentle cycle with the hottest temperature as it kills germs and bacteria.
Step 2: Hang It Up To Dry
Dry the mop head properly. It will prevent bacteria growth. So before storing, let it dry properly. Wring water from the mophead as much as you can, then place it outside on a clothesline or keep it under sunshine. It will naturally kill bacteria.  
If your mop is still wet when you're done using it, hang it up to dry. You can utilize a broom or a mop angle, or you could hook it on a door or wall.
You can also just put it in a spot where it can air dry. Be sure to put it in a spot where it won't be stepped on or knocked over, though.
If you have a small mop, you can hang it up on a hook on a cabinet door or wall. If you have a bigger mop, you can use a mop hook or put it on a hook or wooden dowel suspended from a beam or above a doorway.
Step 3: Decide Where You're Going To Store The Mop
If you have a room in your house that you use for cleaning supplies, the mop's kit will fit right in there. If not, you can always use a closet or a cabinet. But always be careful not to store wet mop inside the cabinet.
The place you decide to store the mop will depend on the layout of your home. For example, you can store cleaning supplies there if you have a big basement.
If you don't want to clutter up your basement, you can use another room in the house where air circulation is enough.
Step 4: Damp Mops Need A Little Extra Care
I'll start by stating the obvious: a mop should always be dried after use. But if you're storing it in a humid environment, you'll need to be a little more careful.
Ensure that no mold grows on it. And it'll never get dry enough to prevent that if it's humid. It'll just get moldy and smell bad.
To prevent this, place a small fan in the room where you're storing your mop(s) to help remove moisture. You can also put it in a room where there is central air.
If you live in a humid place, like Florida or the Deep South, you may need to do this even if you're storing your mop indoors.
Step 5: Choose A Good Storage Container
Identify the container you will use to store the mop. You can use a plastic container, a mop bucket, or a mop and broom holder.
You can buy these at a home improvement store or a supermarket. Or you can repurpose something else.
If you have a small mop and a big bucket, you can actually just store the mop in the bucket. If you have a big mop and a small bucket, you can store the mop in the bucket and keep the handle separate so you can hang it up.
And if you have a big mop, though, you should use a mop and broom holder or a plastic container. The room where you clean may also be a good place to store your mop. It's just a matter of grabbing it and going when you need it.
Step 6: Don't Forget The Bucket
You can forget the bucket if you decide to store the mop in the bucket. But it's important to keep the bucket so you can wring out your mop. If you don't have the bucket, or you repurposed something else, you can buy a mop wringer.
A mop wringer is a device that attaches to your faucet and allows you to wring out the mop without touching it. This keeps you from spreading germs. If you don't have a place for a mop wringer, use a mop bucket. It's better than wringing out the mop by hand.
Frequently Asked Questions (FAQs)
What is the right way to store a mop after use?
To store your mop safely, first, wash the mop head thoroughly to remove soap and dirt residue. Then dry completely and store in a dry and safe place from out of children. 
Where do you store mops?
There are many places in the house to store the mops. Mostly, people store them in the laundry area or in a closet. If you have a separate room to keep the cleaning stuff, then you can keep it there.  
How do you preserve a mop at home?
Mostly, mops get damaged by mold growth or humid environment. If you want to preserve a mop for a long time, then you need to store it in the correct order. We have given the proper guide in this article. 
How do you keep a mop from souring?
When you keep the damp mop in a closet, it smells souring. To prevent the problem, dry the mop head and then store it in the closet. 
Where do you keep mops and brooms?
In a small apartment, you hardly find any proper place to keep the mops and brooms. So you can keep them behind the doors or use some S-hooks on the wall to hang them up.  
How often should floors be mopped?
The amount of foot traffic in your home determines this. Typically, mopping twice a week will be okay for deep cleaning the home.
Wrapping It Up
Following these tips will make storing a mop easy, and it should last for a long time. You can also store other cleaning supplies in the same container as the mop if you want.
But also, make sure to put the mop away as soon as you're done using it, so it stays clean and doesn't gather dust.