How to Use a Swiffer WetJet | Give Your Floor a Shiny Look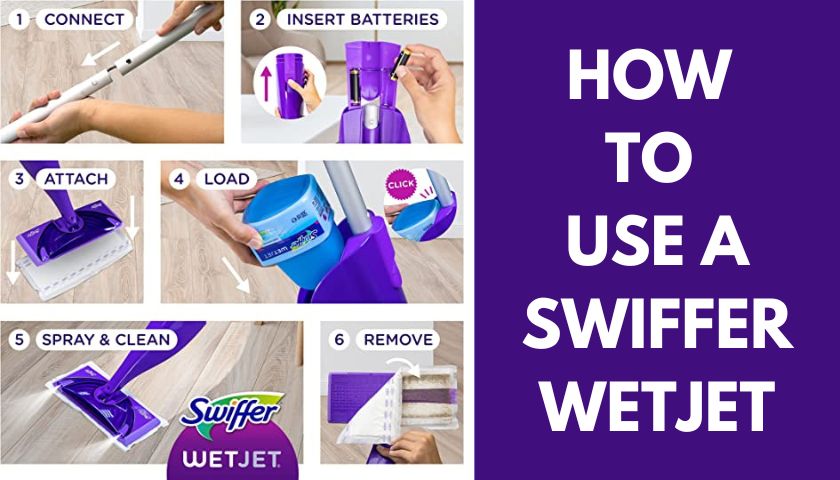 Swiffer WetJet is a complete mopping system that requires minimum installation and can be used straight away. It's best to start with a new pad and sprinkle the cleaning solution via the WetJet mop's dual nozzles.
Then you can sit back and watch as the thick pad traps the dirt and filth inside. Where it will do its work without being moved around. Appropriate for every type of finished floor, including hardwood, laminate, and tile.
The Soak up + Lock patch effectively prevents grime and contaminants from returning. So, let's discuss "how to use a Swiffer WetJet?".
How to Use A Swiffer WetJet with 11 Convenient Steps
All you have to do is just stay with me and follow the processes actively.
Step 1
Open the beautiful starter kit. Simply pull up the tab. You're going to get a lot of things there.
Firstly, you have to assemble the power mop and pole of the mop. Now align the notches of the bars. Slide the sticks together to secure them into place. Try to start from the power mop pole.
Step 2
It's time to insert batteries. The battery is already with the starter kit! Just slide the battery compartment. It's right up the power mop. After inserting the batteries, just gently slide them back.
Step 3
Let's install the cleaning solution. The cleaning solution should be in the starter kit if you are using it for the first time. Now, flip around the power mop.
Then you have to remove the inserted cardboard. Align the arrow on the bottle with the pole. Gently push down until it clicks into place.
Step 4
Attach the mopping pad down. No need to remove anything from the pad. Unless it'll mess up your cleaning.
You are also going to get some mopping pads in the packet. Purple stripe side down to the mop head.
Step 5
Prior to mopping, sweep or vacuum the surface. You may use a sweeper, vacuum, or whisk and dustpan.
Remove loose dirt and debris from the floor before mopping so you can concentrate on removing stubborn messes and marks.
A combination of a mop and a sweeper is required because neither is particularly effective at picking up the other kind of dirt.
Step 6
Press the button once on the handle. The dual nozzle sprayer releases the right amount of solution. It will help you to remove the sticky, stubborn dirt.
After using this mop for the time being you may have to change batteries to power it up again.
Step 7
At the time of mopping with it, you don't have to push it hard. The microfiber pad absorbs the dirt so well.
Sometimes for some sticky dirt, you may have to spray the solution twice. It is super versatile and removes streaks as well.
Step 8
Try to mop your floor once or twice a week. If you clean your floor regularly, it may dampen the floor.
Step 9
After you're done with mopping, just toss the pad. Use a new pad every time you mop.
Step 10
When your cleaning solution runs out, you can buy another for mopping.
Step 11
You can use a towel or any piece of clothing that soaks well. Just wrap around the mop head.
When you are done, just wash it. You can use it again and again. In terms of refilling solutions, you can use your regular cleaning solution as a substitute. This will save you money, and it will also help you to get a clean floor.
Things You Shouldn't Clean with a Swiffer WetJet
Although Swiffer Products are known for their versatility and user-friendliness, cleaning professionals caution that they should not be used on all types of surfaces.
There are a few places in your house that are not appropriate for cleaning with a Swiffer WetJet, including marble surfaces and wooden floors.
Marble Floor
Marble floors are generally PH resistant. So when cleaning this floor, you have to be careful about it. Swiffer WetJet isn't really suitable for cleaning marble or other alkaline surfaces due to its strong pH level (10).
Laminate Floors
There is an alkaline problem with the Swiffer once again. Furthermore, it may not be a great decision.
The WetJet doesn't really clean the surface well; instead, it only leaves streaks and scatters the dirt everywhere.
Vinyl Floor
Using a Swiffer WetJet is a terrible idea. To get the same results as with a standard mop, you'll need to put in a lot of extra time and effort scrubbing stubborn parts.
The environmental and economic consequences are catastrophic. Cleaning with their liquid is tricky since it dries quickly and leaves a sticky film that might attract more grime to the surface.
Wooden Deck
Stay away from the Swiffer if you would like to clean up your dirty hardwood floor.
The Wet Jet's pads are practical as flat as paper towels, making them unsuitable for cleaning wooden floors. Swiffer pads are sure to wear out on the rough surfaces found on wood floors.
Plastic Mats
No matter how hard you try, a Swiffer will not efficiently clean the plastic surfaces in your washroom.
The plastic mats and shower curtain covers in your house can be thrown in the washing machine to get rid of stains and dirt.
Carpets & Rags
There is a chance that the carpet in your home is preventing allergies, bacteria, and other potentially hazardous substances from reaching you.
It cannot be cleaned thoroughly using a Swiffer because of its features.
Frequently Asked Questions (FAQs)
Do I need to change the Swiffer wet jet pads after every use?
Yes, you have to change the pads after every mop. It gets really dirty after cleaning. To prevent spreading dirt, you have to change the pad.
Can you use Swiffer WetJet Pads on a Sweeper?
Not. The pads for the WetJet simply adhere to the Velcro on the underside of the mop head.
Extra fabric from the Sweeper pad can be tucked into the slots on the Sweeper's mop head. Using pads that aren't designed for usage together will cause them to shift about and be useless.
Is the solution used in the WetJet pads safe for pets?
Yes, it is completely safe for pets. There is a rumor about this around the world. Don't worry; there is no harmful chemical in the solution that is unsafe for pets.
Is the Swiffer WetJet safe to use on wood floors?
Yes, it is safe to use on wood floors. For wooden floors, it is ideal to use.
Do you have to sweep before using a Swiffer WetJet?
Yes, of course, you have to sweep before using it. Mops aren't suitable for lots of dry dirt. In another way, the sweeper isn't good for liquid sticky dirt. So, for better results, you have to maintain the balance.
Final Words
Using a Swiffer WetJet is the most hygienic option because of how thoroughly it cleans. Each time, you switch to a new pad.
The time has come to put your newfound knowledge of the Swiffer WetJet features into use. Following these procedures will have your entire house looking like a pro did the work.
There are many instances in which the things in our house are thrown away for no other reason than the fact that we did not properly care for them.
Consequently, one of the recommendations I have for you is to use products with the appropriate amount of caution. This will help the product to maintain its quality for a more extended period of time.
A Swiffer Wetjet also offers a hanging hook that might also help you to keep this product in your cleaner section.
So, what are you waiting for? Let's get to mopping.