Best Robot Vacuum And Mop Combo For Deep Cleaning Your Floors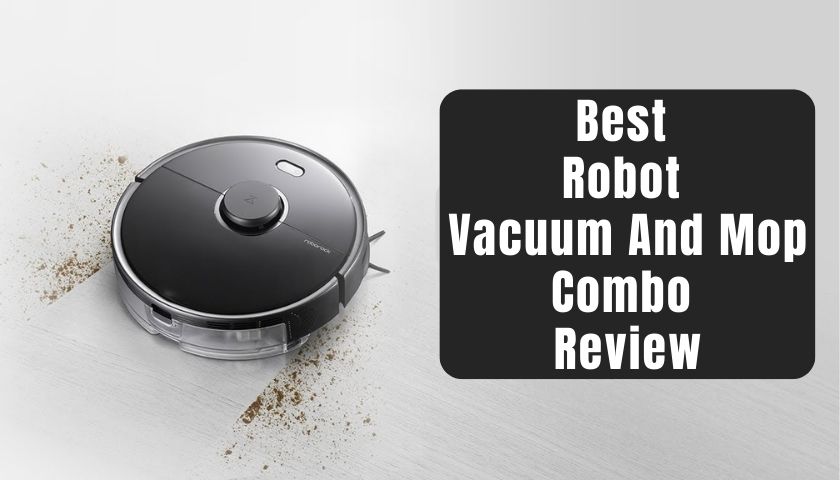 Cleaning floors is a time-consuming task. The robot vacuum and mop device is a great choice to cut the time of cleaning. This little automatic device cleans your floor without monitoring it.
But why do you require a vacuum and mop combo?
Because vacuuming is not just enough for hard floors. You have to mop it for deep cleaning. So this hybrid household model is best suited for every cleaning need. Whether you have carpet or hard floors, you can utilize the combo device and get a clean home every day.
So how to get one?
Simple, just go through these 10 best vacuum and mop combo reviews and a comprehensive buying guide below. This will help you to get the best robot device as your cleaning component.
10 Best Robot Vacuum and Mop Combo Reviews
Nowadays, the demand for automatic devices is increasing, especially for household work. Actually, people want to relieve cleaning headaches. So the vacuum and mop combo is the ideal solution.
Below, I have reviewed the 10 best combo devices from the top-rated brands. These devices have amazing intelligent features and advanced technologies that cleaning task become a piece of cake. Choosing one of them will surely be worth it for you.
Our Top Picks: At a glance
Best Overall: Roborock S7+ Robot Vacuum and Sonic Mop
Best for an affordable price: ILIFE V5s Pro Robot Vacuum and Mop Combo
Best for regular cleaning: Shark VM252 VACMOP Pro
Best For Powerful Cleaning: Roborock S5 MAX Robot Vacuum and Mop Cleaner
Best for pet owners: Roborock S7 Robot Vacuum and Mop
Best for efficient performance: Eufy RoboVac L35 Hybrid Robot Vacuum and Mop
Best for easy navigation: ILIFE V80 Max Mopping Robot Vacuum and Mop Combo
Best for long battery life: Roborock E5 Mop Robot Vacuum and Mop
Best for carpet: Tikom Robot Vacuum and Mop Combo
Best For smart mapping: Yeedi vac 2 pro Robot Vacuum and Mop Combo
1. Roborock S7+ Robot Vacuum and Sonic Mop
Whenever shopping for robotic vacuums, Roborock is the first name that comes to my mind. If you need a high-end and versatile cleaning system, then must consider the brand's latest addition S7+ Robot Vacuum and Sonic Mop. The device is empowered to take the cleaning system to the next level.
Specifications
Size: 13.78″L x 15.75″W x 7.87″H
Weight: 1.32 pounds
Suitable surfaces: Carpet, Hard Floor, Tile, Wood
Power System: Lithium Ion Battery
Battery life: 180 Min
Controller type: Push button, App control, Google Assistant, Alexa
Max suction: 2500 pa
Self Empty: Yes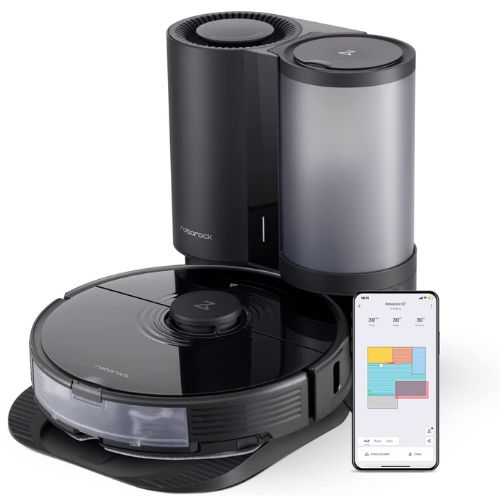 Roborock S7+ Design
Alike most robotic vacuums, Robrock comes with a round design in a decent size. On the top, you can see only three buttons for navigating it manually. Its latest innovation is visible on the bottom.
There is a multi-directional floating and durable rubber brush to catch dirt and hair effectively. The brush can move in four directions and also floats allowing it to remain close to uneven surfaces.
Next is the dock, the center point of attraction. It is a charging dock as well as Auto Empty Dock. The device automatically gets cleaned using the dock. The dust bin is large and can use for up to 120 days without cleaning (depending on your home conditions).
There are a few more components like the water tank and mop pad for using the mopping function. The mop function raises as you need. You don't need to remove it or attach it to the device all the time.
Cleaning Performance
The versatile vacuum and mopping system offers excellent vacuuming performance. It uses LiDAR for mapping and determining the best route for cleaning. It creates an accurate mapping of your home. The safety sensors detect obstacles too.
The device easily picks up almost all levels of dust, debris, and hair on the first swipe. The attached moping pad raises and lowers automatically according to the surface level. It features sonic vibration technology that scrubs 3000 times per minute. So it can handle from large, sticky to dried mess.
The cleaning system has auto-lifting convenience which is the best way to handle your carpets. The mopping pad lifts automatically without wetting the carpet. And turn on the deep cleaning by boosting the suction level.
Navigation
Roborock S7+ is compatible with multi-navigation systems and I think this is the best part. You can control the device through the app, push button, Alexa, and Google Assistance.
First, you need to download an app named Roborock, connect your device with wifi, and paired it with the app. Now, your device is all set to go.
You can see the mopping and vacuuming routes, schedule cleaning time, adjust suction power, No-Go zones, Invisible Walls, and much more using the app. Overall, it is a super convenient and helpful experience using the combo cleaning device.
Pros
Convenient to navigate
Self-empty dock support
Sonic vibration mode for optimal mopping
Multi-air filtration for removing dust
LiDAR feature for route detection
High-level suction power
Cons
2. ILIFE V5s Pro Robot Vacuum and Mop Combo
ILife V5s Pro is an affordable option in the robotic device market. It offers the best values for the price. The device cleans the floor without any hassle. Its incredible features are hard to beat comparing the other budget cleaning devices on the market.
Specifications
Size: 11.8″L x 11.8″W x 3″H
Weight: 4.9 pounds
Surfaces: Hardfloor and carpet
Power: Lithium Ion battery
Controlling type: Remote Control
Run time: 110 min
Compatible Device: Amazon Echo
Self-cleaning: No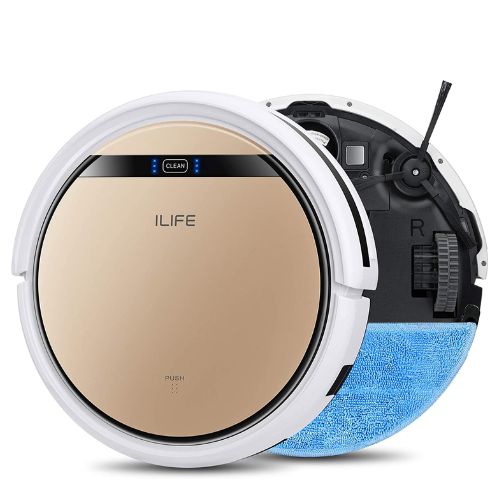 2-in-1 Design
ILife V5s is the best combo pack including vacuuming power with a mopping system. The powerful suction system of the vacuum effectively removes pet hair and other dirt debris which is great for a pet owner.
I love the mopping system with intelligent control. It has a microfiber cloth that collects fine dust and cleans the hard floors. Attaching the cleaning pad and water tank is no hassle and quick.
Multiple Cleaning Modes
The device has multi-cleaning modes that clean the floor according to your needs. There are mainly four modes: Auto mode, Spot mode, Edge mode, and Max mode.
The auto mode is for regular cleaning, the spot mode is for a small area, the edge mode is for cleaning edges and corners, and lastly, the max mode is for intensive cleaning performance. So it is suitable for different cleaning tasks.
Controlling System
There is a remote control that comes with the combo pack unit. It works seamlessly and helps to provide commands. You can also schedule time for cleaning and it will clean the home automatically.
The device provides 110 min runtime which is enough for cleaning small to mid-level apartments. It goes to the dock for self-charging when it has lower battery life.
Detection Sensors
While cleaning with this cleaning unit, you don't require to keep an eye on it. The drop sensors immediately detect falls and move back. So it never falls from stairs or ledges. The other intelligent sensors prevent getting bumps from the furniture.
The device has an improved motor that quietly cleans your home. Moreover, there is no hassle in cleaning the dust chamber.
Pros
Reasonable price range
Cleaning the hard floor effectively
Removes fine dust and pet hair
Long-running time
Self-charging system
Fall detection sensors
Cons
Cleaning the carpet is decent
3. Shark VM252 VACMOP Pro
Shark VM252 VacMop Pro is a portable and lightweight combo pack that is a perfect choice for regular cleaning. If there are pets or kids in the house, it will be a great option at a reasonable price range. The cool features of the Vacmop will surely impress you.
Specifications
Size: 5.3″L x 9.5″W x 47.87″H
Weight: 3.34 pounds
Type: Upright
Capacity: 0.1quarts
Power source: battery
Filter type: foam
Recommend surfaces: Hard floors
Wattage: 85 watts
Controlling type: Push Button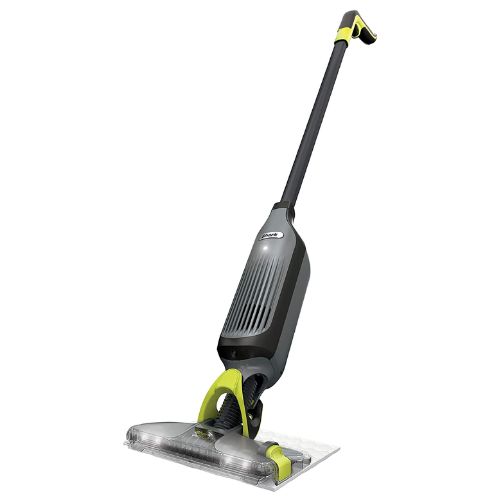 Portable and lightweight
This Shark Vacmop combo is a simple unit yet includes outstanding features for an optimal cleaning experience. It is suitable for regular cleaning to deep cleaning. As it is in upright form, you need to utilize it manually.
Trust me, the task is effortless. The whole unit is only 3.34 pounds which is so easy to push around the rooms. Also, the portable head and body can clean under the furniture and corners. There is a LED light on the head to see hidden dirt and debris.
It is made of hard plastic and seems durable. The water tank is placed on the backside of the device and you can easily remove or attach it.
Powerful Cleaning experience
Shark VacMop delivers great suction power. It effectively cleans up any type of mess on your hard floor whether it is dry or wet, pet hair, drinks spills, and many more.
Next is the spray mopping system that offers deep cleaning of your floor. It helps to remove the sticky mess and fine dust from the floor.
All the mess locks in the VacMop disposal pad. It is a touch-free system where you can dump the mop pad in the dustbin and attach a new one so that you get perfect cleaning every time.
Easy to Operate
This vacuum is super easy to navigate. There is no fancy structure or unnecessary buttons. To activate the suction power, you need to push a button placed under the handle. On the other hand, push the button on the top of the handle to activate the mopping system.
The cleaning pads and cleaning solution bottle. You need to make a cleaning solution and pour it into the reservoir tank. When you activate the mopping system, the head will spray cleaning solution from 3 to 4 feet distance.
Pros
Effectively cleans dirt and sticky mess
Portable and lightweight body
Inexpensive cleaning unit
No hassle to operate
The cordless mopping unit is easy to move anywhere in the house
Refilling the cleaning solution and pads are inexpensive
Cons
4. Roborock S5 MAX Robot Vacuum and Mop Cleaner
Roborock S5 Max is another incredible hybrid cleaner that performs to give deep cleaning every time in the house. It is one of the successor products of the brand which combines the vacuuming and mopping system together.
Specifications
Size: 5.51″L x 4.33″W x 1.97″H
Weight: 13.07 pounds
Recommended surfaces: hard floor, carpet, vinyl, tile, and wood
Controlling type: push button, Google Assistant, Alexa, App control
Power: Lithium Ion Battery
Battery life: 180 min
Max suction power: 2000 pa
Water tank capacity: 290 ml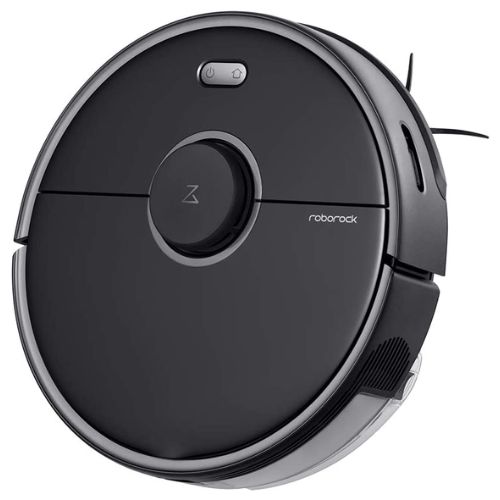 Deep Cleaning
Roborock S5 Max provides deep cleaning every time. It delivers a powerful suction of 2000 pa to clean every bit of your floor. Even fine dust can not escape from the hard floor with this level of suction power.
The device is also suitable for carpet flooring. It automatically detects the carpet surface and turned up to a maximum suction level pulled out dirt, and settled inside the carpet.
Moreover, you can select rooms and command the bot as you need. You can fix the cleaning intensity in a specific room. It is helpful if you have a separate zone for kids and pets. The mopping system works effectively for deep cleaning. The mopping pads are washable and reusable.
The device has 4 levels of cleaning so that it can clean everything as your preference. All you need to provide commands with your fingertip.
Easy Control
It is super easy to control the robotic vacuum using the smart navigation system. It works with an app and you can control everything which is helpful for efficient cleaning.
I love the mapping feature of the robot combo unit. It creates a map in real-time and it is constantly updated without going to the dock. Suppose if you change furniture, you don't need to update it, the device will automatically update it.
The battery life is great and it can clean the whole house with a single charge. It returns to its dock by itself when the battery is getting low and charging up to full.
Pros
Easy to navigate
Efficiently cleans the floor
Suitable for carpet, wood, and hard floors
The fall detection feature prevents drops
Extended battery life for whole house cleaning
Great suction power and mopping system
Cons
5. Roborock S7 Robot Vacuum and Mop
Robotic devices are gaining popularity over the last few years. The Roborock S7 Robot vacuum and mop unit are one of the best combo packs. It features all the bells and whistles that you need for an effective cleaning experience.
Specifications
Size: 14″L x 14″W x 4″H
Weight: 8 pounds
Battery capacity: 5200mAh
Battery life: up to 180 minutes
Max suction: 2500 Pa
Water tank size: 300ml
Recommend surface: hard floor
Controller Type: App Control, Push Button, Google Assistant, Amazon Alexa, Voice Control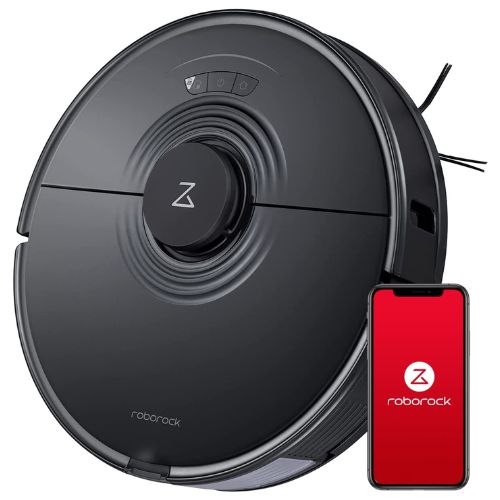 Sonic Mopping Technology
Roborock S7 is an award-winning cleaning device. It features Sonic mopping technology that scrubs 3000 times per minute. There is an upgraded brush system that contributes to deeper cleaning.
By using a multi-directional floating brush, the brush stays closer to the ground and perfectly cleans even and uneven surfaces. The brush is made of rubber which is more durable. The brush resists hair tangling better. So it will be the perfect choice for those who have pets in the home.
There are a 300 ml electronic water tank that is suitable to mop the whole house at a stretch. Further, the device effectively and deeply cleans stains and messes from the floor.
Powerful Performance
The combo unit delivers powerful performance for fulfilling your cleaning needs. The solid motor delivers 2500 pa hyper force suction for lifting dust and hair from the surface, even from the carpets.
Further, in the mopping system, the device creates 600g mop pressure for eliminating sticky stains, and food spills from the surface. It is powerful, solid, as well as convenient to use.
No worries, if there is carpet or rugs. The robot detects the carpet with VibraRise technology. So it mops the floor and vacuums the carpet in a single clean. The system also activates when the cleaning is complete which prevents the spreading of dirt.
Comprehensive app control
Controlling the Roborock S7 is a breeze. It is compatible with multiple devices on your smartphone like Alexa, Google Home, Siri, etc. The voice control is also there for adjusting suction power, vibration strength, water flow, and so on. You can access the cleaning route in real-time.
Pros
Powerful cleaning performance
The intelligent mop lifting feature prevents wetting the carpet
It can control with multiple smart home devices
Upgraded brush system
Compatible with voice control
No dirty streaks after cleaning
Cons
6. Eufy RoboVac L35 Hybrid Robot Vacuum and Mop
Eufy RoboVac L35 is a hybrid device that vacuums and mops the floor simultaneously. It is one of the powerful hybrid devices of Eufy. It has boosting cleaning power and a precise navigation system.
Specifications
Size: 13.78″L x 13.78″W x 3.94″H
Weight: 8.6 pounds
Power source: Lithium Ion battery
Self-cleaning: No
Controller type: App control, voice control
Water tank: 200 ml
Suction power: 3200 pa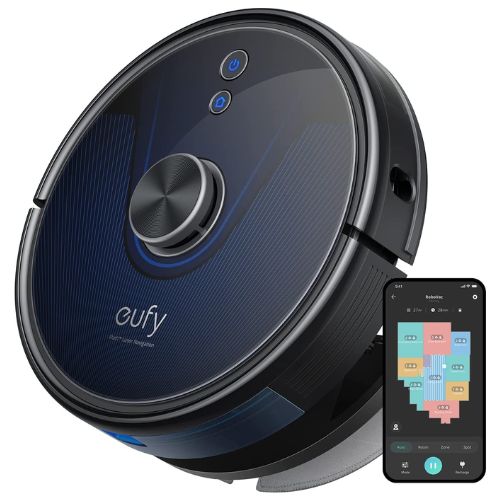 Advanced Laser Navigation
The robot vacuum features advanced LiDAR technology that scans your home and creates a real-time map. Using the iPath Laser navigation system, the device precisely cleans your place. And the z-shaped path so that it can provide more efficient cleaning.
Ultra-strong suction power
This hybrid device delivers ultra-strong suction power with a range of 3200 pa. It is the highest suction power that I have recommended so far. Higher suction power means powerful cleaning. It effectively removes pet hair, crumbs, and dirt.
The suction power is suitable for both hard and carpet surfaces and you can experience superior cleaning performance.
Mopping performance
The RoboVac hybrid cleaning device includes a micro-fiber cleaning pad for mopping hard surfaces. It has a 200 ml electronic water tank with 3 levels of water flow. The different water flows can clean effectively different floor types.
The plus point is, that it recognizes the floor types automatically once you set it down. You don't need to set your preference all the time. You can also custom No-go Zones for a convenient cleaning system.
Controlling
The RoboVac supports both voice and app controls. You can use Alexa or Google Assistant. This allows you to do effortless cleaning services and lets you enjoy your free time. The device quickly switches its cleaning mode on different surfaces.
There is also a fall detection system so that it doesn't drop from the stairs or tuck with the edges of the furniture. Robovac is a big saver for you and it eliminates all the worries of cleaning.
Pros
Powerful suction provides efficient cleaning
Automatically scans the house and creates a map of cleaning
3 different water flow levels for different surfaces
Easy to maintenance
Compatible with voice control
Cons
The performance in high pile carpets is not good
7. ILIFE V80 Max Mopping Robot Vacuum and Mop Combo
ILife V80 is my next pick for the vacuum and mop combo pack. It features cutting-edge technologies that easily meet anyoune\s cleaning requirements. Thousands of families adopt the machine and you can also get it for creating a clean living environment.
Specifications
Size: 12.99″L x 12.6″W x 3.15″H
Weight: 11.08 pounds
Surface Recommendation: Carpet, Hard Floors
Power source: Lithium Ion battery
Controller Type: App Control, Remote Control
Battery Life: 80 minutes
Max Suction: 2000 pa
Water tank capacity: 300 ml
Dustbin: 750 ml
Compatible Devices: Amazon Echo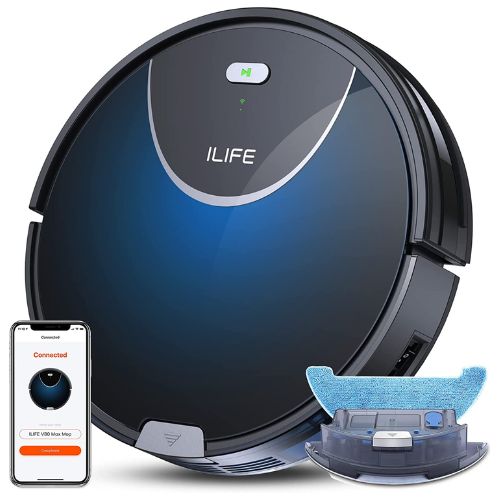 Quality Performance
The ILife V80 Max features a premium brushless motor that is the secret to delivering powerful performance. This motor spins at 20000 rpm, leading to 2000 pa suction power for cleaning small to large particles of dust and debris.
While operating the machine, it provides a quieter performance. Anyone in the house won't feel any disturbance with this device. You will just get a clean surface without a hassle.
Its floating tangle-free suction makes it ideal for homes with pets. The machine stays close to the floors and cleans up hair and debris without any tangling on the roller brush. So there is less maintenance for roller bushes.
Intelligent Mopping System
Since V8 Max is a combo machine, it has an intelligent mopping system. Fill water in the tank and attach the moping pad, it will start mopping for deep cleaning. You can control the water flow levels through the app and clean specific rooms too as your cleaning needs.
The water tank and dustbin are also large, so you don't need to fill or empty them frequently. It allows you to clean the whole house without emptying the bin. The mopping system is perfect for hardwood, tiles, and stone surfaces.
Controlling app
You can control the device by using the smart navigation system. First, connect the machine with ILifeHome App, then you can use the smart gyro navigation and clean more efficiently in less time. The machine is compatible with Alexa where you can conveniently provide voice commands.
There are multiple cleaning modes like spot modes for a small area, path mode for regular cleaning, edge mode for cleaning corners, and max mode for deep cleaning.
Pros
Powerful suction power
Intelligent mopping system
Larger water tank and dust bin
Multiple cleaning modes
80 min runtime
Charge and return to the dock automatically
Features fall detection sensors
Cons
Battery drains faster on max mode
8. Roborock E5 Mop Robot Vacuum and Mop
Many complain that the Robovac does not have a good battery life which is not enough for cleaning a big apartment at a stretch. In this case, you can choose the RobRock E5 which offers 200 min runtime in quiet mode.
Specifications
Size: 18.9″L x 15.75″W x 5.91″H
Weight: 12.27 pounds
Surface Recommendation: Carpets, Hard Floors
Controller Type: App Control
Power source: Lithium Ion battery
Battery Life: 200 minutes
Compatible Devices: Smartphones, Amazon Echo, Tablets, Google Home
Max suction power: 2500 pa
Water tank capacity: 180 ml
Dustbin: 640ml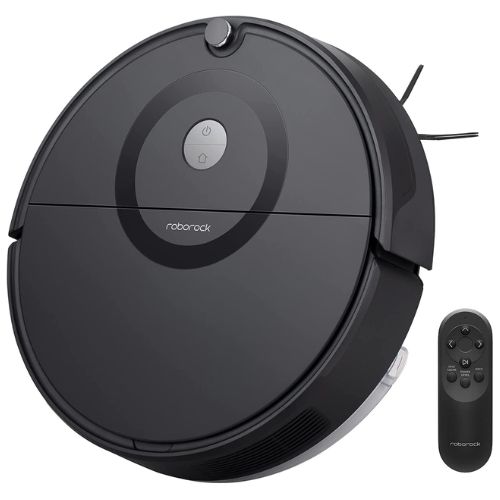 Cleaning performance
Roborock E5 mop and vacuum clean your floor more effectively and efficiently. It provides deeper cleaning with a max suction of 2500 pa. Therefore, you don't need to buy a separate machine for your carpet cleaning. It automatically boosts its suction level by detecting the carpet surface and cleaning efficiently.
The mopping works simultaneously on the hard floors and provides a deep clean. It has 180 ml water tanks that are suitable for cleaning 1600 sqft in the Snapmop system.
Smart navigation
There are many internal sensors like dual gyroscopes, bumpers, internal maps, and motion tracking systems that help it to clean the whole house precisely. It finds out a more precise route for cleaning itself and knows where it needs to clean and which area is left.
You can control the machine using the app, voice command, or remote control system. It lets you set a schedule of cleaning and adjust suction, and mopping power levels.
Pros
High level of suction power
200 min runtime
Effortless navigation system
Offers deep cleaning of both hard and carpet surfaces
Multiple controlling systems
Automatic charging system
It has drop-detection sensors  
Cons
Sometimes No-go zones not working.
9. Tikom Robot Vacuum and Mop Combo
It is hard to get a vacuum and mop combo that is perfect for both hard floor and carpet surfaces. Because the carpet requires high suction power to be cleaned, the other hand, a hard floor requires less suction power. So try this Tikom robot vacuum and mop combo to meet your expectations.
Specifications
Size: 12.6″L x 12.6″W x 2.99″H
Weight: 5.28 pounds
Surface Recommendation: Hard Floors, carpets
Controller Type: Remote Control, App Control, Voice Control
Power source: Lithium Ion battery
Battery Life: 150 minutes
Compatible Devices: Smartphones, Google Home
Suction power: 4500 pa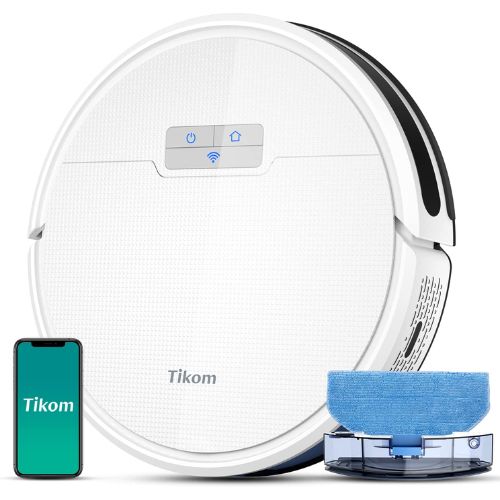 Strong suction power
G8000 pro robot combo provides a strong suction power of 4500 pa. This powerful suction makes cleaning easier and quicker. It simply removes crumbs, dust, debris, and pet hair from both hard surfaces and carpets in a single swipe.
There is a Zig-zag suction path that provides improved cleaning efficiency by 30% comparing the random path of a robot vacuum. This will clean your floor more thoroughly.
Moreover, the device features the latest mopping technology with an electronic controlling system. You can adjust the water output in three-level and enjoy a completely clean home.
Long Running Time
The device has a larger battery capacity that allows to run it for 150 min. The working time is quite satisfying. Once it has a low battery, it automatically returns to the dock.
The machine accepts app, voice, and remote commands, providing more efficiency in your cleaning task. No worry about dropping as it has drop detection sensors or you can set no-go zones.
Pros
4500 pa suction power
Long working time
Smart navigation
Slim profile
Effective for carpet cleaning
Removes pet hair efficiently
Automatic charging
Cons
10. Yeedi vac 2 pro Robot Vacuum and Mop Combo
Yeedi vac 2 pro is the best choice if you prefer smart navigation. It features 3D obstacle avoidance technology that is helpful for families with kids and pets. Again, the device is packed with outstanding features that add great value. It helps to cut the time of cleaning the house.
Specifications
Size: 9″L x 9″W x 3″H
Weight: 13.07 pounds
Surface Recommendation: Hard Floor, Wood, Tile, Carpet, Floor
Controller Type: App Control
Power: Lithium Ion battery
Runtime: 240 min
Suction power: 3000 pa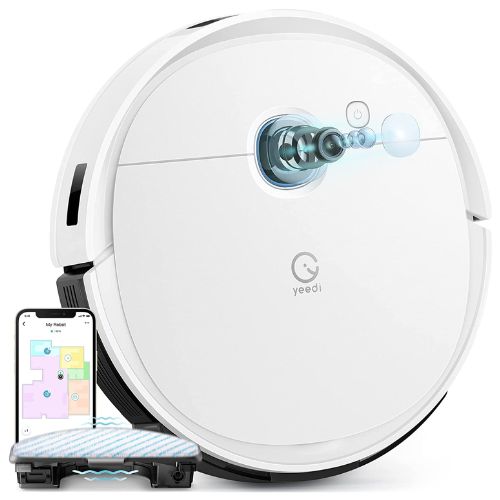 Smart navigation
This vacuum and mop combo is the best for its unique oscillating navigation system. It works with the smart visual mapping function which traces your home like GPS and creates your home layout to clean the home more efficiently.
This is great for families with pets and kids. You don't need to pick up your daily objects like toys, shoes, etc. The device creates its path using the 3D obstacle avoidance technology and cleans the mess. It is a true helper that cuts your cleaning time.
Effective cleaning
The Vac 2 Pro has 3000 pa suction power, providing the perfect cleaning experience. It sucks up dirt from both the carpet and the hard floor. However, you can adjust the suction power at any time with remote control or voice commands.
The cleaning device offers 240 min working time. It is good enough for cleaning the whole room at a time.
Pros
Scrub off stains and dried messes
Removes dirt and debris
High-level suction power
240 working time
Do not clean daily objects
Suitable for carpet and hard floors
Cons
What to consider before buying a vacuum and mop combo?
Although the right vacuum and mop combo device depend on your lifestyle and budget. Still, some common things you should consider while buying the combo device. For example:  
Suction power
More suction power means deep cleaning. Well, it depends on your budget. The high-end devices have more suction power and provide optimal cleaning services.
If you require deep cleaning every time, then you can get a combo device with high suction power. On the other hand, lower suction power is good enough for regular cleaning.
Floor Detection
Floor detection is an important feature of this combo device. It prevents your carpet from getting wet when your combo device activates in mopping mode. This smart feature automatically stops the water flow and prevents soggy carpets.
Battery life
You need to consider the battery life of the device so that one battery life can cover the entire surface of cleaning. A 100 min of battery life should be enough for small to mid-size apartments. More battery life will help to clean the whole house efficiently.
Smart navigation
The smart navigation system decides whether it will clean the home effectively. Consider the LiDAR feature in the device which scans the home at different points and made its cleaning route. In this route, it determines where the walls are and which room is left to clean.
Water tank and dust bin size
If the device has a smaller water tank and dust bin, then you need to fill and empty them frequently.
So consider a standard size so that you don't need to face any hassle. Some premium devices have a self-emptying feature that automatically empties the dustbin.
Controlling Type
Most robot vacuum and mop combos are compatible with a wide range of control systems like remote or voice commands. Well, it is a helpful feature that helps to work the device efficiently.
Frequently Asked Questions (FAQs)
Are robot mops more expensive than robot vacuums?
Prices depend on the quality of the products and their efficiency. However, investing in the combo pack is more worth rather than buying two separate robot devices.
Are robot vacuums with mops worth it?
Of course, because they offer an automatic cleaning experience. You don't need to work separately for deep cleaning. The devices will do the task in one round.
Can robot mops handle cement floors?
Yes, it can handle the cement floors. All you need to adjust the suction level and mopping level to get perfect cleaning.
How do you switch to mop cleaning?
There are functions in the combo model that helps you to switch in mop cleaning. Moreover, you can schedule the mopping system for automatic cleaning.
Can robots replace normal vacuums?
In a better way. The robot vacuums let you clean the entire house automatically. So you don't need to spend time handling the vacuum and cleaning the floors.
Final Words
The robot vacuum and mop combo is really a helpful device that cleans your home without any hassle. All you need to give commands about where and when you need to clean. You don't need to spend time cleaning the floors.
You can knock off the messes easily using the device. Whether you have carpet or hard floors, you can clean them right away efficiently.