Spin Mop Vs Steam Mop | Learn the Differences to Detect the Right One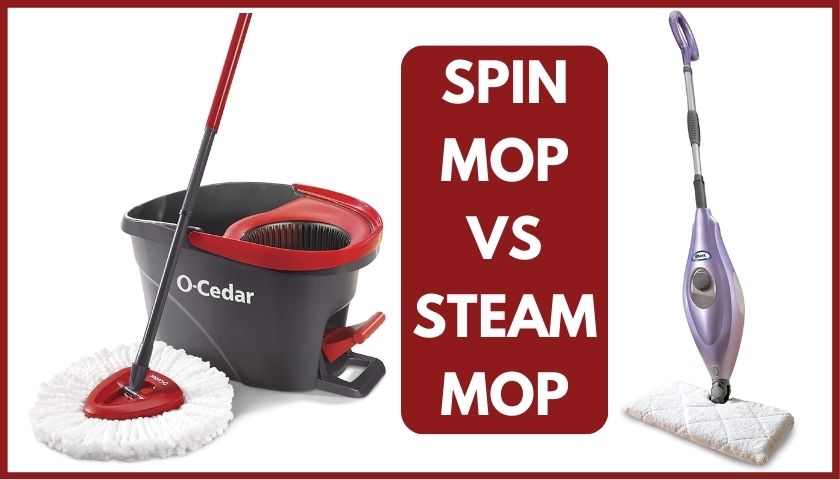 Spin and steam mops are wonderful, popular tools due to their wide usage. But when it comes to choosing only one between spin mop vs steam mop separately, difficulties arise because each of the products is good on its own.
The spin mop is incredibly great for all types of hardwood floors. This tool is a great relief who are over-conscious about their surface damage. Comparatively, a steam mop is worthy of disinfecting and kills house bacteria. It maintains hygiene and safety and creates an eco-friendly atmosphere.
However, both mops are useful for keeping the house floor crystal clean. Yet, if you're in conflict with choosing the suitable one, this post will help you in this regard. Therefore, keep it continuing.
Spin Mop vs Steam Mop – Key Differences
Check out the below circumstances before going through the main descriptions. I will lay out their overall differences through a short overview.
| | | |
| --- | --- | --- |
| Parameters | Spin Mop | Steam Mop |
| Require Electricity | No | Yes |
| Safe for All Types of Floor | Yes | No |
| Effectiveness of Cleaning Dirt | 90% | 100% |
| Eco-friendly for Home Usage | No | Yes |
| Affordable Traits | Budget-friendly | Costly |
| In The Terms of Applying Physical Efforts | Need more physical Efforts | No Need for Physical Efforts |
| Is It Safe for Pets & Kids? | No | Yes |
What is Spin Mop?
A spin mop is also a cleaning tool; people often like it for deep cleansing. Moreover, it is the best cleaning tool for those who don't need to sweep their floor regularly. The spin mop is ideal for sweeping highly sensitive floors and is safe for any polished, even flooring.
Similar to any steam mop, this sort of mop comes with three basic stuff include:
One/ two microfiber cleaning pad
Water bucket
Long adjusted handle
You can find them with a pair of microfiber pads or one. Some models also offer versatile floor cleansers as a package.
Advantages of Using Spin Mop
However, the spin mop is easy to operate and doesn't require any hard-fast rules when it comes to action. The spin mop can last more than the steam mop due to its simple agitation. Let's look at some awesome amenities of such a mopping tool.
1. Easily Capture Dirt
The spin mop has a soft, well-absorbing mopping head that leads to sweeping away heavy dirt. Some microfiber pads have additional elements that also reduce the impact of bacteria from the surface.
Moreover, a user can use the pad over and over again since it is machine washable and dishwasher safe.
2. Super Initiative for Quick Touch-Up
This tool is a great choice for many experts and homeowners for its super-absorbing power. This means the microfiber pad comes along with this and can hold up to 88.07% more water than its weight. As a result, this tool is excellent at taking care of unexpected, immediate cases.
3. Safe for Use In All Types of Floors
Using a spin mop provides you the option of quick dry-off and deep cleaning. This mop is so versatile owing to the power to clean any flooring except carpets and marble. This tool is good to use everywhere on any floor without the hassle of irreparable damage.
4. Affordable
The spin mop is super affordable to buy compared to steam mops. Therefore, if you're looking forward to buying budget-friendly cleaning stuff, go for this. Its overall cost is not as high as any other steam mop.
Disadvantages of Spin Mop
Take a look at its disadvantages also. Unlike the steam mop, the spin mop has some bad sides, including
1. Need More Physical Efforts
It requires more physical effort when you need a spin mop. Operating such mechanical tools is hard for old aged people. Because you often need to bend your knees and shoulders during the mop time to reach the corners.
So, whenever you use them, it may be painful for both your arms and back to tackle stubborn grimes.
2. Require Toxic Chemicals to Wipe Off Stubborn
Another significant negative site of spin mop is it needs toxic chemicals for cleaning the floor. Harsh detergents and solutions often contain include
pine oil
D-limonene
2-butoxyethanol
Parabens etc.
Those toxic components aren't recommended to use everywhere. Besides this, some of the chemicals are fully banned by the authorities for home usage.
What is Steam Mop?
A steam mop is a machine wash tool that requires some initial commands to start work. It is a ready-made floor cleaning tool that can eliminate bacteria and germs from the home. Since this tool only runs through an electric cord, it can deeply cleanse the floor.
To clean with a steam mop, a user needs to pour water on the tank and warm them up. The tank water then passed into the floor to wipe out dirt from the floor. The usual warm water temperature in a steam machine is up to 121⁰C. It is the standard temperature of a steam mop.
One of the top facts about using a steam mop is that it loosens dirt and grime from the floor with intense, focused heat. Not only is this tool excellent for sanitizing the floor faster, but it is so well-convenient.
Furthermore, a steam mop puts a significant mark on the best disinfecting accessories for conducting hot steam. None of the tools can compete with its efficiency.
Advantages of Using Steam Mop
There are so many advantageous sites one may find while using a steam mop. I only start from the basics. One of the common benefits of buying this wonderful cleaning machine is the working period. Below are some more positive sites I found from my research.
1. Alleviate Indefinite Germs
A steam mop is an excellent tool for finding out tiny bacteria from each corner of the home. It can kill around 99.99% of germs and house-infecting bacteria lurking inside the bathroom, kitchen sink, etc.
Bacteria like staphylococcus, E.Coli, Salmonella, and dust mites are included that can spread various types of disease. Also, the steam mop is very efficient in sanitizing the floor when the water in the tank reaches 175F.
2. Works Well to Eliminate Stubborn Stains
Using a steam mop is also a beneficial and powerful tool to remove tough stains, dirt, etc. Nothing could be as cheap as this steam mop since it produces water vapors to lose all the grimes.
Buying a steam mop will continue working for more than a year. So you can save an extra penny to buy expensive floor cleaning material.
Additionally, steam mop drying time is very fast for mold care. It also works to lower its chances of further growth. Since various cleaning settings manufacture some advanced steam cleaners, these settings are efficient also and work incredibly to customize the intensity of deep cleanse or quick clean.
3. Require Less Scouring
Unlike any traditional mop, steam mops do not require scrubbing or water rinsing for after-cleaning care. All you need to do is switch on the steam mop to wash the surfaces.
Before that, you should fill the water tank capacity and warm it up. Regarding this, you can find some cordless units that want full charging. Once everything is set up properly, your steam mop is ready for mopping.
4. Eco-friendly Cleaning Option
Using a steam mop to clean surfaces is 100% safe and eco-friendly. All the procedures had been done here through some initial steps.
You need to turn on the switch, heat the tank to warm water, then put them over the surface. It didn't require toxic chemicals or nasty, harsh cleansers that may put your kid's health and family at risk. The steam mop is safe for your children and pets.
Disadvantages of Steam Mop
Along with some merits, there are some demerits of this magical tool. Here is a short brief of this.
1. Not Suitable for All Types of Floors
Ironically, a steam mop isn't suitable for all floors. Many cleaning experts sharply forbid using steam mops on laminate and wooden floors. They also advise avoiding this machine on the gaps like vinyl tiles or vinyl planking.
Using them in that place could result in unnoticeable cracks or damage. The hardwood floor and plywood surfaces may ruin due to this steam mop.
2. Needs More Electricity
To run this steam mop, connect it to the power socket. Besides this, some advanced-type steam mops require a power cord to be plugged in with the main switch at all times.
For this, it needs more electricity to function, which may add extra cost to your monthly bill. Meanwhile, battery-operated models require charging fully, which also causes a similar result before every mopping session.
3. More Expensive than Other Mops
Steam mops are pricier than traditional mopping accessories. It depends on the models and features that you want. You should pay around $50-$150 or more to buy a high-end multi-function steam mop.
Spin Mop vs. Steam Mop – Which one is Better for You?
Choosing the best cleaning mop between the two, I suggest you choose the second option. The second one, the steam mop, gives you the best atmosphere to clean the tools. Both spin mop and steam mop are best in their characteristics.
But the steam mop is hooked up to the crown of greatness due to its eco-friendliness. Spin mop doesn't need any heavy chemicals except clean water. You only need to warm the tool for a few minutes.
Comparatively, a spin mop is also a good option if you have a limited budget. Besides, this could be your best friend if you're good at physical activities. Between spin mop vs. steam mop, a steam mop is a winner for having a lot of effective good sites.
Frequently Asked Questions (FAQs)
The spin mop is a better option for everyone. It's for the round shape and absorbent head, which is wrung out using a spinning mechanism. Spin mops are also better than flat mops for daily cleaning.
Unlike any traditional mop, those mops sweep away all the spills and messes rather than cluttering the liquid.
Do Steam Mops Spotless Floors?
Many steam mops are used to deep clean hardwood surfaces. The floor, jammed by stubborn dirt and junk, seems very nasty. Discoloration is the major bad impact of such difficulties. In that case, a steam mop is the best option to clean floors effectively.
All in all, it comes with a soft microfiber pad for separating both clean and dirty water in one bucket. Therefore, a person can save both time and energy.
Is a Steam Mop Better Than a Regular Mop?
Of course, a steam mop is a better option for killing germs and bacteria from its core. Without harsh chemicals, steam mops can remove stains and grimes and deep clean the floor with little effort.
Plus, regarding using any steam mop, users don't need a single bucket or hand-and-knees scrubbing like a regular mop.
Recommended post: Steam mop vs regular mop
Is It Worth Buying a Steam Mop?
The answer depends on you. It is worth getting a steam mop if you want to cleanse your floor deeply and keep them germ-free.
Moreover, a steam mop is fabulous for killing 99% of bacteria and excellent at omitting heavy stains and soils, other worms that are hard to detect with bare eyes.
Does Spin Mop Separate Dirty Water?
The spin mop is the best tool for separating dirty water from the main. This tool uses a foot-activated wringer for removing dirt and debris free from the microfiber mopping head.
The microfiber mopping pad is so soft, surrounded by many bristles that go down into the depth of the chamber. This makes it easy for a user to dispose of heavy dirt from high-traffic areas, and the mop-bucket system simultaneously separates both dirty and clean water.
I don't force you to buy the mop according to my advice. It's totally up to you what seems most effective and well-worthy. Contrive your brain and then decides what to buy between a spin mop vs steam mop Before ending up writing, I suggest you go for the steam mop.
A steam mop is a perfect tool if you're under 35-40. It gives you a quick, easy, efficient cleaning solution since its budget is a bit pricey. Again, a spin mop is a good choice if you're bound with a budget and don't mind giving extra labor.