7 Best Electric Mop for Tile Floors With High Performance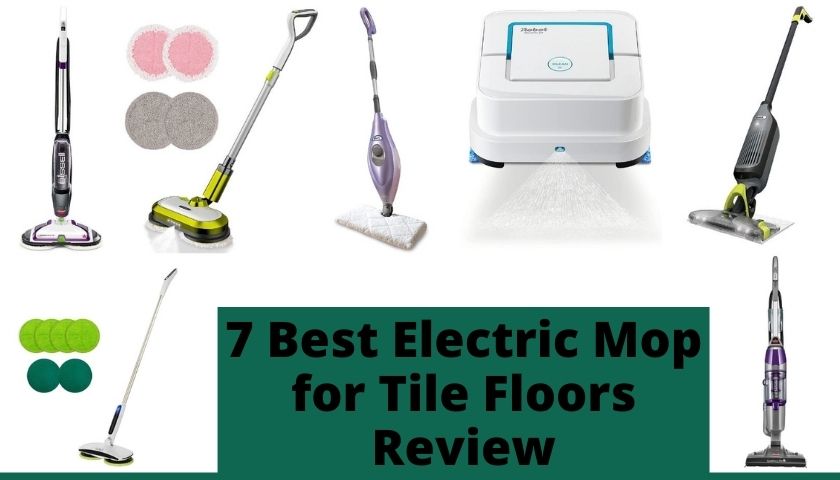 Cleaning the floor mess using a bucket and a traditional mop is tiring and lengthy. The water in the bucket filled with debris also gets your hands and dress dirty.
For this reason, consumers are nowadays going for electric mops. These mops are specially made to use on hardwood floors such as tiles. They are designed to assemble, disassemble and store easily.
However, not every electric mop in the market is worth the trust. Only a few are considered the best electric mop for tile floors. We have picked those top-quality products for you. So with further ado, let's explore them together.
7 Best Electric Mop for Tile Floors Review
After good research and some tests, we found these famous electric mops. The users themselves recommended these items after using them. These machines are not only reasonable but also high-performing.
Our top picks: At a glance
Best for Natural Cleaning: Bissell SpinWave Pet Hard Floor Spin Mop
Best Cordless: VMAI Cordless Electric Spin Mop
Best Steam Mop: Shark S3501 Steam Pocket
Best Robot: iRobot Braava Jet 240 Superior Robot Mop
Best Overall: Shark VM252VAC MOP Pro
Best Vacuum With Steam: Bissell Symphony Pet Steam Mop
Best for Flexibility: GOBOT Electric Mop
1. Best for Natural Cleaning: Bissell SpinWave Pet Hard Floor Spin Mop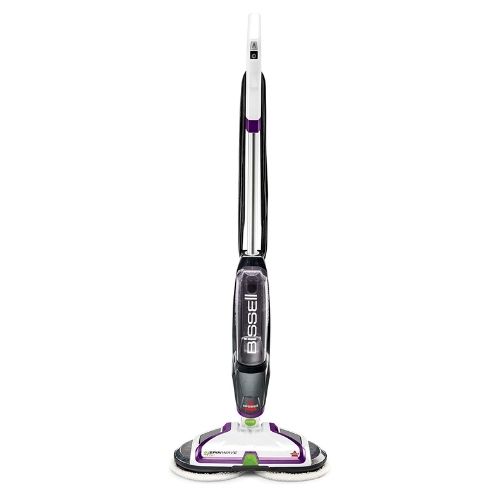 Bissell SpinWave Pet Hard Floor Spin Mop is found in different versions. Its functionality matches pretty well with a big spinning floor buffer; however, the size of this mop comes in the perfect household size. Among all the models, 20399 is pretty popular and great for cleaning houses of pet owners.
The whole machine is designed particularly for cleaning up messes by pets. For this reason, its users highly recommend this electric mop. Like most other electric items, the SpinWave spin mop needs to be put in the charger right after it's bought. Let's know more about the product from below.
It even allows you to switch pads so that you can use larger, shorter pads depending on how filthy your floor tiles are.
Safe for Hard Floors
While some cleaning tools are unsafe for hard floors, Bissell SpinWave 20399 is exclusively safe to use on floors like tiles, sealed wood floors, pressed wood floors, linoleum and laminate. It will not damage the tiles even a bit. It's designed so that only spinning pads touch the floors, which is soft but can remove dirt.
The pads are a little larger than the machine's bottom part since it spins, and the manufacturer made sure only pads will be touching the hard floors. Both the pads coming with the machine (one is scrubby, another is soft) eliminate any strong stain with care.
Convenient Use
This mop is very convenient because it eases cleaning in many ways. The first thing is it's so lightweight, weighing only 11 pounds. Hence, if your house is big, medium, or small, you will never get tired of cleaning.
The swivel steering makes it simpler to clean the dirt up along baseboards and around furniture. Plus, it clears sticky stains with powerful cleaning while making no noise.
Brings Natural Shine
It's like a dream to make your home look new, like the first time you entered. Many think cleaning solutions are the thing that can bring back the natural shine of the tile floors. However, the truth is different. It's the cleaning machine you use.
Thanks to the powerful mop pads of the spinning Bissell cleaning machine. It rotates the pads through which it cleans the floor. The spinning pads put more effort into pulling out dirt from the tiles. It ensures to clean up the pet odors from hard floors.
On-Demand Spray
It has a built-in sprayer that allows you to fix the amount of formula you want to spray on the floor. It will neither spray less nor more for the cleaning formula than your set amount.
Easy-Fill
Filling the tank is so easy. Just pull the tank out, fill the water and set it to its place again. You are all set for the cleaning.
Pros
Large capacity water tank
Lightweight
Easy to set and use
Spraying control system
Washable pads
Cons
The pads don't get to corners properly
Why Should You Buy It?
The Bissell SpinWave 20399 is a perfect mop for removing hard stains left by your pets. The machine is large, powerful, and cleans up any dirt. You can charge it once and use it freely anywhere in your house. The pads are washable, so there's no need to purchase extra pads soon.
2. Best Cordless: VMAI Cordless Electric Spin Mop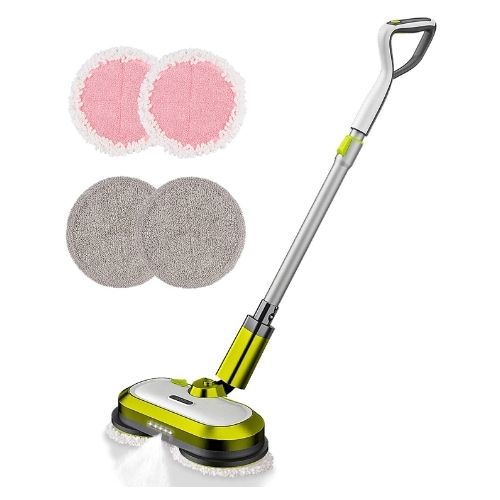 VMAI isn't a well-known brand yet; however, they are gradually making themselves popular online with their quality cleaning machines. Especially, their spin mops are standing out of the crowd. The cordless spin mop is designed for cleaning hard floors only.
Comes With Pads
The spin mop comes with two different pairs of pads. One pair of pads is used for mopping the floor, and the other ones are for polishing. They are very straightforward to attach and detach. Both the pairs of pads are washable.
These pads are bigger and are neither too thin to harm the floor nor too thick to reach corners. When spinning the pads, thoroughly take out the filth from tiles. These A1 quality pads will last for a longer time, but you can purchase some new ones when they need to be removed.
Powerful Spin
The best cleaning comes from a mopping machine well equipped with a powerful motor. Vmai knows the secret, and so they use a dual motor that makes the machine spin for up to 220r per minute. It means it will clear up any dust and stubborn spots.
It will quickly spatter on the kitchen floors and other home places. The system automatically pushes the spin mop forward. So, you don't have to push extra effort even in pushing the machine ahead. While cleaning, the mop moves round and round, ensuring it reaches every dirty corner.
Detachable Battery
We liked two key facts about the battery of the mop. The first fact is that the battery is long-lasting, and the second is they are detachable. It means you can use the item for the long-term, but when the battery gets dead, you can replace the old one with a new battery, and then you are good to go again.
Lightweight
The item is a wireless, lightweight spin mop weighing only 3 pounds. We don't think you can find any other spin mop this lightweight. So, cleaning upstairs or downstairs with it will never be an issue.
Easy Storage
You can store the product anywhere you like, whether the storage place is big or not. It's because the item is removed in three different parts. It is totally effortless to pull the parts off or put them right back into their places. Such a facility is rare to find in most other cordless mops.
Pros
Easy to assemble
Quality materials made
Detachable long-lasting battery
Durable
Storing is easy
Cons
The water tank is fragile
Why Should You Buy It?
This one's best for comfortable floor cleaning. It takes a minute only to set up and operate the machine honestly effortlessly. If you are searching for a cordless spin mop that lets you clean the whole house, putting zero effort, this will do the job.
3. Best Steam Mop: Shark S3501 Steam Pocket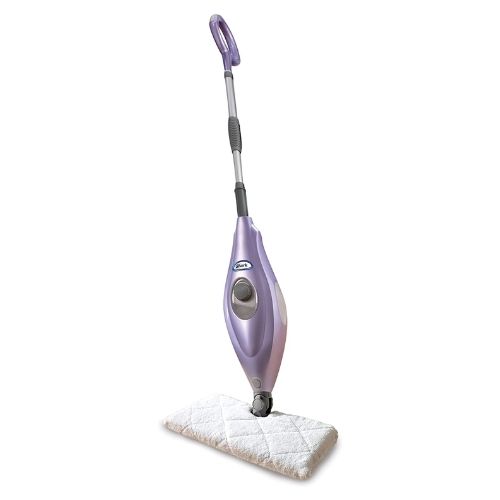 Shark S3501 Steam Pocket takes the floor cleaning to the next level. This can blast off old stubborn stains and sticky elements on the floor. So, the product is widely famous in the market. We chose the product, especially because of its time-saving attribute.
Unlike most other mops that remove dirt by spraying and rubbing, it steams the water, and so the floor gets cleaned faster thanks to the warm water. There are more exciting things to know about the item. So, let's know further.
Powerful Steam
We loved how perfectly it steamed the water. You don't need any cleaning solution or formula but normal water from the tap. After filling the tank with water, you need to press a button on the machine written "Steam."
In just 30 seconds, it will make the superheated water steam. For the steamed water, 99.9% of germs are cleaned with stains, and the floor also gets dried faster than usual. Using the pumping action of its pump, the steam pocket creates steam.
Simple Assemble
This steam pocket mop does not only look modern but is also easily assembled like advanced cleaning machines. When you require cleaning, just assemble it by putting the parts right in their places, and after cleaning, disassemble it by pulling them out; this is just that easy. The mop is parted into three parts when disassembled so that you can store them in places with less space.
Microfiber Pads
The package includes microfiber pads that let you use both sides to clean the floor. You can flip the pads when one of its sides gets messy. The diamond-stitch outline of the pads and fiber materials are great at pulling grimes and mud off the hard floors.
Instead of pushing the dirt around, it locks them in it. These are easy to take out and in the mop cleaner. When you are done cleaning, these pads are ready to be washed right away.
Effortless Use
It's so straightforward to use. All you need to do is attach the parts, unscrew the lid, fill the tank with water, screw the lid again and plug it in. The last thing you have to do is give it pumps about 10 to 12 times and wait for 30 seconds to stream the water. When the water is heated and steamed, you are good to go mopping the floors. For more steam pumps more.
Relatively Quicker Cleaning
Compared to many other cleaning machines in this price range, Shark S3501 Steam Pocket can clean relatively faster. It's possible using the pumping action; with more steam, the cleaner takes out more filth.
Pros
Lightweight
Amazing design
Powerful steam
Fast cleaning
Dual-sided microfiber pads
Cons
The pumping action makes the user a little tired
Why Should You Buy It?
It's the right pick for someone who wants fast cleaning. The machine may require you to put in a little effort, but the way it does the cleaning will impress you. For the steam system, you don't need to use extra soap or cleaning solution for cleaning.
4. Best Robot: iRobot Braava Jet 240 Superior Robot Mop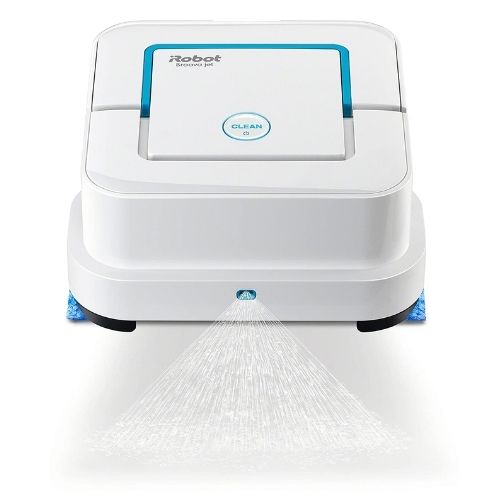 The iRobot Braava Jet 240 Superior Robot Mop is a small square-shaped robot that can sweep and mop hard floors. It's ideal to use in small places like your kitchen or bathrooms; however, you can clean the whole house.
It can effectively clean dust and filth on the floor using various pads except for stubborn stains. If you don't want to do the cleaning yourself, this is what you need.
Different Cleaning Modes
The robot has 3 various cleaning modes. Depending on the pads you are using, it will automatically select the cleaning mode. For example, attaching the dry pads will only remove dust, the damp pads will eliminate dust and dirt, and the wet pads will clean usual stains. The pads are not included in the package. All the modes ensure to clean the floor gently.
Cleans Automatically
This is what we loved the most about this cleaning robot. You neither have to do the cleaning with it nor do you need to control its movement. It's all on its own. The sensor can sense places with dirt and go to that area by itself.
The Jet spray keeps spraying water to loosen grimes before cleaning that particular area. It's careful when moving; it will ensure not to damage your furniture using its obstacle finding sensor. However, it can't replace your Swiffer since it doesn't have muscles to remove deep-set spots.
Reaches Everywhere
When cleaning the house by ourselves, we often find it hard to reach places like under the table or around the furniture. With iRobot Braava Jet 240, you don't even have to go cleaning.
It can navigate itself to those hard-to-reach areas. It's designed in a way that follows a systematic pattern to clean floors. Being squared and compact-sized can go under places our hands face difficulties to reach.
Easy Operation
Cleaning has never been so easy until cleaning robots were invented. Like other robots assigned to clean floors on their own, this particular one is the least expensive robot that only requires you to do two things. One is attaching pads, and the second is filling its tank with water. It will do the rest of the cleaning tasks.
High-quality Sensors
The robot has high-grade built-in sensors. Those sensors ensure your robot is not going out of a boundary you created.
Pros
Tiny
Makes no sounds
Relatively affordable
Various effective cleaning modes
High-end technology
Cons
Can't eliminate strong stains
Why Should You Buy It?
iRobot Braava Jet 240 is a perfect pick for busy people who can't often make time to clean their homes. This automatic floor cleaner only requires you to put water and attach pads you like.
5. Best Overall: Shark VM252VAC MOP Pro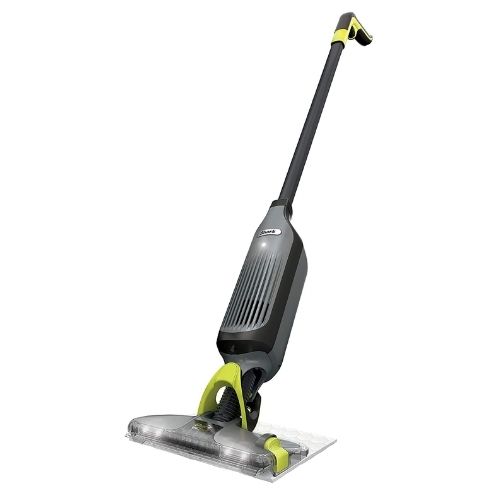 The Shark VM252VACMOP Pro is designed for people who want a mop cleaner with no maintenance. This multitasking cordless cleaner can do both mop and vacuum floors simultaneously.
However, it also lets you use the vacuum or mop remover differently. It has approached the Swiffer Sweeper style to ensure 100% cleaning with less effort.
Vacuum and Mop At a Time
We were so impressed to see this outstanding feature of it. While most of the cleaners out there can help either mop or vacuum, Shark VM252 Pro is capable of vacuuming and mopping simultaneously. The vacuum is powerful enough to take in debris.
With this machine, you can first mop and later vacuum, or first vacuum and later mop. The vacuum's airflow is at 46 CFM, which is pretty powerful to vacuum any size debris.
Removes Hardest Stains
The machine's cleaning capacity was tasted by cleaning dried coffee and v8 juice spots. It cleaned up all the dried coffee stains within a few seconds without any trouble. Surprisingly while many mops can hardly eliminate v8 juice stains, this specific vac mop had no trouble clearing those stains up.
Convenient
The Shark Vacmop Pro is pretty lightweight and helps you clean while not making you feel tired. There is no chance of getting hand fatigue because it swiftly moves over the floor. It's also cordless, allowing you to freely move throughout the whole house, cleaning up all dirt.
Well-designed
We are impressed with how it's designed. It has a reservoir which you have to fill with cleaning solutions. Attaching the disposable pads using the attached clips is so simple. It will pick up debris when holding the trigger located at the bottom of the machine's handle.
Again to mop floors, you are required to hold down the button located at the handle's top. When mopping, it will spray the cleaner through a nozzle. For better cleaning, we suggest using less liquid.
Uses Less Cleaner
The less clean it uses, the better it performs. The machine seems to use a little cleaner. So, even if you have a big house, there will still be some cleaner left inside the tank. Fortunately, you can keep the cleaning solution left inside the tank for use the second time.
Pros
Great mopping and debris consumption
No streaks
Easy to move
Super lightweight
Uses less clean
Cons
Why Should You Buy It?
We found Shark VM252VACMOP Pro giving the best overall performance. It's the powerful vacuum and mop cleaner you can find at an affordable price. Also, its lightweight, battery charging, and simple operation system made it a worthy of praise product.
6. Best Vacuum With Steam: Bissell Symphony Pet Steam Mop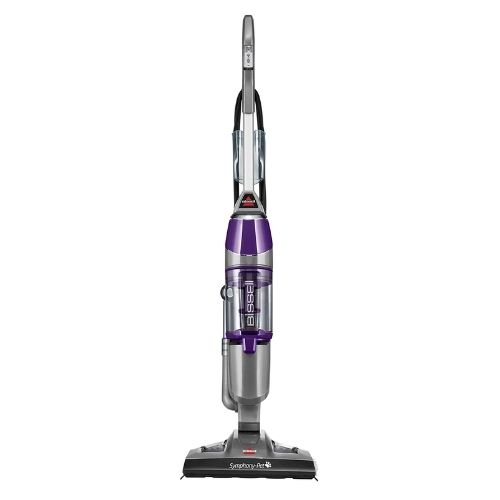 The Bissell Symphony pet steam mop is combined with a steam mop and vacuum. This allows you to sanitize and clean the floor while simultaneously vacuuming. The best part of the machine is it can clean quickly. It's capable of dry and wet dirt at a time. It can be a good alternative to Shark VM252VAC MOP Pro.
Drop-it Tank Empty System
This Bissell Symphony product is pretty old, so it's not that modern. However, it still has excellent features like the drop-it tank Empty System. Unlike other old items, this particular product tank is very simple to clean.
You just need to push a button on the top, which opens the gate of the tank from the bottom. Through the opened gate, all the dirt falls. This way, you can save your hands from getting messy.
Powerful Vacuum
The vacuum of the mop cleaner is truly effective. It's powerful enough to take in debris like pet hairs and other pet grimes. Using only 400 watts will remove any dry mess over the floor.
Steam Cleaning System
As we mentioned before, it also comes with the steam cleaning process. A small spray nozzle is attached at the front of the cord through which steamed water is sprayed on the floors ahead. Whole the sprayer will keep praying steam using the pads so you can deep clean the surface.
Washable and Disposable Pads
Whether you like washable pads or disposable, it has got you covered. The package includes both washable and disposable pads so that you are not out of options for cleaning soft or stubborn stains. The washable pads are of two kinds, a soft pad is for gentle cleaning, and a scrubby pad is for cleaning deeper.
Steam Controller
There are two buttons in total for controlling the steam level. The low button allows you to lower the heat steam while the high button allows you to increase the steam heat. It is pretty helpful for cleaning different dirt.
Pros
Top-notch cleaning
Steam and vacuum combined cleaning machine
Simple maneuverable
User friendly
Easy tank cleaning
Cons
It's pretty heavy and so a little hard to move
Why Should You Buy It?
If you have a low budget yet want a super powerful cleaner for your house, this will do it. The best part of the machine is the tank cleaning procedure. By pressing the button and opening the tank, you can remove all the collected filth inside. Later clean the tank with liquid soap.
7. Best for Flexibility: GOBOT Electric Mop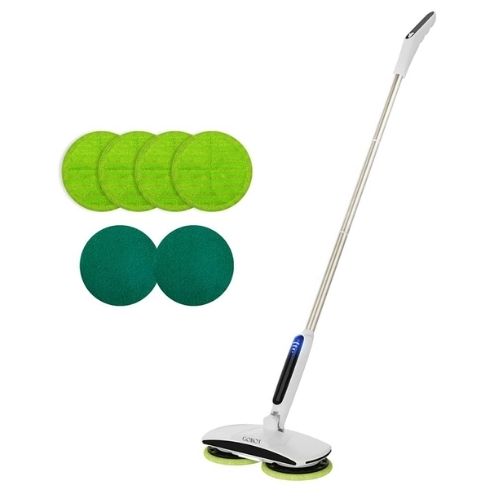 The GOBOT Electric Mop is one of the best mop cleaners out there. It can do fast cleaning compared to many similar products. The cleaner even charges itself fast. It feels very swift over the tiles. GOBOT may haven't gotten much popularity, but this particular item of the brand has won many hearts.
Flexible Head
The mop's head is flexible enough to swivel to 180 degrees angle. It means it can reach places that you feel are hard to get in for cleaning. Also, it's super light and weighs only 3lb. So, this is a perfect cleaner for ladies who have back pain.
Super Speedy
The number of quick mop cleaners is rare. It's one of the rarely found mop cleaners that have the capacity of speeding itself up to 200r per minute utilizing its dual motor. It means you will be able to save much of your time by finishing removing grimes quicker than in general.
Quick Assemble
It takes only a minute to assemble the machine. Just put the parts right in their places and push a little. With some good snaps, all the parts will be set properly. It's also easy to disassemble since it only requires pulling the part off the body.
Cleans Thoroughly
It's outstanding when it comes to giving the hard surface a thorough clean. The spinning motors under the mop put enough pressure over the pads and spin them to ensure no dirt is left. Moreover, while removing grimes, the machine moves a little from left to right, which ensures going at corners and cleaning those places.
Charge Stays Longer
While many mop cleaners are capable of cleaning up to 30 minutes at most, GOBOT electric mop can back you up for up to 40 minutes after charging once. It means you can clean your large house with it without worrying about the machine getting off all of a sudden.
Pros
Mops floor without bending
Cordless easy to move the cleaner
Added dual motor to increase speed and performance
Comes with 3 different length options
Reaches small areas
Cons
Why Should You Buy It?
You can buy it to get rid of your back pain since it doesn't let you bend your waist. It performs as excellent as other suggested cleaning mops. The special feature is it's ultra-light and feels much more flexible to use.
Buying Guide for Best Electric Mop for Tile Floors
Whenever you want to buy an electric mop, consider these factors below to get the right cleaning product.
Sanitizing Capability
The goal of using an electric mop is to clean up dirt and kill germs on the floors. Hence, whenever you buy an electric mop, check the packaging to see if they claim to have a sanitizer.
Here, the machine will sanitize the floor differently. Most don't use cleaner but steamed water. The hot water is enough for killing germs. So, if you find the mop cleaner can steam water using 212° F heat or 175° F, get your hands on one of them.
Convenience
You should get a more convenient mop cleaner if you have a good budget. There are corded and cordless cleaners. If you want hassle-free cleaning pick the cordless ones.
Washable Pads
If you are not into buying cleaning pads often, you should get a machine that includes washable pads. You can find some on our list.
Larger Tank
Every mop cleaner comes with a tank that holds water or a cleaning formula. Always choose the product that comes with bigger tanks, especially when you have larger spaces to clean. A big tank will save you from the hassle of putting water or formula inside it often.
Sprayer
You can't imagine a modern mop cleaner without the spraying system. There has to be a set at the front part of the machine's body. Through a button, you should control the spraying of liquid soap. This makes the cleaning process a lot more simple.
Lightweight
The heavier the machine, the harder it is to move it. There are several mop cleaning items that are indeed cheap but heavyweight. Using such products will make you feel tired soon. So, to enjoy tireless cleaning, always select lightweight products.
Fixing Budget
Fixing your budget is the wisest thing to do. A fixed budget helps you choose the suitable item faster by limiting options. Also, when you fix the amount you want to spend, the chances are less of wasting your money.
Frequently Asked Questions (FAQs)
Is a steam mop good for tile floors?
Steam mops work best for cleaning tile floors. Steam is the best pick because it can eliminate the stubborn stain from tiles.
Is there such a thing as an electric mop?
Electric mops are the advanced cleaning technology giving the best cleaning service. It rotates the cleaning pads and, by vibrating, creates a vital force on the floors to make the pads stick in any hard strain.
How do you deep clean tile floors?
Deep cleaning tile floors is now simpler when you have an electric mop. These machines are powered by electricity, requiring you to fill the tanks and move with the cleaner. The machine will automatically clean up all the grimes.
What is a spin mop?
A spin mop is a mop cleaner with rotating motors where cleaning pads are attached. The cleaning process starts with the motor spinning and moving through the tiles. These motors are built-in, but the pads are removable.
Closing Remarks
Electric mops have been a great help in cleaning. These machines require us to put in a little effort to achieve the ultimate cleaning. Our suggested electric mop cleaners will not only serve you best but will also cost you less.
If you are confused about making a choice, let us tell you that any of our recommended best electric mops for tile floors products will work perfectly on any hard floor.