How to Make a DIY Mopping Solution? [All Cleaning Tips in One]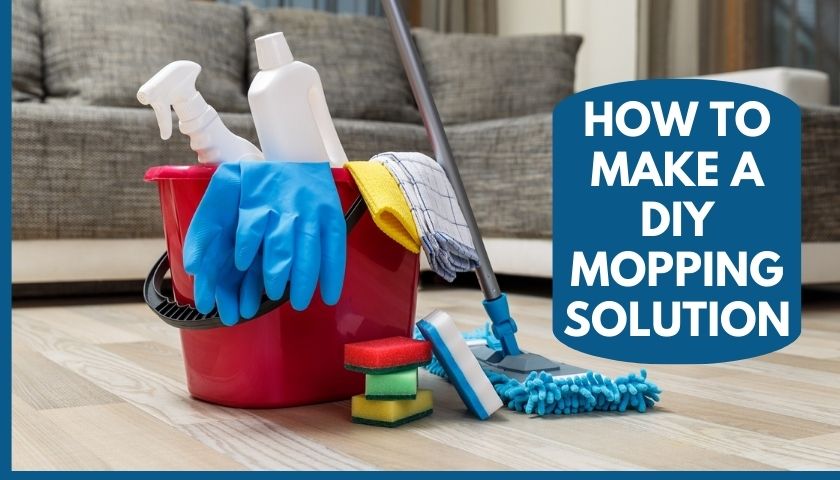 Homemade DIY mopping solution is the best way to remove dirt without damaging the natural finish. Yet, if you need to learn how to make DIY mopping solutions, stay with me from now on.
There are many cleaning solutions available. Do you ever think they're safe for using all types of floors? Ironically, those artificial cleaning products are not safe for multiple floors. Again, most of them are expensive to buy for everyone. Some of them aren't safe, increasing the risk for allergic patients.
Therefore, keep it continuing as you learn more about the commercial products' demerits, making DIY mopping cleansers, tips, etc.
How to Make a DIY Mopping Solution?
There are different types of mopping solutions available. Some are very effective in cleaning hard floors, whereas some are specially made for sensitive floors like wood and hardwood.
However, it doesn't matter which type of mopping solution you choose; make sure to learn their exact process of making. Check below to know their exact procedures.
Method 1: Using Vinegar Solution
There are too many benefits to be described in a single sentence. As a part of a natural disinfectant ingredient, vinegar can mop the floor without leaving any chemical residues.
Since some people hate vinegar's odor, it is okay to smell it. Although most of the time, this heavy odor will fade away rapidly.
Let's make the solutions with vinegar to clean your dirty floors.
Step 1: Ratio of Using Distilled White Vinegar
½ cup of distilled white vinegar
1-gallon warm water
2 tbsp mild dish soap
Lemon juice
Scented oil
Step 2: Combine All That Mixture with Good Ratio
Before you go to mop the floor, gather the above ingredients. Choose these ingredients to make three initial vinegar solutions differently.
First, mix ½ cup of distilled white vinegar with 1 gallon of warm water.
Second, you can combine ½ cup distilled white vinegar with 1 gallon of warm water and 2 tbs of mild dish soap.
Third, mix ½ cup of distilled white vinegar with 1 gallon of warm water. Add some pinch or drops of scented oils or lemon juice. Then mix them appropriately.
Step 3: Pour Them Into A Spray Bottle
Pour this mixture into a spray bottle. Check out the nozzle, shake it, and spray on the area where you think it fits.
Method 2: Window Cleaner Solution
Another best solution that gives a proxy to vinegar solution is window cleaners. Since it isn't a natural ingredient, window cleaner is simpler than other mopping solutions. Window cleaner removes streaks from the surface floors and can eliminate the need to buff the floors.
It is a vital ingredient and works as a spot cleaner. However, I love this solution because of its abundance in quantity and is worthy of home use.
The ratio of Using Window Cleaner
Mix 1 part of the window cleaner with 1 part of warm water. It is good to use on both vinyl and tile floors. If the floor is made with laminate, you need less window cleaner. In that case, try to use ¼ cup for each ½ gallon of water.
Method 3: Dish Soap Solution
Mild kitchen dishwashing soap solution is another magic trick that efficiently removes floor dirt and spots. The mild formula can be used on most flooring types without leaving any residue. Use this mild soap sparingly because too many residues make the floor sticky and flimsy.
Below are two different recipes to try:
Combine ¼ cup of mild dishwashing soap with 3 cups of warm water
Next, add ¼ cup of dish soap with 2 cups of vinegar. Then, pour 2 cups of warm water with ½ cup of lemon juice. Pour it onto the floor and rub it through a steel-made scrubber.
Method 4: Rubbing Alcohol Solution
Next, we have rubbing alcohol solutions. This solution plays a vital role in cleaning the laminate floor thoroughly. Laminate floors are very scratch-prone and easily affected by specks of dirt. In that case, rubbing alcohol solutions can help since those evaporate quickly.
Rubbing alcoholic solution also helps to prevent streaks and lines from drying onto the floor. Whenever you use it, this alcoholic solution works vigorously to omit heavy-duty dark scratches.
Floors like vinyl, tiles, and marbles require heavy rubbing and shine. Typically, you can make two sorts of rubbing alcohol cleaning solutions, including:
Take 1 cup of rubbing alcohol and mix it with 1 gallon of warm water
In the following step, mix 1 part vinegar with 1 part rubbing alcohol and 1 part warm water.
Combine all these mixtures and make a thick paste. Cover the entire floor with that mixture and start rubbing.
Method 5: Essential Oils Solution
Cleaning the laminate tile floor with essential oil is optional. But many homeowners and expert cleaners love them due to their good scents and antiseptic properties. The essential oil contains lemon and lavender, which have natural antiseptic properties.
It is perfect for all floors but ensures it won't leave spot marks or dirt. Other alternative options with natural antibacterial properties include tea tree, sweet orange, and peppermint.
Step 1: Study the Ratio of Mixture Well
Unlike other DIY cleaning solutions, here I also decided to add vinegar, water, rubbing alcohol, and some dishwashing liquid. Below is the complete list of how I combined them and used them to clean my home floor.
2 cups of water
2 cups of vinegar
2 cups of rubbing alcohol
6 drops of dishwashing liquid
10 drops of essential oil
8 drops of lavender
Step 2: Combine All Ingredients in a Bottle
Put all the ingredients in a bottle, and shake it well. A spray bottle to apply a thin layer of mopping solutions would be better. Next, immediately mop the floor with microfiber pads.
Allow the floors to dry air. You don't need to rinse it with water. The recipe I follow here is enough and lasts me more than a year. It's because I love making many liquid solutions at once.
I can use these solutions frequently whenever I need them. It is totally up to you. To save time, you can conduct this recipe in half or make 20-50ml at once.
Why Make Your DIY Mopping Solution?
Making your cleaning solutions have a lot of benefits. Try your own since you can control the ingredients, are safe for pets and children, are better for home air quality, etc. Herein is a complete brief of this affair.
1. Controlling Ingredients
When you choose your ingredients, it becomes handier for you to decide. It is especially good news for sensitive people with specific allergies and health concerns. Since you have full control over each ingredient, it is 100% safe and secure.
Most cleaning products have very common toxic ingredients, such as volatile organic compounds. VOCs are toxic gas released into the air when anyone uses certain products. Those evaporate steadily at room temperature to become a quick part of the air.
An important survey of the U.S. National Library of Medicine includes that domestic household cleaning products have been manufactured with adverse health effects. A few common symptoms of VOC exposure include:
Eye and skin irritation
Allergic redness
Bad headaches
Sore throating
Nausea, vomiting
Dizziness, fatigue, etc.
2. Safe for Kids & Pets
Creating your cleaning products at home is also safe and secure for kids and pets. Every sensitive parent must be concerned about this matter. However, maybe you now wonder about the name of those harmful ingredients. Relax, below I added them for your favor.
Alcohol, bleaching powder
Hydrogen peroxide
Phenol (a kind of chemical compound)
Fragrances
Air fresheners, shampoo, carpet fresheners, etc.
3. Environment-Friendly to Use
You may often receive alerts regarding air pollution and the quality outside. Our environment often gets polluted due to our unconsciousness. We often need to remember to become aware of what products are safe to use and what are not.
Remember that cleaning products must be environmentally friendly before being used at home.
The U.S. environmental protection agency warns that the outside environment gets polluted by excessive use of the mentioned above. Home mopping solutions are fine. Therefore, anyone can use them without the hassle of red flags.
4. Cost Effective
There are various cleansing products available in the market. The vast majority of these products are increasing in cost due to a shortage of supply and demand.
According to CDC recommendations, if someone wants to clean their home regularly, the cost will add up quickly. In that situation, your monthly budget may be unable to survive the expenses.
Homemade cleaning products reduce overall costs. Again, those are awesome for multipurpose usage and safe to use on all types of floors. Making your products at home means, on the other hand, is full of freedom with fewer side effects.
5. Give Protection to Fight Bacteria
For the rest of the day, your first and foremost intention of cleaning is to keep it germ-free. Killing bacteria from high-traffic areas like bathrooms, kitchen sinks, basins, etc., can be easier with homemade cleansers.
Vinegar, and hydrogen peroxide, include antibacterial ingredients to kill certain types of bacteria. They're more even to use and less damage-prone to discolor the natural polish look of the floor.
Usage Tips of DIY Mopping Solutions
Follow these general DIY mopping solutions tips to make it more strong, effective.
Avoid using dish soap in excessive amounts. It may make the floor slippery, sticky and flimsy.
While you pour the solutions into a spray bottle, ensure to shake them well. Spray it on a 3-foot area to ensure the position of the nozzle.
You may be thrilled with the result of using mopping robots. Although buying a mopping robot is expensive, it gives you permanent results.
Remember to throw away your old cleaner. It leaves a residue and gets dirty faster than usual. The reason for such a problem is that those store-bought solutions are only worth getting up some dirt.
Rinse the mop as needed. A non-rinse floor doesn't have strong strength after mopping. A dirty, old mop will be the reason for leaving streaks as well. Therefore, check it and clean it properly.
Frequently Asked Questions (FAQs)
What Can You Not Clean with Vinegar?
Clean clothes, iron, stone countertops, and dishwashers with vinegar are not good. Again, you cannot be able to clean electronic screens, flooring, knives, ranges, and small appliances through vinegar solutions due to its high acidity.
High acidity is great for removing dirt from hard surfaces but not for glass, sinks, and heavy countertops.
Can I Use Laundry Detergent to Mop?
The cleaning enzymes in laundry detergent are great at removing dirt from the floor. You must fill the mop bucket with hot water and add 1 tbs of laundry detergent.
Ensure you have wrung out as much water as possible from the mop. Again, be aware that the mop is not too wet; otherwise, your floor will end up with unnecessary streaks.
What is The Most Natural Floor Cleaner?
Baking soda and vinegar are the most common and natural floor cleaners. It is almost a unique DIY floor cleaner recipe. Baking soda mixture has strong odor-absorbing properties that are useful to make the tiles and wooden floors shinier and residue-free.
Mild dish soap is surprisingly good for the floor cleaning job. Dishwashing soap is a concentrated liquid that effectively cuts tough grease and removes bad smells and food stains.
Another important fact about dishwashing soap is that it's very effective on resilient flooring, including linoleum, vinyl, and ceramic tiles.
Can I Mop My Floor with Baking Soda and Vinegar?
Yes, vinegar and water are a good solution and combo for cleaning. Reducing tough stains from the hardwood floor, vinyl, and linoleum can be omitted through this mixing solution. But avoid undiluted vinegar since it can react badly on a hard floor.
Final Words
Homemade cleaning solutions do a fantastic job since they can resist dirt and bacteria. This means if someone invests only to buy three-four ingredients, they'll benefit you all year long.
This is why everyone must have gathered ideas on how to make DIY mopping solutions. Because it is so effective, it requires 2-3 minutes to be prepared.
However, be aware of using a clean mop bucket before starting the process. Also, ensure to maintain the correct ratio. If you mistakenly take 2-3 drops more, it could end with the biggest disaster for you. Mix thoroughly and then rinse the mixture off. Let the floor dry out appropriately.