Libman Spin Mop And Bucket Review | Ease Your Mopping Time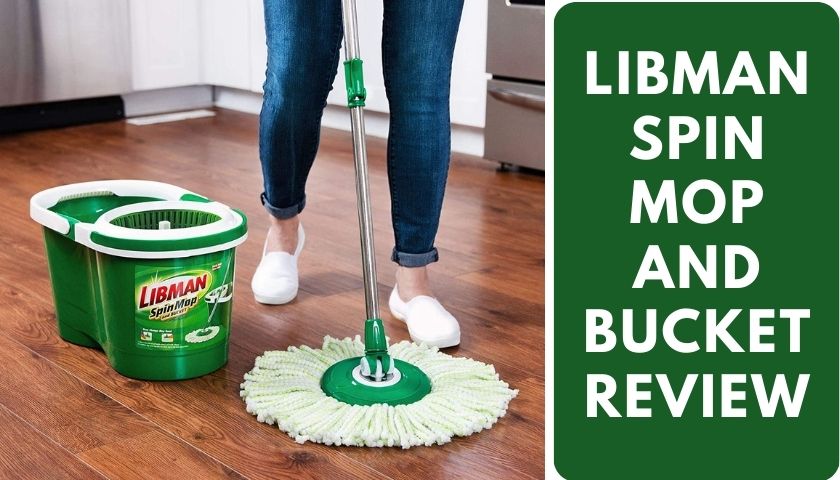 Libman has been in the cleaning industry for over 125 years. This company is still on the user's priority list for its dedication to retaining quality and efficiency. Their only aim is to make cleaning easy and more user-friendly.
These spin mops are a wonderful tool, especially the all-in-one mopping kit. It comes with many goodies and the capabilities to fulfill all user demands. This product is durable, easy to assemble, minimizes cleaning labor, and is safe on all floors.
Below you'll get overall details of the Libman spin mop and bucket reviews.
Libman Spin Mop and Bucket Review & Specification
After seeing this product, the first thing that comes to mind is its clean, sharp design. I remember an article where Tim Heffernan added his experience of Libman. It's really honest for him to tell you that mopping heads are better than other cleaning giant brands.
I generally love the mop head that comes with this. One of the best compliments I find about this mop and bucket set as evidence is its fluffy mop, which does a great job of cleaning by reducing excess water.
Anyway, let's discover some interesting features, specifications, pros, cons, or more about this bucket set.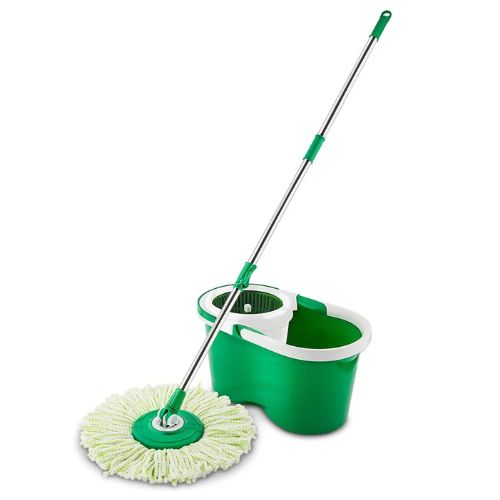 1. Specification
Handle Material: Stainless steel
Bucket Capacity: 2.25 gallons
Mop Adjustable: Up to 53″ inches
Mop Head Spinning Adjustment: 360⁰
Mop Head Material: Microfiber
Is This Machine Washable Requirement: Yes
Battery Required: No
Bucket Material: Durable plastic
Bucket Chamber Material: Polypropylene spin chamber with a splash
Machine Washable: Yes
Total Item Weight: 4.53 pounds
Assembly Required: No
2. Build Quality
Libman spin mop & bucket is great for their ergonomic design and architectural structures. If closely analyzed, the bucket weight and height are good and adjustable to work with short or tall people.
The material of the bucket is hard and pure plastic. Plastic materials, especially commercial ones, are strong, durable, and leakage-proof. So, if you believe, like me, that quality is the king of every piece of equipment, then go for it.
Another positive thing, you get all-in-one mopping systems here. That is uniquely made here to ease the user's comfort. You can control the dampness of the mop through 3 easy steps.
After that, you are ready to beat the game and astonished to see the output. There is an exclusive figure and material on both the mop head and the handle.
Stainless steel coatings are applied to both of them with strong skepticism. The handle is super comfortable to hold in hand and finger.
3. Assembly
This tool has unique assembling packages. In one packet, here you get three things at a time. The package bears one bucket, an adjustable handle, and a mop head.
Here, the user can unite all the separate parts one by one. It also allows us to break down all those parts like any folded furniture. The assembling norms are super easy. Look at the mop handle; you'll find a locker lever.
Pull out this, adjust the mop length you prefer, and feel comfortable working with it. Now, enter the mop head into the lever and start mopping. That's it; your mopping tool is now ready to work.
4. Adjustability
It has another marvelous feature which is mentioned by many users like "top-notch," "amazing," and "excellent." This top-notch feature is its spin technology.
This mop and bucket set have an unlocking handle to wring out, and not only this, you'll find them durable and last longer. 360-degree spin technology is a great initiative from another perspective.
Because spin technology can work and bend on itself instead of letting the user move, leaning their shoulder and waist mostly.
5. Absorbency
Whenever you desire to buy any mop, you first notice its absorbency. No one wants to purchase any mop that comes with poor absorption power.
There is a fantastic absorbent microfiber head with the Libman spin mop. These traits are beneficial to make the cleaning job steadfast and finish the task within time.
Furthermore, the machine washable microfiber pads can bear any atmosphere. Their utmost soothing of humidity and soaking power of moisture is enough to impress the people individually.
The appearance of the pad is so adorable and feels soft, a sponge on hand. Again, the mop head is bouncy and resilient, not too heavy.
For this reason, this mop head can spread all over the surface evenly. Any hardwood floor, like tiles, wood, and marble, can easily sweep away with this one. Since the mop head is adjustable, along with re-attachment features, you can separate the mop head to clean.
Overall, this tool can easily remove tough messes like pet hair, food stains, paints, old stubbornness, dirt, and junk.
6. Convenience
It is a comfortable mop and bucket set underneath with so many goodies. A user feels cozy to find this easier to assemble, wash, and reuse.
This mop set requires no additional cleanser or expensive cleaning accessories to clean the floor. All it needs is to add 1–2 liters of water, and you're ready to fight against the dirt.
7. Additional Features
As well as this spin mop and bucket, it comes with some other features as well. These traits are awesome and reliable, making your home cleaning task a breeze.
Hanger Hook At Top: To make the installation of this tool handy, the manufacturer added a hook at the top of the handle. This is beneficial for the small apartment-living folk with no space for storage.
Removable Spin Chamber: This spin mop and bucket come with a removal spin chamber. If you have already bought or used this one before, it might be known to you. The spin chamber is situated onto the bucket separately to collect mop water.
In this product, users can change, replace and even clean the spin chamber individually if they wish.
Moreover, the bucket chamber is made of polypropylene material with a splash guard. Polypropylene makes this bucket eco-friendly, and the splash guard lets you quickly throw away dirty mop water.
Easy to Remove Mop Head: The mop head has an adjustable head with a few structural designs. This structural design is well-worthy for quick attachment of the handle.
Pros
Can reach critical places to clean, such as underneath the bed, furniture
Manageable to put back on and get off
Super easy to install & use
Make the mopping job more fun
Locking handle for mopping at users' preferred height and length
Convenient mopping system
Comes with a one-push handle button for a damp mop
Machine washable, soft, flexible mop head
Molded hanger tip for easy storage
Lightweight, rustproof, and stainless-steel mop handle
Easy to refill, superior height adjustment
Splash guard, the removable spin chamber that makes it less troublesome to clean
The mop handle can often break due to the weak plastic parts
The spin part sprays water out sometimes, which is annoying
Related post: How to wash Libman mop head
How Well Does Libman Spin Mop Clean?
The Libman spin mop is very effective in cleaning any surface. I tell them effectively because of having so many good benefits that lay inside it. First, spin mops have a great system for regulating the consistency of the mop head.
This means it offers you to control the terms like how wet or dry the mop head should be.
Secondly, it has a super cool installation feature. Whether you're a beginner or an expert, this tool doesn't bother you about installation anymore.
Because it has self-installation functions that tend to help its user to understand them without any help or strict instructions. To use this device, fill the bucket with warm or cold water and drop your mop head on it.
Now, start dragging the mop head to clean the dirt. This magic cleaning tool lets you mop directly where other traditional mop pads require some initial steps. It also eliminates labor by minimizing the pain of creating a giant paddle.
Thirdly, the Libman spin mop is highly absorbent. I can bet you that its absorption power is 2× more than others. It soaks up moisture quickly so that the floor can dry immediately. This term is very beneficial when you're doing the mopping job in any commercial area.
Fourthly, I'm impressed by its reusable amenities. This is the finest thing about this spin mop and bucket. A reusable mop pad or broom is great for saving money, though. This means the spin mop head is a lucky charm for people looking forward to keeping their floors clean, glossy, and fresh.
Fifthly, I must not want to skip the ergonomic design and stainless-steel handle. The spin mop head has unique snaps back with one click installation action.
By this term, you can separate its parts through one click. Plus, its spin mop handle has a hole at the top that allows for hanging the mop in any particular place.
Frequently Asked Questions (FAQs)
How Good Is a Libman?
A great reason to choose Libman products is that they are most often manufactured in the U.S.A. The company began its journey 125 years ago as a wire-wound corn broom.
From that day to now, Libman has been the best and most authentic choice among its users for industrialized top cleaning products.
Not only cleaning products, but Libman also focuses on customizing and making organic brooms, brushes, sponges, gloves, etc., which are necessary for house chores.
Are Libman Spin Mop Heads Washable?
Of course, its spin mop heads usually come with a well-convenient and all-in-one mopping system. Most of the time, spin mops are very flexible, soft, and non-greasy.
It is designed with a large microfiber brush and a machine-washable mop head. Those mop heads can easily absorb and remove excess water. Another good side of this feature is it helps to dry the wet floor quickly.
How Do You Clean a Libman Spin Mop?
It is a great experiment for anyone when you clean this spin mop. First, remove the mop head from the base. Heat some water in a pot. Add 2 cups of vinegar and 2 cups of mild cleanser (avoid harsh, toxic bleach). Soak the mop head in this water, and leave it for a few minutes.
The more time you take to soak, the more dirt will come from the mop head. Use both your hands to rub the mop head and try to remove the loose dirt from it.
Rinse the mop head with clean and cold water. Check once the excess specks of dirt are removed from the brush fully.
Can You Put a Libman Mop Head in a Washing Machine?
Yes, most of the Libman mop heads are so eco-friendly. When I tell them it's eco-friendly, those pads are super cool and 100% machine washable.
It is claimed by the manufacturer and gives their customer a guarantee that their mop heads are flexible and can wash up to 50 times. That means all you need to do is remove the head, wash it, and reinstall the head after finishing their cleaning job.
Can You Remove a Mop Head from Libman Mop?
Unlike Swiffer, Microfiber cleaning pads, Libman mops aren't indifferent; most come with re-attachable signature features.
A user can remove the mop head from its body at any time whenever it seems to them necessary. This wonderful mop works great on all surfaces and keeps the disposable cleaning pads super soft and interchangeable.
I suggest you have this kinky masterpiece if you live in a tiny apartment. The biggest astonishing thing I learned from Libman spin mop and bucket reviews is that this one is worthy of use for kids. Switch them on if you want to teach your kids how to clean the house with a mop and bucket.
Moreover, it doesn't leave the floors soaking wet like others. This advantage is highly important for hardwood floors to retain their polished layouts. The microfiber pad can hold the right density to get dirt off the floors.
Even though this spin mop and bucket are good for wiping baseboards as the mop head can tilt to the correct angle.