10 Best Mop for Vinyl Floors | Give a Shiny Appearance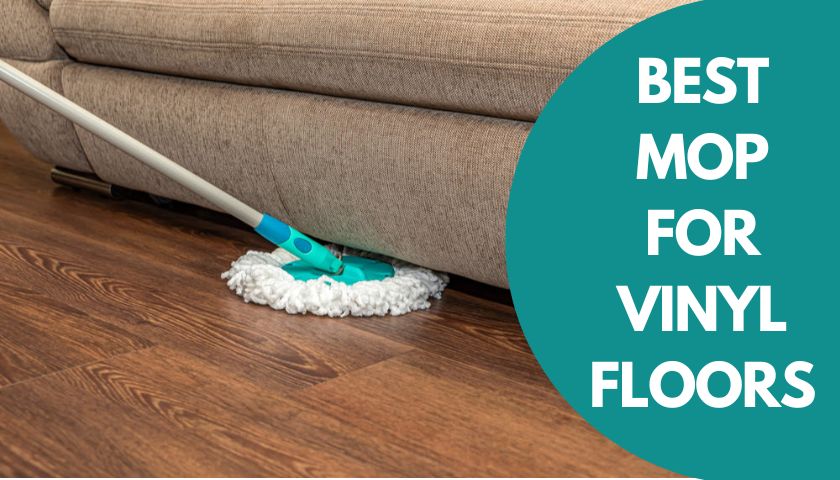 Floors made of vinyl require different cleaning tools than usual. Vinyl floors withstand regular wear and tear more efficiently than other floor types. But that doesn't mean periodic cleaning and dirt removal work is unnecessary.
Dirt and dust are easily visible on these floor types. For this, buying the best mop for vinyl floors is essential. These mops clean vinyl floors thoroughly and don't leave streaks or scratches.
Check the top picks on the market reviewed below.
10 Best Mop for Vinyl Floors Review 2022
Several models of mop are available for vinyl floor cleaning. I narrow down the list by looking at the products' features, benefits, and drawbacks. Read this section intently to choose the best-suited product to make your cleaning experience comfortable.
Our top picks: At a glance
Best Overall: Bissell SpinWave PET Hard Floor Spin Mop
Best for Multi-surface: Rubbermaid Reveal Spray Microfiber Floor Mop
Best for Industrial and Commercial Areas: Eyliden Mop
Best for Heavy-duty: MR. SIGA Professional Microfiber Mop
Best Cordless Mop: VMAI Cordless Electric Mop
Best Corded Mop: Shark S3501 Steam Pocket Mop
Best User-friendly Design: HOMTOYOU Spray Mop
Best Budget-friendly: Turbo Microfiber Mop Floor Cleaning System
Best for Versatility: Microfiber Wholesale 18″ Professional Microfiber Mop
Best for Pet Owners: VENETIO Premium Spray Mop
1. Bissell SpinWave PET Hard Floor Spin Mop
Bissell is a top-leading manufacturer, and mopping has become synonymous with the Bissell SpinWave PET Hard Floor Spin Mop. This is a powerful spin mop that helps you restore the natural shine of your vinyl floors. It features a rotating mop pad that does the work for you.
Technical Specifications
Special Feature: Lightweight
Form Factor: Stick
Filter Type: Disk
Power Rating: 0.9 Amps
Surface Recommendation: Hard Floor, Vinyl Floors
Weight: 11 lbs.
Is Cordless: No
Capacity: 8 oz.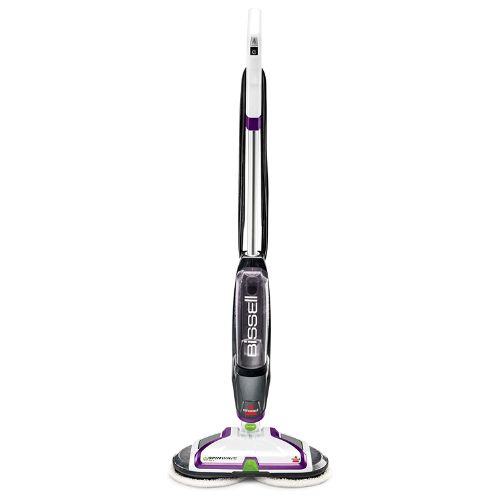 Lightweight and Maneuverable
This spin mop weighs only 11 lbs. and is designed with swivel steering. As a result, cleaning under the furniture and baseboards become hassle-free. Moreover, for its lightweight nature, you can easily maneuver the mop in different locations.
On-Demand Spray
Operating the unit is extremely effortless with this mop. It uses an on-demand spray technology, allowing you to control the cleaning solution as per the requirement while cleaning. You need to pull the trigger and release the solution. Easy-peasy!
Furthermore, this feature lets you minimize the wastage of cleaning solutions.
Quiet Cleaning
While other corded spin mop makes a lot of noise when working, happily, this mop doesn't. Don't assume that it is less powerful since it is quiet. In reality, it removes tough pet messes and eliminates odors quite proficiently.
Pros
Rotating mop pads scrub perfectly to remove the stubborn dirt
Works best on a sealed hard floor without damaging
Allows you to control the amount of solution on floors
Easy to maneuver with swivel steering
Tough on pet messes and odors
Cons
Why Should You Buy It?
This spin mop makes vinyl floor maintenance easier. It easily gets into the nooks and crannies to ensure every area is cleaned. The unit will be ideal for those with back and neck problems.
2. Rubbermaid Reveal Spray Microfiber Floor Mop
If you want a floor mop suitable for all floors, buy the Rubbermaid Reveal Spray Microfiber Floor Mop. It is safe on different floors, including vinyl, tile, hardwood, and laminate. The unit allows you to spray and clean your floors in whatever way you want.
Technical Specifications
Specific Uses for Product: Floors, Tile, Vinyl Floors
Item Volume: 650 milliliters
Weight: 1.38 lbs.
Are Pads Machine Washable: Yes
Assembly Required: No
Batteries Required: No
Bottle Capacity: 22 oz.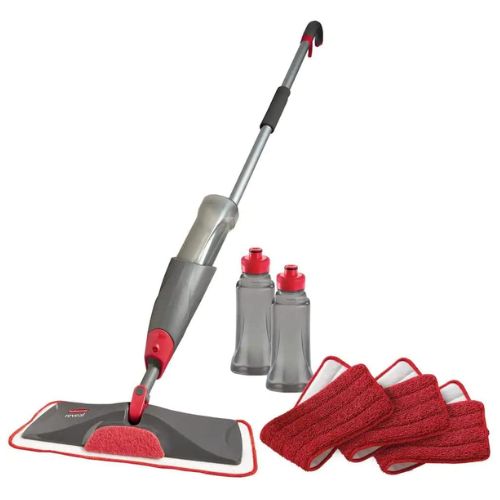 Trigger Handle
It is a non-battery-operated floor mop that comes with a trigger handle. The trigger allows you to spray the required amount of cleaning solution according to the dust and dirt type.
Moreover, the handle is 54" long, offering ample reach and comfortable use. Furthermore, it is made of metal, confirming the unit's durability.
Multi-purpose Microfiber Cleaning Pads
The cleaning pads are made with premium-quality microfiber. Thorough and efficient cleaning is the promise of this pad, regardless of the floor type.
In addition, the pads are washable, saving money on cleaning wipes since you can use the pads for prolonged times.
50% More Dirt Pickup
This is much more efficient than conventional floor mops. It picks up 50% more dust and dirt per swipe to give your vinyl floor a shiny look.
Pros
It can be used on all hard floor types
The mop doesn't leave scratches on the floors
Easy to use with your favorite cleaning solution
The long trigger handle reaches every corner without a problem
Reusable and 100 times washable microfiber pads
Cons
The bottle is meant to collapse when using it
Why Should You Buy It?
This is a suitable floor mop for quick cleanup. It features a squiring mechanism that incredibly gives you a clean vinyl floor. The cleaning unit uses fewer solutions than traditional floor mops. Also, it takes minimal space when stored.
3. Eyliden Mop
Want something for your industrial or commercial area vinyl floor cleaning? Don't look further; invest in the Eyliden Mop. It possesses ultra-strong absorbing force that catches pet hair, dirt, and dust tightly, making cleaning easy and simple.
Technical Specifications
Surface Recommendation: Vinyl Floors, Tile
Handle Length: 57.5"
Weight: 2.6 lbs.
Dimension: 12.5" (L) X 12.5 (W) X 57.35" (H)
Pad Material: Microfiber
Included Items: 1 pcs. Extra Mop Head
Working Mechanism: Manual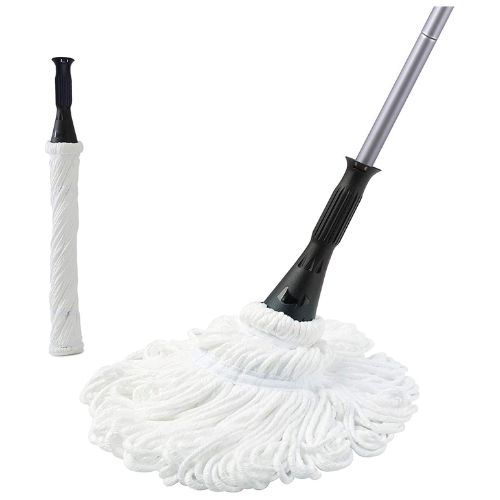 Self-Squeeze Mop
One of the impressive features is the self-wringing mechanism. This mop has a ratchet in hand. It helps the handle to twist. Thus, the mop head wrings water out.
You won't have to touch the water while cleaning your vinyl floor. If you don't want to touch dirty water, this will surely be your ultimate solution.
Excellent Water Absorption
It is one of the best household mops in the market, with excellent water absorption. The unit doesn't leave water on the floors and absorbs floor moisture efficiently.
At the same time, it delivers efficient performance when used as a dry mop. It is excellent for laminate, bamboo, and other floor types.
Long Enough Handle
Most customers also praised its 57.5" long enough handle. That is why you won't have to bend down when cleaning the floors.
Also, the handle features a comfortable grip, offering comfort during long hours of use. Also, you will see a hook hole at the top to hang the mop on the wall.
Pros
An ideal choice for cleaning all kinds of floors
Extremely safe on vinyl floors
The suspension handle saves space
The handle comes with an adjustable height feature for comfortable use
Ratcheting system for squeezing water out
Cons
Removing the mop head is challenging
Why Should You Buy It?
It is the best option for industrial and commercial applications for its extremely comfortable usability. Assembling the unit is so simple that it will take only a few minutes.
4. MR. SIGA Professional Microfiber Mop
Looking for something that can handle all types of floor-cleaning tasks? Choose MR. SIGA Professional Microfiber Mop that is durably constructed to fits all your needs. It is a heavy-duty mop that is applicable for floors such as vinyl, laminate, tile, marble, hardwood, etc.
Technical Specifications
Surface Recommendation: Floor, Tile
Weight: 1.28 Kilograms
Mop Head Measurement: 15" X 5" wide
360-degree Rotation: Yes
Microfiber Cloth Attachment: Clip-on design
Special Feature: Double-locking system
Weight: 2.82 lbs.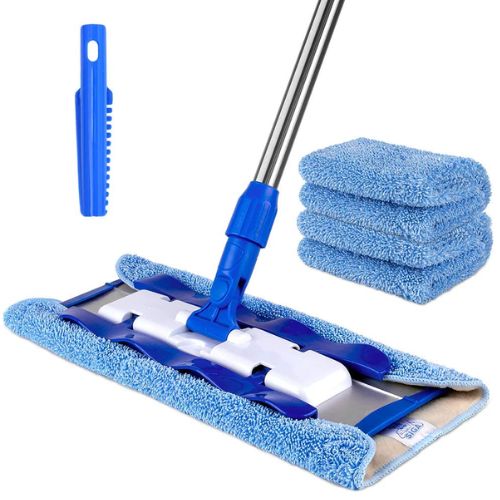 Durable Construction
High-quality materials are used to manufacture this mop. Rigid plastic and stainless steel talk about the durability of the product.
Also, the microfiber pads are reusable and washable. So, it can be used repeatedly while maintaining the highest quality.
Double Lock Telescopic System
One of the notable features of the mop is the double-lock telescopic system. This feature lets the handle be adjusted to any position and locked for convenience.
It means the mop delivers a convenient pickup and hold for different people. This unit also eliminates the requirement of bending.
Dual Action Microfiber Pad
The microfiber pad comes with a dual-action feature. Its blue side allows you dry or wet mopping. On the other hand, the plush beige side is suitable for waxing.
Moreover, the microfiber pad attracts and traps the tiniest particles efficiently without leaving streaks or lint.
Pros
Microfiber cloth washable and reusable pad
Suitable for dry and wet mopping
Double locking system lets you work with it conveniently
360-degree rotation mop head
The stainless steel pole can be adjusted easily
Cons
Requires multiple rounds of cleaning to clean the floor properly
Why Should You Buy It?
Adjusting the mop handle to a preferable height according to your preference is a great feature of this mop. Maneuverability is also excellent for getting into those hard-to-reach areas without trouble.
5. VMAI Cordless Electric Mop
Are you looking for an efficient electric mop? The VMI Cordless Electric Mop will surely meet all your requirements. It thoroughly cleans all stains from different floors, including marble, vinyl, tile, etc.
Also, it is well-known for easy operation and quality cleaning.
Technical Specifications
Surface Recommendation: Tile, Floor, Vinyl, Marble
Weight: 5.6 lbs.
Unique Feature: LED Headlight
Handle Length: 37" – 48.8"
Volume: 300 milliliters
Batteries Required: Yes, 2 Lithium-Ion Batteries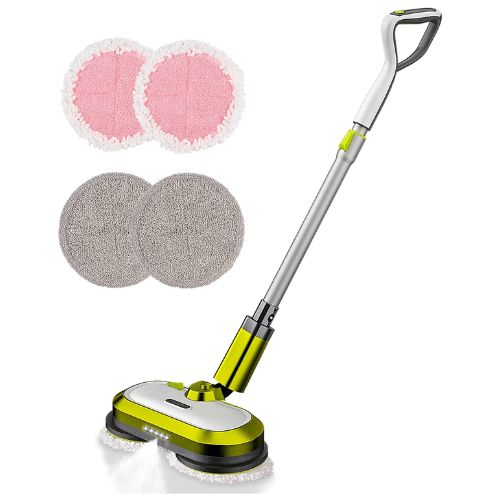 Weight: 5.6 lbs.Dual Motor
The mop is equipped with a powerful dual motor that helps you in removing stubborn dirt and dust without hassle. Its dual-motor spins at 280r/min. Cleaning home and kitchen floors quickly.
Also, the mop head gets pushed automatically to make housework effortless.
Hands-free & Lightweight
It uses advanced wireless technology. Thus, you are not restricted to distance. You can work with it anywhere you want for its cordless design.
The unit weighs only 3 lbs. and features an ergonomic handle, allowing you to clean upstairs and downstairs comfortably. Non-touch disposal feature prevents touching the dirty pad.
Flexible and Adjustable Handle
Its handle can be adjusted between 37" – 48.8". So, you can reach beneath the furniture, desks, or other things quite comfortably. This feature eliminates bending and backache.
Rotating Mop Head
Interestingly, the mop head can rotate 180-degree from left to right and 90" from standing. Thus, it facilitates mopping work. Rotating the mop removes the grime from hard-to-reach areas easily.
Pros
300 ml built-in water tank
LED headlight for cleaning beneath the furniture conveniently
Perfect scrubber for cleaning vinyl floor
2550mAh detachable battery provides 60 minutes of break-free mopping
The ergonomic handle lets the mop reach every corner
Cons
The machine sprays very far out
Why Should You Buy It?
Overall, this is an excellent electric mop with many features to make your vinyl floor cleaning task effortless. It is super easy to work with and feels efficient on different floor types.
6. Shark S3501 Steam Pocket Mop
The Shark S3501 Steam Pocket Mop is a great way to clean your vinyl floors. Its awesome functionality ensures that you clean your vinyl floors with clean water. Also, the mop turns regular water into super-heated steam to clean everyday grime and dirt.
Technical Specifications
Special Feature: Corded
Surface Recommendation: Sealed Hard Floor
Style: Handheld Steam Cleaners
Included Components: Filling Flask, Rectangle Mop Head, Steam Mop, (2) Washable Microfiber Pads, Quick Release Swivel Cord Wrap
Weight: 4.87 lbs.
Power Cord Length: 18 ft.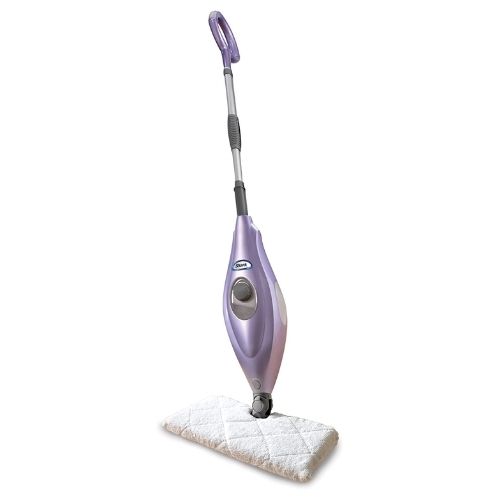 Powerful Steam
It is efficient enough to turn ordinary water into super-heated steam within ½ minute. More importantly, after cleaning, the water dries almost immediately. Thus, the chance of slippage is reduced.
The steam sanitizes 99.99% of bacteria and germs. So, your home will have a clean and germ-free environment.
Soft-grip Handle & Comfortable Design
The smartly designed handle has a soft grip for comfortable use. If you need to use it for prolonged hours, your arms and hands will remain fatigue-free.
Also, it features 2-sided cleaning. All you need to do is flip the mop head to use both sides of the pad and clean without interruption.
Confirms Safe Cleaning
The unit doesn't leave any chemical residue on the floors. So you will always get a safe cleaning. Simultaneously, the pads are reusable and washable to give you a messy mops-free cleaning experience.
Pros
The swivel head rotates 180-degree for easier maneuvering
Double-sided cleaning to extend your cleaning session
Includes 2 washable and reusable pads
Safe cleaning on vinyl floors
Sanitizes bacteria 99.99%
Cons
Unavailability of an on/off switch
Why Should You Buy It?
This is a life-saver, easy to assemble, lightweight, and maneuver. The adjustable handle performs as required. Keeps your vinyl floors free from germs and bacteria. This reasonably priced mop comes with an 18" long cord, allowing you to clean anywhere.
7. HOMTOYOU Spray Mop
It is essential to clean your vinyl floors perfectly to have a pollutant-free home environment. The HOMTOYOU Spray Mop is a good choice for all types of floors.
The ergonomic design handle ensures a more comfortable grip. Also, a fine spray head provides uniform, faster, and water-saving atomizing.
Technical Specifications
Surface Recommendation: Floor, Glass, Wood
Dimension: 12.8" (L) X 4.72" (W) X 47.24" (H)
360-degree Rotation: Yes
Number of Replacement Pads: 3
Weight: 2.25 lbs.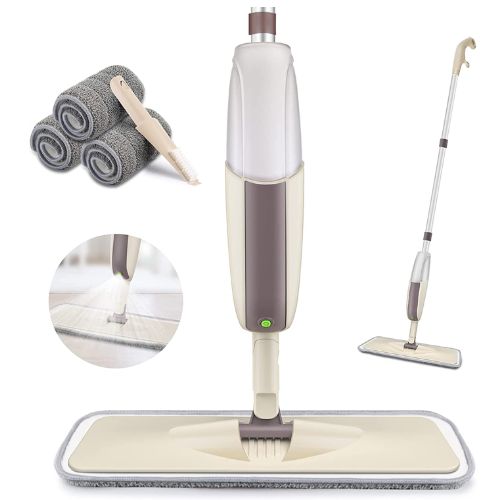 Slim Design for Narrow Areas
Having trouble cleaning beneath the cabinet or couch? Cleaning these narrow areas will be comfortable when you have this mop in your hand.
It is designed with a slim size. As a result, you can reach narrow areas without trouble. This feature makes it suitable for glass, windows, and flat floors.
360 Rotated Mop Head
With this 360-rotated mop head, you will never have to leave cleaning dead ends. Maneuvering around hard-to-reach spaces is as easy as boiling water for this feature.
The unit cleans all types of narrow areas without creating a problem. Also, it is harmless to the floor while delivering efficient performance.
Saves Your Valuable Time
Cleaning vinyl floors with heavy baskets is tiresome and troublesome work, indeed. This mop will be a nice helper for you when cleaning your floors.
Carrying a bucket is unnecessary as it has an incorporated water tank that can be controlled with a handy trigger in the handle. Thus, no need to worry about soaking the vinyl floor anymore.
Pros
User-friendly design
360-degree swiveling head
Easy to clean and save time
Includes machine washable 3 microfiber pads
Fine spray head
Cons
The handle stops working sometimes
Why Should You Buy It?
You will love these lightweight and feature-packed mops for sure. The water reservoir comes with good enough capacity. The water absorption of the pads is excellent. Its base is more significant and larger to let you quickly complete large vinyl floor cleaning.
8. Turbo Microfiber Mop Floor Cleaning System
Looking for a budget-friendly option to clean your vinyl floors? The Turbo Microfiber Mop Floor Cleaning System would be the best option. This is also an efficient mop to always keep your home vinyl floor clean and tidy.
Technical Specifications
Surface Recommendation: Floor, Tile, Wood
Weight: 1.2 lbs.
Dimension: 60" (L) X 4" (W) X 17" (H)
Handle Material: Aluminum
360-degree Rotation: Yes
Handle Length: 35" – 60"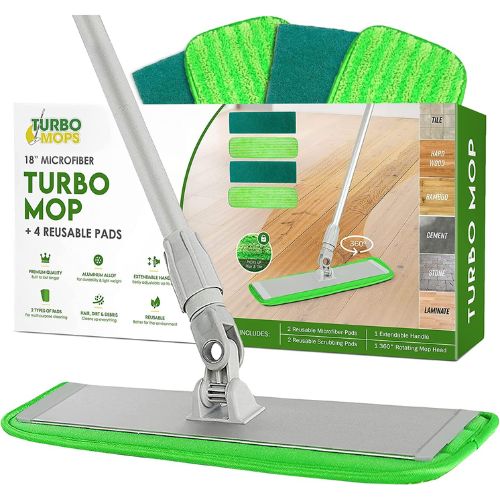 Effective Mop
It is designed to attract and trap dust and debris from the floors like hardwood, tile, vinyl, and many more. The unit also features a 360-degree swiveling head that helps you wipe up messes without a problem.
You can move the mop head in every direction when cleaning under the couch or other furniture.
Adjustable Handle
This floor duster handle is made of aluminum, making it much more durable. The telescoping handle can be extended between 35" – 60" for easy cleaning in any area.
The microfiber floor mop works tremendously well on laminate, wood, tile, and other floors.
Protective Edges
You will barely find protective edges in other floor mops of its price range. Impressively, the protective edges avoid scratching furniture and wall.
Pros
Save money and reduce waste with machine-washable mop pads
Wash and reuse mop pads up to 100X
Cleans dirt, debris, pet hairs, and more on most household surfaces
Protective edges to avoid scratching furniture and walls
The aluminum handle extends from 35" to 60"
Cons
The Velcro strips adhesive breaks down over time
Why Should You Buy It?
The quality of the mop is pretty awesome. It is lightweight and has a sturdy look. Its larger and bigger mop head does an excellent job cleaning with an enormous surface area and flexibility. The unit lets you clean vinyl floors with less effort.
9. Microfiber Wholesale 18″ Professional Microfiber Mop
The Microfiber Wholesale 18″ Professional Microfiber Mop is a versatile vinyl floor cleaning equipment. It allows you to swipe hardwood floors, tile, laminate, stone, etc. The pads are washable, and replacing the mop head is convenient.
Moreover, it is highly effective for cleaning tight edges and corners.
Technical Specifications
Surface Recommendation: Floor, Wood, Tile, Stone
Dimension: 41.2" (L) X 7.5" (W) X 1.8" (H)
Handle Material: Stainless Steel
Handle Length: 42" – 70"
360-degree Rotation: Yes
Weight: 3.64 lbs.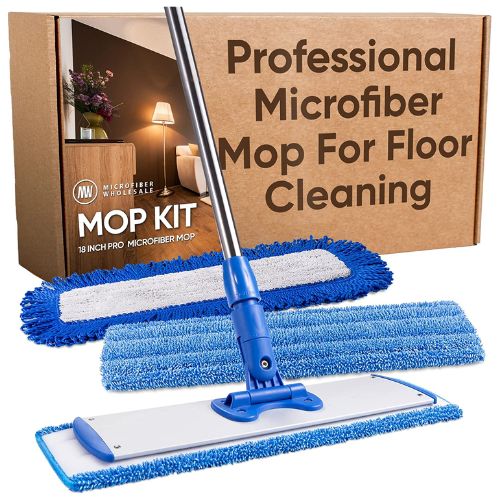 Cleans Like a PRO
The mop is engineered, keeping professional cleaners in mind. At the same time, it is suitable for home users and a good solution for weekly and daily cleaning.
This unit has everything necessary for cleaning professionally. It is perfect for removing debris, dust, dirt, and pet hair from your vinyl floors.
Extremely Durable
This professional-grade mop takes all challenges efficiently. You can clean floors confidently, taking assistance from stainless steel and adjustable handle. It ensures that you will never have to bend or break your back.
More importantly, the mop pad strips won't peel off due to continuous use.
Easy to Maneuver & Use
Using the mop is incredibly easy. When using the mop handle, adjust and lock it according to your height and comfort.
Also, cleaning the nooks and crannies, corners, and other areas will be a breeze with the help of its features.
Pros
Microfiber mop makes cleaning easy
Designed for all types of hard surface floors
Exclusive swivel lock prevents side-to-side swiveling when cleaning
It can also be used to clean walls and ceilings
Machine washable and reusable mop pads
Cons
Unsuitable for cleaning pet hairs
Why Should You Buy It?
It is one of the best mops having microfiber pads. The quality of the pads is far better than conventional model pads. Its handle extends quite a bit, and the pads work well.
10. VENETO Premium Spray Mop
Do you own pets and need a vinyl floor cleaning mop to remove pet hair? Don't look further and invest in the VENETO Premium Spray Mop. The mop heads absorb dust significantly and have a bobbly texture. Due to such texture, it is a fantastic kit for cleaning a variety of debris.
Technical Specifications
Volume: 700 Millimeters
Assembly Required: Yes
Weight: 2.25 lbs.
Included Bottle Capacity: 23.7 oz.
Mop Head Length: 16.3"360-degree Rotation: Yes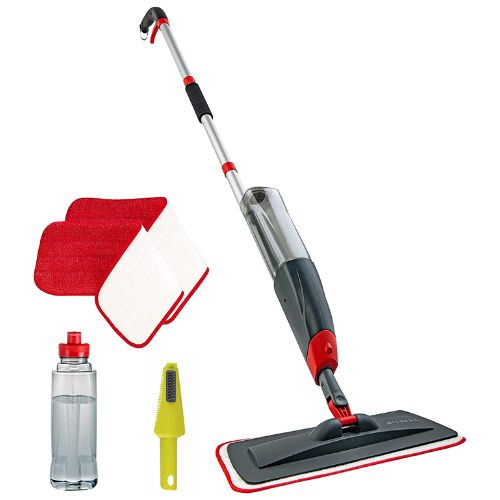 Deep Cleaning
Effectively clean most surfaces with this microfiber vinyl floor cleaning mop. The mop head automatically rotates to 360-degree, enabling the mop the reach tight corners. It works significantly for homes, offices, kitchens, dorms, bathrooms, garages, restaurants, basements, and schools.
Dual Use
Two mop pads are available with this kit. Wet pads are suitable for deeper cleaning, and dry pad is ideal for dusting.
These mop pads permit you to clean both wet and dry areas. Most importantly, they are machine washable for repeat use.
Innovatively Designed
One-hand, easy-to-operate, easily refillable bottle, and ultra-fine mist spray are some of the worth-mentioning features of this mop.
All these features combine and give you a convenient cleaning experience. At the same time, it helps you save precious time and effort.
Pros
Say bye-bye to pet hairs by cleaning the vinyl floor with it
Suitable for both deep cleaning and dusting
The incorporated refill bottle is easy to fill
Large and microfiber mop head attracts dust and dirt proficiently
Includes 2 pads for alternative use
Cons
Why Should You Buy It?
This reasonably priced vinyl floor cleaning mop works efficiently on all floor types. The pads are machine washable, letting your use them repeatedly. Excellent choice for quick clean-ups and spills.
Buying Guide – How to Buy the Best Mop for Vinyl Floors
Before buying the best mop for vinyl floors, you must consider a few factors. Here are the considerations for your convenience.
1. Types
Vinyl floor mops come in different varieties to meet various requirements. So, choose the mop type according to its benefits and drawbacks.
String Mops: They come with a classic design and mops head cotton cleaning strings. Water absorbency of these mops re high than other mop types. But they are prone to mildew, and the cotton mop head takes a long time to dry after cleaning. 
Strip Mops: The look of these mop types is pretty similar to string mops. But they have synthetic mop heads instead of cotton. So, cleaning power and water absorbency is good. Sadly, they leave slightly damp smells.
Flat Mops: Gentle and flexible cleaning pads are attached to these mop types. They are lightweight and easy to use.
Spray Mops: Using a bucket is unnecessary when you have these mops in hand. They feature an integrated spray bottle, making them ideal for daily cleaning.
Sponge Mops: This type has a traditional style mop head made of sponge, letting you remove stubborn stains and grime. These are suitable for deep cleaning on a wide range of sealed floors.
Steam Mops: They are suitable for deep cleaning but unsuitable for vinyl floors. 
2. Durability
Consider how durable your selected model of a vinyl floor mop is. The selected unit should be made of rigid and sturdy materials.
Also, replaceable mop heads minimize regular wear and tear significantly. At the same time, check the warranty to learn how long the mop delivers efficient service.
3. Versatility
Although you are buying a mop specifically for cleaning vinyl floors, it is vital to check whether it is suitable for other floors.
Buying separate mops for different surfaces is impractical. So, look for a kit that can be used on a wide range of surfaces. It will help you save valuable time, money, and effort.
4. Handle
Generally, plastic, aluminum, stainless steel, and wood are used in manufacturing the mop handle. Whatever material is used, ensure the handle is convenient and comfortable to grip.
Simultaneously, the adjustable feature will give you additional benefits. This feature will let you clean those nooks and crannies without hassle.
Many mops are designed with curved handles. Some have soft grip, allowing you to work with them for prolonged hours without fatigue.
5. Mop Head
A vinyl floor mop's cleaning power, texture, and absorbency play a crucial role in its overall performance of it. Microfiber mop heads are the best choice compared to all other options.
Although, you will get mop heads having sponge, synthetics, and cotton. But they could be more efficient as microfiber.
Microfiber is one of the best choices for its extreme durability, affordability, and ease of cleaning features.
Frequently Asked Questions (FAQs)
What material is used to manufacture vinyl floors?
Vinyl floors have several layers made of synthetic materials. Primarily most vinyl floors are constructed using polyvinyl chloride (PVC). For this reason, they need a specialized floor mop for cleaning.
Are steam mops safe to use on vinyl floors?
Using something other than steam mops on vinyl floors is recommended for cleaning. The steam can damage the adhesive between the layers because moisture can form and penetrate the laying planks.
How to use a mop on vinyl floors?
It would be best to mop from one side to another following a straight line when cleaning vinyl floors. Also, don't repeat cleaning the same areas. Replace the dirty water when required and refill with fresh water.
How often should you mop vinyl floors?
Daily cleaning is recommended if you want to protect the texture of the vinyl floors. Simultaneously, the floor sanitary will be retained when you clean vinyl floors with a mop.
Why is my vinyl floor still dirty after mopping?
Well, you might have mopped with dirty water. That is why dirt builds up, and the appearance looks dirty. For this reason, it is crucial to change the dirty water when necessary.
Final Words
Your vinyl floor requires the best treatment to give it a shiny appearance. For this reason, selecting and buying the best mop for vinyl floors is crucial.
Make sure to choose the mop type based on your personal preference. Also, learn the features of your selected model. This will ensure that you select a suitable model for your vinyl floors. Otherwise, your investment will be a waste.