6 Best Mop for Cleaning Ceilings | Give Your Home and Office a New Look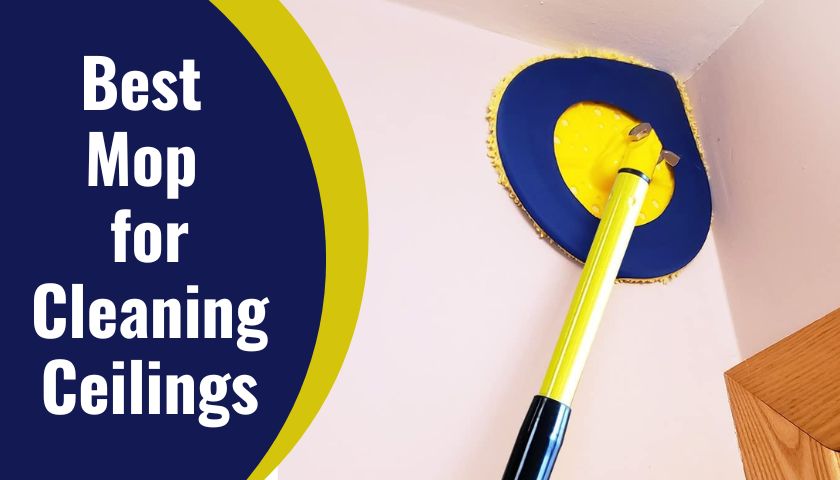 Cleaning the dust and dirt off the ceilings is often a pain in the ass. Your arms and hands may feel fatigued when cleaning the ceilings. In this case, the best mop for cleaning ceilings will be a deal-breaker.
These mops are designed in such a way as to give you superior comfort during ceiling cleaning. They are lightweight, having a rigid handle to reach the corners of the ceilings without hassle.
If you don't own a good mop, cleaning those areas perfectly will be incredibly impossible.
What type of Mop is best for Cleaning Ceilings?
Well, the type of mop for cleaning the ceiling relies on ceiling construction.
A wet or dry mop will be an ideal choice if the ceiling is made of vinyl and plaster.
On the other hand, buy a stick-free microfiber mop if the ceiling is built with stones or tiles. These mops type will not leave any streaks on the ceilings.
Additionally, long-handle mops are the best items for cleaning ceilings. You can quickly get to the high areas without assistance from a ladder. While these mops have an adjustable handle height feature, letting you clean the under of furniture without bending down.
6 Best Mop for Cleaning Ceilings Reviews 2022
These are the top picks for ceiling mops. I considered the weight, handle length, mop head functionality, and maneuverability. Read the features and benefits carefully to buy the best-suited mop to clean your home or office ceilings.
Our top picks: At a glance
Best Overall: CHOMP! Long Handle Dust Mop
Best for Dry and Wet Dusting: E-Cloth Flexi-Edge Floor & Wall Duster
Best Powerful Cleaning System: DoroSun Microfiber Dust Mop Cleaner
Best for Large Buildings: H&B Luxuries Long Handle Ceiling Mop
Best for Large Areas: ROKOXIN 85 Inch Wall Cleaner Mop
Best for Wide Application: Macepason Wall Cleaning Triangle Mop
1. CHOMP! Long Handle Dust Mop
The CHOMP! Long Handle Dust Mop is a premium-grade product to keep your home or office environment healthier. This mop cleans faster. At the same time, it looks great. It gives your home a new appearance by cleaning all dust and dirt off.
In fact, it helps to protect yourself from lung irritation and ensures better breathing, keeping your home air fresh.
Specification
Surface Recommendation: Window, Wall
Weight: 1.42 lbs.
Dimensions: 2.5" (L) X 8.25" (W) X 28" (H)
Assembly Required: No
Extension Pole Material: Steel
Extension Pole Length: 26" – 60"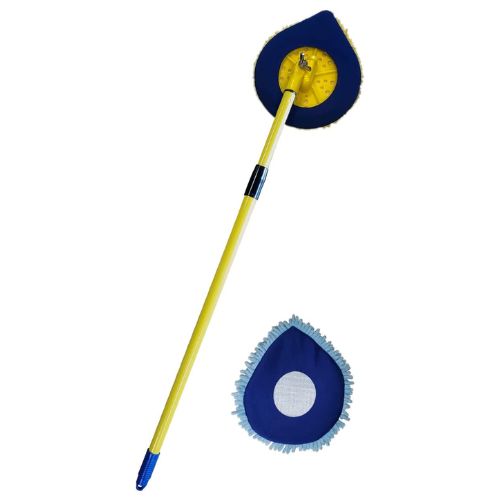 Multi-Use Mop
Whether you need to clean the floor, ceilings, door, dashboards, or windows, this mop will let you clean any area efficiently. Although it is precisely for cleaning ceilings, it is much more efficient in cleaning other areas.
It cleans grease, dust, dirt, odors, and other smoke, giving you pollutant-free air in your home or office.
Premium-grade Construction
The extension pole and tension hinge are made of premium-quality stainless steel. Its variable tension hinge lets you use it for a wide range of user settings and maximum durability.
On top of that, the stainless steel 3-piece 26" – 60" extension pole gives maximum strength and comfort. The adjustable extension pole eliminates bending tasks, letting you clean high and low easily.
Machine-washed and Reusable Micro Fiber Pads
You will be completely satisfied with its performance regarding cleaning any areas. The microfiber pads are machine-washable and reusable. This means you won't have to buy the pads frequently.
More importantly, the mop will look like a new product after washing the pads.
Pros
The unit doesn't leave chemical residue after cleaning
Cleans dust, dirt, grease, and other odors from walls and ceilings
Adjustable extension pole for high and low cleaning
Washable microfiber pads
Easy to work for its lightweight nature
Cons
The head gets loose over time
Why Should You Buy It?
If you plan to clean dust from the ceiling with it, your decision will be well worth it. The mop gets everywhere and cleans perfectly to give your home or office a new look. It has an adjustable handle, and the microfiber pads are machine washable.
2. E-Cloth Flexi-Edge Floor & Wall Duster
Are you looking for an easy and effective way to clean your room or office ceilings? Buy the E-Cloth Flexi-Edge Floor & Wall Duster without hesitation. It wins the heart of many customers for its excellent versatility.
The mop is best to be used as a duster. At the same time, it can let you work with water. These 2 features make it suitable for various surfaces like walls, hard floors, baseboards, and ceilings.
Specification
Handle Material: Aluminum
Weight: 10.4 oz.
Fabric Type: Polyester
Extendable Handle: Up to 60"
Pivoting Mop Head: Yes
Mop Head Dimension: 17.5" X 6"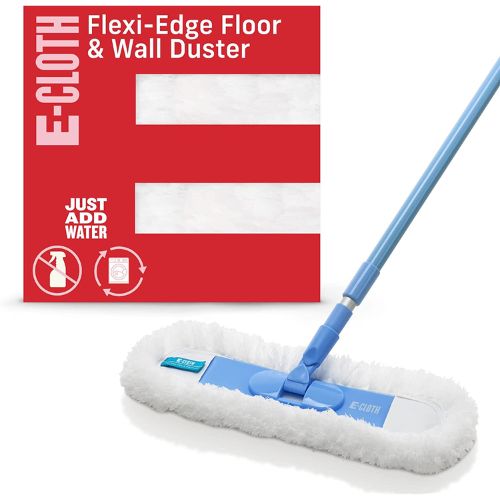 Flexible and Soft Mop Head
Learning about its flexible mop head, don't assume it is less efficient than other mops for cleaning the ceiling. The truth is, it lets you reach every corner without trouble.
The unit attracts and traps cobwebs, pet hair, dust, and more from deep corners. Its mop head lasts for a maximum of 200 washes or 2 years.
Best for Dusting
As it features thousands of fluffy fibers, it is the best choice for dusting. However, it is similarly efficient for wet applications. But using only water and avoiding cleaning solutions is recommended for optimum results.
Aluminum Handle
Reaching the ceiling, tight areas, or corners will never be a hassle when you have this mop in your hand. Its handle is made of aluminum, extending up to 60".
Simultaneously, it is lightweight, too, with a 10.4 oz. letting you use it for prolonged hours without creating fatigue in the arms and hands.
Pros
Incredibly effective in attracting and trapping dust, pet hair, etc.
Lightweight aluminum handle
Built to last for at least 20o washes
100% machine washable microfiber pads
Environment-friendly, using a traditional method of cleaning
Cons
Unsuitable for cleaning large areas
Why Should You Buy It?
This is simple and best suited for dry dusting ceilings, hard floors, and walls. Also, this is an ideal option for deep cleaning with water. You can also use it on other surfaces like hardwood, laminate floors, tile, etc.
Moreover, it is an excellent alternative to conventional cleaning methods such as brooms or vacuum cleaners.
3. DoroSun Microfiber Dust Mop Cleaner
Give your home and office ceiling a deep clean with the DoroSun Microfiber Dust Mop Cleaner. This powerful cleaning system comes with 4 mop poles. 1 plastic mop head, 4 mop pads, 1 cleaning scrape.
These included items help keep the ceilings streak-free and clean all year. Additionally, this microfiber ceiling mop works with most surfaces, including vinyl, laminate, tile, and many more.
Specification
Handle Material: Stainless Steel, Microfiber, Plastic
Head Material: Microfiber
Weight: 1.43 lbs.
Extension Pole Adjustable Length Range: 37 – 69"
Assembly Required: Yes
Installation Time: 5 minutes
Rotating Mop: Yes, 360-degree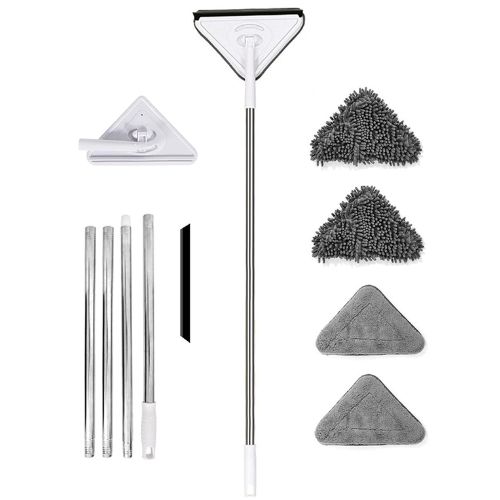 Long Handle for Ceiling & Wall
The handle is made of aluminum, ensuring the unit's durability. It can be extended between 37" – 69" according to your convenience. Long extendable handle easy to reach ceiling and walls.
As a result, using a ladder becomes unnecessary for cleaning high ceilings. On the other hand, you don't need to bend to collect dust at low heights.
360-degree Rotational Mop Head
One of the excellent features of the mop is the 360-degree rotational triangle head design. So, the mop easily turns at any angle and cleans effortlessly.
The 360-degree rotational mop head reaches the corners conveniently and cleans the dirt off the ceiling, painted walls, glass, desks, windows, furniture, etc.
Changeable Mop Pad
4 reusable mop pads are available upon buying this unit. They can help you with wet and dry use. Most significantly, the mop pads are washable. Whether you wash them by machine or hand, both can be done.
Assembling and disassembling the unit is so simple. The whole installation process will take a maximum of 5 minutes.
Pros
Stainless steel poles and sturdy handle
Wear-resistant, flexible, and soft-cleaning scrape
Strong water absorption makes it easy to remove water stains
Suitable for most surfaces
Used for cleaning ceilings, cars, desks, office floors, etc.
Cons
The mop head is hard to control
Why Should You Buy It?
This wonderful unit makes the ceiling cleaning task effortless. It does dust off walls and ceilings and trims, behind beds, and other things. It also has a washing mat that can help you clean windows. The unit fits corners and under furniture without trouble. Also, it is great for several surfaces.
4. H&B Luxuries Long Handle Ceiling Mop
The H&B Luxuries Long Handle Ceiling Mop is best for its versatile performance. It is designed to clean your office and home ceilings. Also, it can be used for hard floors.
Whether you need dry or wet mopping, it is best suited for both. This unit comes with an extra-long handle, allowing you to clean hard-to-reach areas without a problem.
Specification
Handle Material: Stainless Steel, Microfiber
Head Material: Microfiber
Extension Pole Extendable Height: 37" – 75"
Machine Washable Pads: Yes
Included Items: 2 microfiber pads and 2 chenille pads
Weight: 1.44 lbs.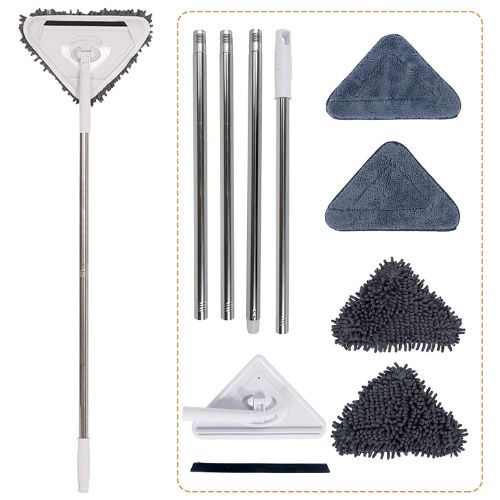 75" Long Handle
Thanks to the long handle, this dust mop can be used for dusting walls and ceilings. More importantly, the handle is adjustable, permitting each person to modify the length to a height that works for them.
Moreover, because of the 75" long handle, it is best suited for large buildings like schools and malls. This unit eliminates the use of a ladder risk of falls or bending down.
Fits Even and Uneven Surfaces
It comes with 2 microfiber pads and 2 chenille pads. The included pads are ideal for 90% of furniture surface cleaning.
The microfiber pads permit you to clean flat areas like floors, walls, ceilings, or windows. While Chenille pads let you clean uneven surfaces such as cabinet doors, door molding, and baseboards.
Detachable & Washable Mop Pads
Wash mop pads can be detached and washed easily. After cleaning your home or office ceilings, cleaning the mop is mandatory.
Happily, you can wash the mops in the washing machine or by hand. The unit is highly durable and retains its shape for long days after frequent use.
Pros
Easy to clean corners of ceilings and walls
75" long handle eliminates the use of a ladder
Removable and easy-to-clean mops
Includes 2 microfiber and chenille pads for even and uneven surfaces
Stainless steel extension pole ensures durability
Cons
The handle is a little flimsy
Why Should You Buy It?
This ceiling mop is worth the price for its impressive performance on flat and uneven surfaces. The included microfiber attachments are easy to clean in the machine or by hand. The long handle ensures 100% dry and wet dusting. Impressively lightweight and easy to store in a compact place.
5. ROKOXIN 85 Inch Wall Cleaner Mop
The ROKOXIN 85-Inch Wall Cleaner Mop is an easy-to-use cleaning solution for ceilings and walls. Simultaneously, it is an excellent option for all types of floor cleaning.
Moreover, a long handle is perfect for dusting and cleaning households, offices, and vehicles. The pads are removable and washable, making it convenient to clean and maintain
Specification
Style: Triangle, Circular
Blade Material: Metal
Handle Material: Metal
Handle Length: 39" – 85"
Rotational Head: 180-degree Swivel Head
Weight: 1.76 lbs.Machine Washable Mops: Yes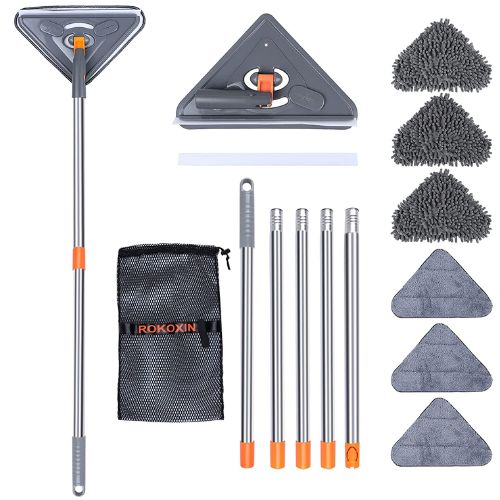 Unique Triangle and Reinforced Splice Design
The triangle design lets you clean any area conveniently. More importantly., the triangle head rotates 180-degree, permitting you to be deep clean under furniture.
Another impressive feature is the reinforced splice design of the mop head. It lets you collapse or flip the mop head when sweeping high areas.
Multi-purpose Unit
Whether you need to clean ceilings, walls, window trims, doors, baseboards, corners, etc., this mop is efficient in everything.
In addition, it includes a window squeegee, helping you easily clean windshields, showers, and windows. In fact, it gives you peace of mind when it comes to household cleaning.
Long Handle
The unit has 5 metal extension poles. Furthermore, a 39" – 85" long metal handle is clean high, and low, making it unnecessary to use a ladder. Also, bending over to clean under the furniture is not required.
Interestingly, the pole is lightweight, allowing you to lift the mop for overhead cleaning, significantly minimizing arm and hands fatigue.
Easy Installation
It features an easy installation process. Using screws is entirely unnecessary. All you need to do is attach the pole, ready to go.
Pros
Versatile cleaning tools
It has a mesh bag for better storage to save it from odors and dampness
The mop head can be bent into different angles with a 180-degree rotation feature
Cleans all kinds of hard-to-reach areas
Makes household ceiling cleaning tasks easier
Cons
The squeegee quality could be a little better
Why Should You Buy It?
The handle is very long and can be sized down if required for closer cleaning tasks. You can use it dry and wet. Also, it has a squeegee to reach almost any high window.
Moreover, it comes with a mesh bag, letting you store it safely. Machine washable pads are easy to change. Overall, this is an excellent unit for ceiling cleaning. 
6. Macepason Wall Cleaning Triangle Mop
The Macepason Wall Cleaning Triangle Mop is a complete kit for cleaning ceilings. The long handle is designed to clean tight corners, high areas, indoor and outdoor windows, air conditioners, and other areas.
This is lightweight and long-lasting material constructed, making one-hand operation effortless. Even elderly, children will not find it challenging to handle.
Specification
Surface Recommendation: Window, Floor, Wall, Ceiling
Head Material: Microfiber
Mop Head Dimension: 10.6" (L) x 8.3" (W) x 8.3" (H)
Extension Pole Material: Metal
Pole Length: 42" – 75"
Weight: 1.45 lbs.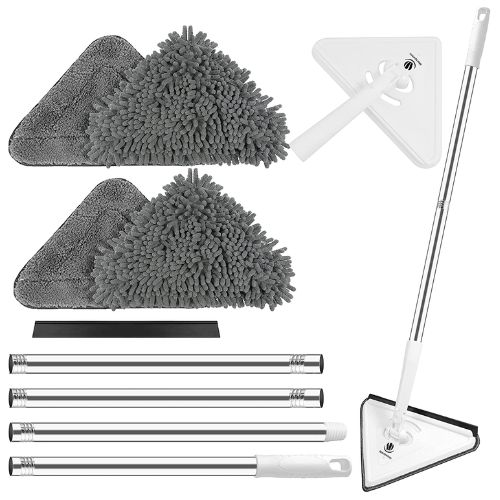 Complete Mop Kit for Ceiling
This ceiling mop comes with 4 dust mop replacement mitts, including 2 fiber cloths and 2 chenille cloths, 1 silicone scraping strip, 4 metal extension poles, and 1 triangle mop head. It means the unit has everything necessary for the easier ceiling cleaning task.
Extremely durable extension poles are made of metal, making them lightweight. The long handle is easy to assemble and disassemble for easy carrying and storing.
Wide Application
The dust mop mitts can be used for wet and dry both. At the same time, water absorbency is incredible. That is why it can clean the hardest stain without hassle.
Moreover, the wall mop has an extendable feature, letting you reach ceilings, high areas, blinds, and porches, suitable for housewives, the elderly, and children.
Get Higher Place Clean
Its long handle helps you reach high areas pretty conveniently. So, it allows you to clean both sides of the windows, mirrors, wall cobwebs, floorboard, window trim, etc.
Moreover, due to the hollow structure, it facilitates one-hand operation.
Pros
360-degree rotating mop head
Facilitates one-hand overhead use for lightweight characteristics
Useful for ceilings, dust under furniture, etc.
Adjustable handle length
Convenient assemble and disassemble process
Cons
The pads don't hold up well under regular use
Why Should You Buy It?
Long handles and adjustable poles make cleaning ceilings, walls, and baseboards easy. Unique triangle design and 360-degree rotation head permit for comfortable cleaning and maintenance.
Moreover, hangable design save space. Furthermore, flexible and wear-resistant construction gives you many years of service.
Things to Consider When Buying the Best Mop for Cleaning Ceilings
The market is full of different mops, and most of them are designed for floors. So, if you don't know the ceiling mops' characteristics, you may end up with the wrong product.
Here are some crucial factors of the best mop for cleaning ceilings.
Length
Mop head length is a crucial buying factor.
Investing in a large mop head is necessary if you have a large area to clean. Thus, you won't have to take frequent breaks during wet dusting.
Weight
This is another significant factor to keep in mind. You are basically doing overhead tasks when cleaning your office or home ceilings. So, the mop has to be lightweight.
A rigid and durable mop will be heavier. You will require more effort to use them.
On the other hand, lighter mops are easy to maneuver. They are good choices for cleaning under furniture dust. At the same time, you can use them for tight spaces.
Mops Type
Three types of mops are available in the market: Sheldonite, string, and sponge. Each mop type comes with its own set of benefits and drawbacks.
The water absorbency of sponge mops is better than that of string mops. But you will face difficulty to wring out.
Sheldonite mops are made of synthetic materials, making them durable compared to other types.
So, it is always best to learn your requirement before buying.
Material
Material is also an essential factor to consider when buying the best mop for cleaning ceilings.
Make sure that your selected unit has a soft and flexible head. Thus, the cleaning mops can't damage the cleaning surface.
While the handle material has to be durable so that it doesn't lose its functionality for repeated use.
Reusability
Another crucial consideration of ceiling cleaning mops is reusability.
This feature offers unique benefits as you won't have to throw away the mop head after use. Simple wash it by hand or washing machine, dry and reuse it.
It helps you save several bucks in the long run and minimize waste.
Frequently Asked Questions (FAQs)
Floor vs. ceiling mop – what is the difference?
A floor mop has a short handle and is used for cleaning floors. In comparison, a ceiling mop is long-handled and suitable for ceiling cleaning.
Also, floor mops are bulky, but ceiling mops are lightweight. Furthermore, floor mops have big mop heads, whereas ceiling mops feature small ones.
Can a ceiling mop wash ceiling?
Yes, a ceiling mop is eligible for washing the ceiling. Make sure the mop head is flexible and soft. Also, the ceiling should be built with something other than tiles or stones. The soft mop head can be damaged on hard surfaces.
What are the benefits of cleaning ceilings using a mop?
Mops are much beneficial for cleaning ceilings. They have longer and more durable handles made of lightweight materials, making overhead cleaning less fatiguing. Also, mops are less prone to damage the ceilings for their soft and flexible mop head.
How often should I wash my ceilings?
It depends on a few factors. Frequent washing is necessary if you live in an area with high humidity or have pets. Generally, washing once a month is a good practice.
A brush or a mop – which is better for ceiling cleaning?
A mop is a better option for ceiling cleaning over a brush. It can reach higher areas easily and cover larger surfaces conveniently. Brushes are only ideal for cleaning corners.
Final Wrap
Mopping with the best mop for cleaning ceilings is a great way to give your home a new look. These mops are also efficient for cleaning floors, under furniture, office desks, etc. Moreover, they are affordable and worth the price for their excellent performance.
All the reviewed units in this comprehensive guide are the best in the class. As you already know the buying factors, selecting the right product will not be troublesome.
When you use these mops, you will always have a new-looking home or office. However, choose the one that meets your requirements.