8 Best Spin Mops For Dirty Floors in 2022 | Reviews And Buyer's Guide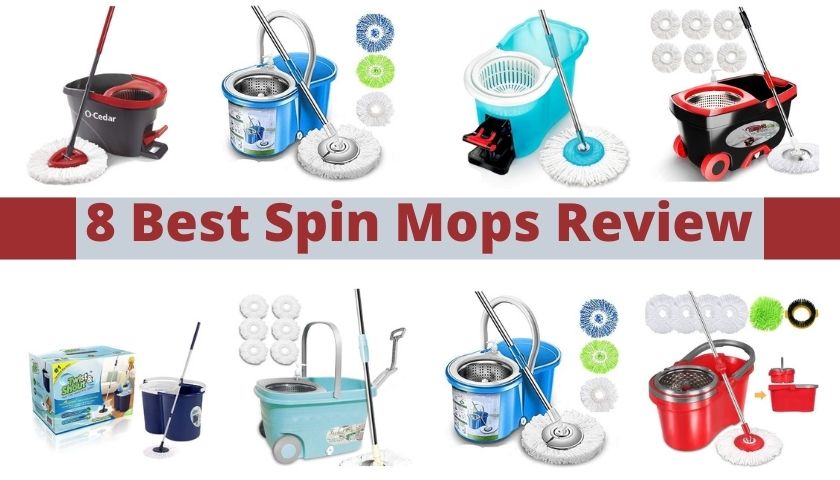 A spin mop is a more efficient and effective way to clean than a regular mop. This dirt cleaning tool works best on hard floors. The mop head is usually round in shape, and it's wrung out with the help of a spinning mechanism.
The market offers countless brands of spin mop, but not all of them are usable. So, our team outlines 8 top-rated spin mops of 2022. These best spin mops are for easy and fast cleaning.
8 Best Spin Mop Review 2022
Finding out the best spin mop is pretty challenging. It needs some right knowledge of the product and understanding of its purpose. We did a long, deep analysis of several spin mops and came up with these 8 best options.
Our top picks: At a glance
1. Best Performing: O-Cedar Easy Wring Microfiber Spin Mop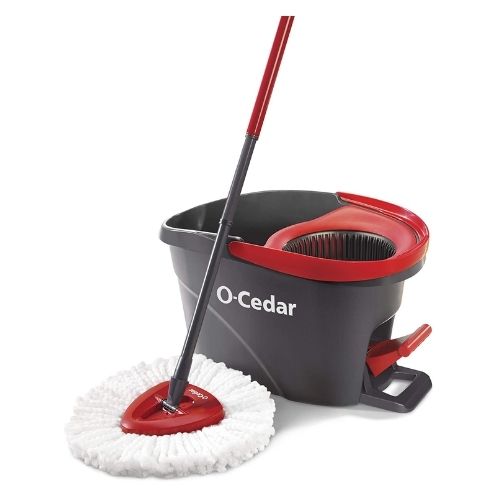 The O-Cedar Easy Wring Microfiber Spin Mop is famous for its bucket system. It's the most convenient and reasonable way to clean floors. This product is unique because it provides a bucket that includes a spinner which you don't need any electricity to use.
That spinner will spin the mop when it's wet to remove extra water and give the mop the right amount of moisture for cleaning. It may look very usual, but it does a great job at scrubbing while ensuring you don't get tired of using it.
Easy Setup
Setting up the O-Cedar Easy Wring Mop takes only a few seconds. The bucket that comes with the package already has the spinner set inside it. It means you only need to set the microfiber pad with the mop. The handle's extendibility helps you to adjust it to different lengths. So, people of different heights can use it. However, a person over 5.5 inches might feel it's a little short for them.
To extend the handle, turn it counterclockwise and extend as long as you want, then turn it clockwise to fix the length. The package includes a plastic part to which you will attach the mop. It has an arrow at the front that gives you the direction to mop. Snap the mop to it and later screw the handle to the head of the mop to attach. You are all set for cleaning.
Excellent Design
The O-Cedar spin mop is designed to provide comfort and excellent cleaning. Although the materials are not high-quality, it takes a small bit of effort to assemble that helps it to serve you longer. The handle can be lengthened from 24 to 48 inches. Hence, people with a height of at most 5'4" can do effortless cleaning with it. The bucket is large enough to hold a lot of water.
But the manufacturer added a mark in the bucket, which you must not cross while filling water into it. The spinner is adjusted to the bucket. To spin the wringer, there's a pusher behind the bucket. The more you push it, the more the bot rotates and soaks water. Right over the spinner, a splash guard is added to keep you dry when the spinner is spinning.
Impressive Performance
We were surprised to see it taking out any small dirt particles and grimes. The mop handle can be bent to help you reach places usually hard to clean. But since it's not an electric mop, you better vacuum the floors before cleaning with it.
Because this bucket system mop can only stick dust, grime, and spots, if big dirty particles are not removed, vacuuming, the mop will only spread them around. The overall performance of the mop is indeed outstanding.
Pros
Adjustable handle
Easy assemble
Large bucket
Washable pad
Very lightweight
Cons
You need to spin a couple of times to soak the pad perfectly
Why Should You Buy It?
This product is so lightweight. It requires little effort to move smoothly. However, to clean stubborn stains, you must push a little. The microfiber pad can take in hair and other tiny debris. The spin rotates fine and, with its splash guard, keeps you safe and dry.
2. Best Build: Aootek Spin Mop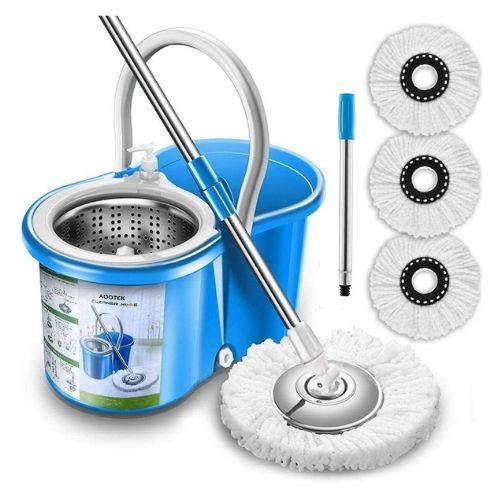 Aootek Spin Mop is designed to last longer, yet you can get it at a reasonable price. The basket and the mop handle are stainless steel, making it super strong.
The size of the basket and mop is perfect for cleaning the bedroom, bathroom, lobby, kitchen, and door sides. The microfiber pad is torn off in pieces; it feels soft and has excellent absorbent ability.
Outstanding Construction
This particular spin mop is our favorite for its high-grade build. The basket, mop, and handle are made using good quality plastic and stainless steel. For this reason, it's considered an eco-friendly item. The basket comes in the right size; however, it doesn't have a label for filling water. Two gallons of water will do great.
The basket has a hole spout at its bottom from which water is drained. The hole can be opened and closed by attaching or removing the sealer. The plastic basket feels so light with the added stainless steel spinner.
The only issue is the bucket handle can only be folded one way. The mop is made of metal, but there is a plastic pole to which you will attach the handle.
Effortless Use
With the Aootek spin mop, it's super simple to clean your house. Attaching and removing the microfiber mop to the handle is so simple. Using your feet, put pressure on the mop head after putting it over the mop to attach. To remove it again, use your feet to put pressure on the mop and pull the handle gently; it will be removed.
The bucket still feels light with two gallons of water. However, when moving, it tilts a little. The handle is designed in such a way that when you push it gently, the mop starts to spin. This way, it automatically gets wet underwater. However, the spinner needs to spin many times to soak enough water from the mop.
Washable Mop
After every mop use, it should be cleaned for the next use. It's safe to throw the mop into your washing machine. It will neither damage the machine nor get damaged. You can air dry it under the sun. It fasts dry and dries perfectly. After it's dried, the mop gets fluffy again. The mop cleans any filth on the floor.
Pros
Lightweight
No extra gadgets like wheel or pedal
Easy to set up and use
Strongly built bucket
Top-notch cleaning
Cons
The mop head eventually loses with the use
Why Should You Buy It?
If you are looking for a durable spin mop, this product will impress you. The stainless steel spinner and mop head will not get rusty. The mop can take out dirt we don't see and are stuck with the floor.
3. Best for Quality Spinner: Hurricane Spin Mop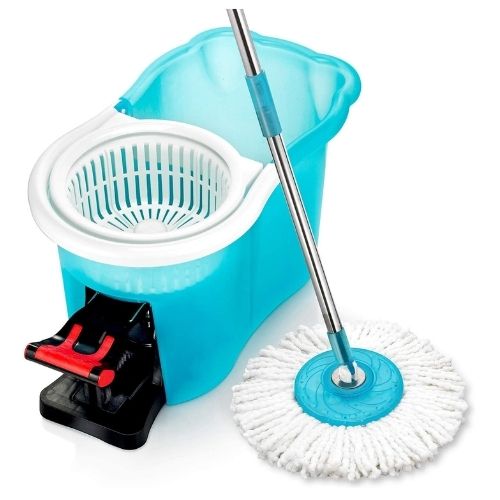 The Hurricane spin mop is a good alternative to the O-Cedar Easy Wring Microfiber spin mop. However, after comparing the performance of both the products, O-Cedar wins. Hurricane spin mop is a pretty great pick. There is a special feature on the mop head.
With the help of the pusher behind the bucket, you can spin the mop when dipping it into the water. This way, you can get the mop head cleaned with every dip. When the mop head itself has no dirt over it, your floor will have all its filth cleared up.
Smart Mopping
With this spinner, you can do quick and smart mopping. There is no need to put much effort into your hands except cleaning. The spinner bucket system will make sure after the dirt is stuck on the mop when dipped into the bucket water, all the grimes are taken out from the mop head through spinning.
In the same way, it ensures the mop has no extra moisture if spun the right amount of times. The mop head also bends fine so that you can clean the grime away from the corners and sides of your furniture. It can swivel itself to 360 degrees.
However, while cleaning, you need to be a little careful because the plastic mop head sometimes scrapes the floors. So, with this cleaner, clean slow, not fast.
Great Spinner
The spinner attached to the bucket works great at spinning away additional water from the microfiber mop. The manufacturer used patented centrifugal spinning technology that washes the mop and its head.
All you require is dunking the mop into the bucket, placing the mop head right over the circling part of the bucket, pushing the pedal to spin it, and walla! All the dirt is taken out from the mop and its head.
Cleans All Corners
The most common issue with a regular mop is that it fails to reach corners, maneuvers, baseboards, etc. But with the Hurricane spin mop, you don't have to try cleaning every corner by moving it since it rotates itself when you push it against the walls a little.
Pros
Spin bucket system cleaner
Super absorbent
Removes filth from the mop head also
Has a push pedal behind
Made of quality materials
Cons
The plastic mop head scrape floors sometimes
Why Should You Buy It?
This spin mop does its job very nicely. It's not convenient since the mop can damage the hardwood floors if not used slowly and steadily. But it will reach all the cranny and nook, can lay flat, and the mop takes in dirt from deep.
4. Best for Design: Tsmine Spin Mop and Bucket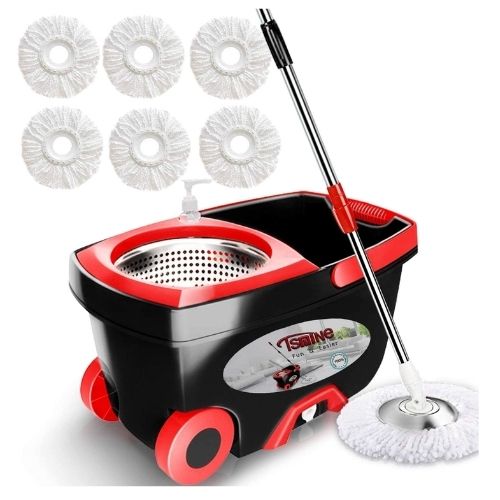 Tsmine spin mop is ideal for everyday use for being lightweight and strong. The sturdiness increases its lifespan. The package includes a bucket with a high-grade spinner inside, mop, and handle. It comes with 6 mops ensuring you will enjoy its service for at least two years.
Ultimate Convenience
We loved the convenience of using it. It's designed to give you the most comfort in cleaning. We must mention that it's so lightweight that it allows you to clean up your whole house while not making you tired.
The spin mop handle is upgraded so that when the arm at the bottom is unlocked, it automatically spins when you give it a small push. You better make sure to spin the mop by pushing the handle while dipping into the water and putting it into the spinner.
The microfiber mop takes only 3 to 4 spins in order to get the perfect moisture for cleaning filth from the floors. Before you start cleaning, don't forget to lock the spin handle, or it will spin while cleaning, too, resulting in spreading dirt.
Even if it gets assembled in a minute, it takes only a few screwing, and the mop head requires a few snaps. Snap and bend the mop head once using your feet for cleaning under furniture.
Quality Design
Some rare spin mops have quality designs like Tsmine spin mops. The bucket is neither too small nor too large. It has two large wheels attached at the back to take it to the next room without carrying it. When moving the bucket, it doesn't tilt much.
There is also a hole right at the middle bottom to drain the dirty water. Also, the splash guard over the spinner ensures you will stay dry when cleaning. Adjust the handle to achieve the right length for comfortable use, depending on your height.
In short, it has everything to give you the ultimate cleaning experience with convenience. It also comes with a silicone strap that you should use to cover the mop head edges. This strap will protect the furniture and floor from the metal head.
6 Microfiber Mops
If you don't like going outside often to replace your old microfiber ones with new ones, the Tsmine spin mop is what you need. It provides you with 6 mops in total. These are high absorbance. They take a few snaps to get added with the mop head perfectly. You can use it as both a dry and wet mop.
Pros
Comes with two large wheels
Easy setup
Provides 6 mop pads
Washable mops
Convenient design
Cons
The bottom handle arms requires locking and unlocking as long as you are cleaning
Why Should You Buy It?
It's the best overall product because it has everything we wish for effortless cleaning. However, one small issue is locking and unlocking the arm at the bottom to control the spinning. Except for this one problem, its excellent features make it a best-performing bucket system spin mop.
5. Best Balanced Mop: HAPINNEX Spin Mop and Bucket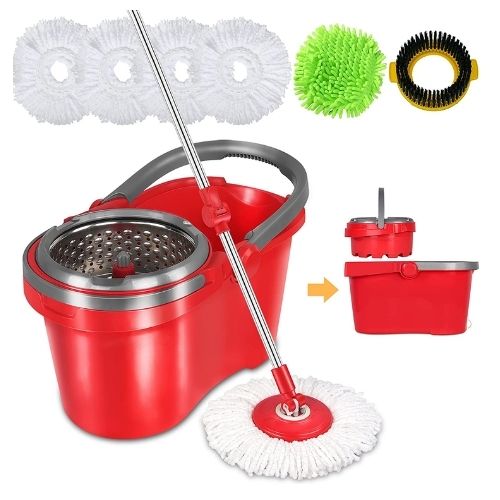 Using HAPINNEX spin mop is so simple it saves a lot of your valuable time. The spin mop has an ergonomic outline. It includes complete cleaning tools. The mop and bucket are both well-balanced, meaning you don't have to be extra careful in using them.
Simple-Press System
As mentioned earlier, with a HAPINNEX mop, you can save cleaning time. Thanks to the press system handle. The mop handle includes a loose pole that can be pressed down. When you give the handle a push, it slowly goes down, making the mop head spin clockwise underwater.
It requires you to use less power in pushing, yet the spinning speed is always impressive. While the mop head spins, both the microfiber head and its head are cleaned with the water in the bucket.
Ergonomic Design
It's a perfect mop to use over hardwoods. The mop head is accurately set with the mop, so there is no risk for your floor to get damaged when cleaning. The installation process is straightforward and effortless.
Put the detachable parts together and screw them tight. Next, attach the mop to the head by stepping over it and pressing it slightly. You can detach the mop the exact way.
Its mop head is flexible enough to swivel 360 degrees allowing you to clean along baseboards, under tables, etc. The spin washer creates a powerful spin to take out sticky dirt. The bucket handle is made using anti-slip plastic to give you a tight grip on it.
Self-balanced bucket
No more spilling water during cleaning with HAPINNEX ever first self-balanced bucket. If you fill the bucket not crossing the max line, it will self-stabilize it. So when you pick it, carry and move and put it, there will be no more water splashed.
Pros
Adaptable design
No shock and spill features
The mop handle is flexible
Gentle microfiber
Effortless operation
Cons
Why Should You Buy It?
HAPINNEX spin mop makes cleaning easy so that you can quickly finish the job. The splash guard with a wringer ensures no waterfalls out of the bucket. Additionally, its mop head is pivoted 360 degrees to clean hard-to-reach places. The refills are so absorbent that they can remove filth better than cotton pads.
6. Best for Quick Assembly: Simpli-Magic Spin Mop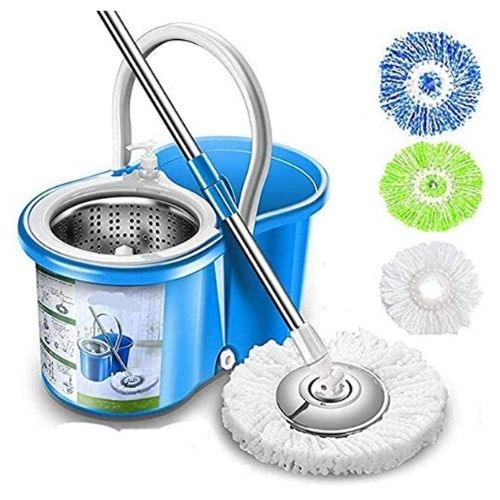 The Simpli-Magic spin mop has remarkable features; the bucket includes a quality stainless steel wringer, a durable plastic-made splash guard, and a sturdy handle. The mop handle is also stainless steel, yet it feels comfy and lightweight to hold.
Efficient Mop
The durability of the bucket, handle and mop make them efficient to use. It has a soap dispenser which is filled effortlessly. It's built-in; however, you can remove it from the bucket if you wish. The wheel system at the bottom is to help you move it with ease. So there is no need to lift the bucket anymore.
It comes with three extra mops, which are washable and reusable. After two or three washes, the mop gets even fluffier. They are long-lasting can be used for 1 to 2 years easily.
Works Great
We picked this particular product among many items, especially for its great cleaning. The bucket system is so helpful it reduces tiredness but removes wet and dry dirt.
The mop head moves smoothly; it immediately swivels to the angle you require to clean a place. The mop instantly cleans the floor whether dried stubborn spots or soft stains are used as a powerful cleaning solution.
One minute assemble
Cleaning becomes easier when the mop is assembled in a minute. You don't need to attach anything to the bucket since it is already well-oriented.
The setup includes attaching the handle poles and mop head. It takes only a minute to set them up all together by screwing the poles and mop head with one another and later snapping the mop to the mop head.
Pros
It offers three additional mops
The mop stick and wringer are made sturdy using stainless steel
Attaching the detachable parts takes a minute
Mop heads can be washed and used for a year
The mop handle is extendable
Cons
The bucket size is quite short
Why Should You Buy It?
The Simple-Magic spin mop offers us a lot of conveniences. What we liked about the mop has a soap dispenser where you can put cleaning formulas and, when needed, spray them. It will do an outstanding job for cleaning any hard floor like tile, stone, laminate, etc.
7. Best Overall: Favbal Spin Mop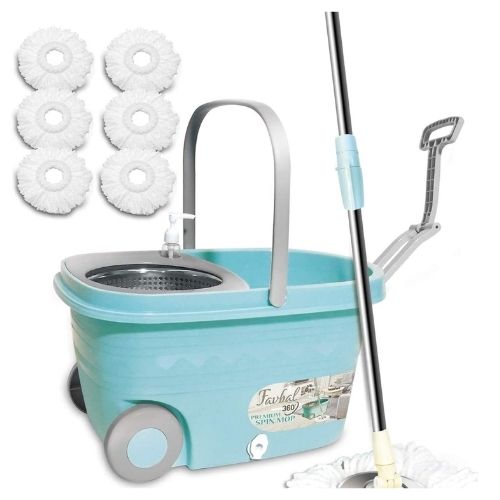 The Favbal Spin Mop is an exclusively advanced spin mop. It comes with all the useful features that can provide convenience and quickness in the cleaning process. The focus of the Favbal spin mop is to provide you with durable service.
Top-notch Build
Favbal is highly recommended for its excellent construction. At the same time, most of the spin mops lack one or two great features like no wheels or heavyweight. But the spin mops of Favbal have a complete design.
To offer you 100% convenience, it includes necessary features like stainless steel telescopic stick mop, big and strong pull bucket handle, drain plug, etc.
It's challenging to find such a well-designed bucket that even has wheels while being well-balanced when holding. A few spin mops come with a durable high-grade stainless steel-made handle.
Although it's made of steel, it doesn't make the bucket feel heavy. Besides, why carry the bucket when you can move it using its stainless steel side handle? The handle is long enough to hold tight, and comfortable walk with it.
Quality Mop Head
The mop head is of premium quality, and so it's anti-abrasive. It can rotate 360 degrees to get into some tough locations, such as underneath furniture corners of the bathroom.
You will be provided with 6 microfiber mop heads which you can use many times by washing them. The dense and big mop heads are highly absorbent and clean the messiest floors.
For Hardwood Floors
The big mop head, simple spin feature, and high absorbance make it the best cleaning tool for cleaning hard floors. The anti-abrasive head of the mop will keep the hardwood floors safe from getting unwanted scratches.
Pros
Effortless to move around
Spin features are easy to operate
Easy to add and remove the mop body parts
Fast mopping
Big mop head
Cons
The bucket handle does not keep standing all the time
Why Should You Buy It?
If you want super durability with comfort, it's the best option for you. It has all the amazing bucket system features to help you clean faster than ever before.
8. Best for Comfort: Twist and Shout Spin Mop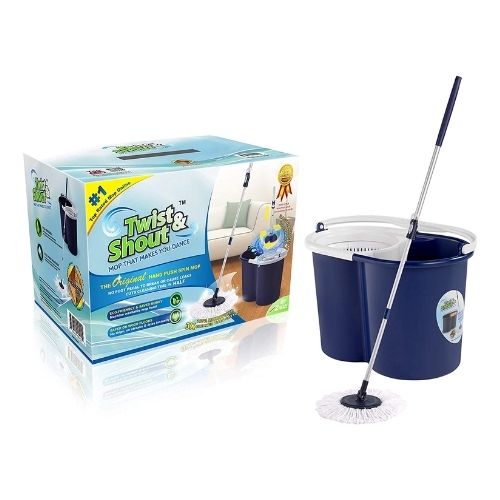 If you are searching for one of the best spin mops without foot pedals, Twist and Shout spin mops are suitable picks for you. The self-wringing technology made cleaning super easy, ensuring your hands are dirt-free when working. Let's take a sneak peek at some of its special features.
Self-wringing
The best part of this spin mop is that you don't have to use push pedals or anything to wring the mop; rather, just a push down to the mop handle will do the job.
When spinning into the water, all the filth comes out from the mop and its head; when it's spinning inside the wringer, excess water is spun out. This method is so effective that the mop gets dried 5 times quicker than usual.
Lightweight Bucket
The bucket feels very light because it's made using premium-grade PP plastic. Its weight is only four pounds when filled with water. Plus, the plastic handle makes the whole bucket feel lighter when lifted. There is enough room to fill the water.
Improved Microfiber Mop Heads
The mop heads coming with Twist and Shout mop are not like regular ones. It's of improved quality, and so it allows you to wash it over 300 times.
It means you can use one mop head for long-term cleaning. It offers two mop heads, so you will not need to buy another mop head in a year. It's powerful in cleaning because the mop head can soak water eight times of its weight.
Pros
Keeps enough moisture
Easy spinning
Mopping time is reduced with it significantly
The water fill line is seen clearly
Great for cleaning hardwood floors
Cons
Why Should You Buy It?
You can buy this particular product to enjoy an effortless cleaning every day. Also, it comes in a more affordable price range. The mop head spins with great power so that it quickly soaks water in and spins away extra moisture.
Buying Guide for Best Spin Mops
A spin mop is superior to a normal mop. Its design way of cleaning is different. Hence, one must carefully buy them.
It's not wise to go into a store and purchase an item you think you like; there are things you should consider at the moment of buying a spin mop.
If these following factors are double-checked when buying a spin mop, you will end up selecting the best product.
Material Quality
The spin mop is something you will use every day to clean your dirty house. Therefore, you must get a quality product so that nothing breaks from the combined product.
Purchasing from Amazon would be great; it has several real product reviews in the comment section. In the comment section, people will talk about the material quality. If most users claim to be the manufacturer, go for that particular product right away.
Absorbing Water Fast
Since these mops have a spinning system, make sure they spin fast to absorb water from the mop as quickly as possible.
For example, a few items spin super quick, and so from two to four spinning takes out the excess water from the mop and keeps the proper moisture in the mop for cleaning grime smoothly.
Comfortable Use
Spin mops are built mainly to make cleaning more comfortable. This is the primary focus of the product. So, get your hands on the item that doesn't require you to put much effort into spinning.
The spinner should also create great power with a few spins to absorb excess water quickly. Also, try to take a mop that makes it's head spin when dipped into the water.
This way, the dirt comes out of the water properly, and the mop head gets washed too. Also, look for wheels, splash guard, drainage plug, soap dispenser, etc., for the ultimate convenience.
Easy Assemble
It's better if the mop comes with detachable parts. Because when you require cleaning, attach the parts and start working.
Again after cleaning is done, detach them to store them safe even if the storage has a little space. Hence, always pick the item that claims it takes a little while to attach and detach the separate mop parts.
Frequently Asked Questions (FAQs)
What should I look for in a spin mop?
It would be best to look for some essential features in a spin mop. These are,
Adjustable mop stick
Durable materials
Splash guard
Lightweight bucket handle
Wheels
Soap dispenser
Drainage plug
Which brand is best for a spin mop?
Several brands produce high-grade spin mops. Those great brands are O-Cedar, Aootek, Hurricane, HAPINNEX, etc.
How effective are spin mops?
Spin mops are very effective in cleaning spills and spots. If you use the correct cleaning formula and slowly, steadily clean the floors, 99% of the dirt will be cleared.
Closing Remarks
These are some of the best spin mops out there for easy and fast cleaning. Our suggested items are highly built using high-end technology and materials. They can last for a long and give excellent service.
Some even come with many microfiber reusable mops to save you a little more money. They are so great at cleaning houses that you can gift them to your close ones.